Anne Hathaway Slays at Google-Translate Karaoke
And proves all that internet hate is BS.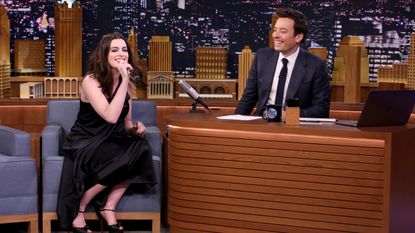 (Image credit: Getty)
No one in Hollywood has received quite the same amount of unnecessary hate as Anne Hathaway. Since the early 2000s, for seemingly no reason at all, she's been the internet's public enemy #1.
But at long last, it seems people are finally starting to realize she didn't deserve the dragging she received all those years. As proof, look no further than this adorable and hilarious video of her absolutely slaying at "Google Translate Songs" on the Tonight Show with Jimmy Fallon.
You try singing those wacky, completely incorrect lyrics to the tune of the Weeknd with the same level of flawlessness. I dare you.
We're nominated for a Webby Award—but we need your vote to win! Vote for the Women and Guns project here. (opens in new tab)
Gina Mei is a writer and editor based out of Los Angeles. When she isn't writing, reading, and lost in an Internet vortex, she can usually be found petting the nearest dog.