A Timeline of Kourtney Kardashian's 18-Month Feud With Kim and Khloé
Kourtney is low-key quitting KUWTK because of it.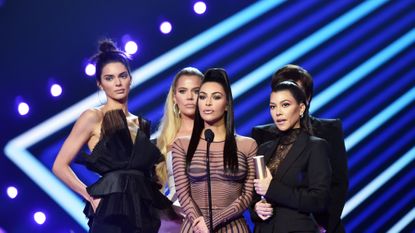 (Image credit: Alberto Rodriguez/E! Entertainment)
Marie Claire Newsletter
Celebrity news, beauty, fashion advice, and fascinating features, delivered straight to your inbox!
Thank you for signing up to Marie Claire. You will receive a verification email shortly.
There was a problem. Please refresh the page and try again.
Anyone who's been watching Keeping Up with the Kardashians since Khloé had her original hair color knows that sister fights are part of the show. Like, remember when Kim attacked Khloé with her purse and screamed "don't be f*cking rude?" That's basically Kardashian for "I love you." But in recent months, things have, uh, shifted between Kourtney, Kim, and Khloé. Sure, there's always been tension, but the drama has majorly escalated since summer '18, and now Kourtney is officially stepping back from the show. So, how the hell did we get here?
July 31, 2018
Kourtney's ongoing tension with her sisters kicked off last summer on KUWTK, with this completely weird clip of her ignoring Kim and Khloé for her phone:
Khloé ended up being like, "What is up your ass? Seriously, what the f*ck is wrong with you? Why are you so bitchy these days?" And Kourtney literally responded, "I'm a born bitch."
Cool, cool, cool.
August 1, 2018
Kim infamously called Kourtney the "least interesting to look at" during a truly deranged fight over Kourt flaking out on the family Christmas card:
And, like, sure, it was really mean—but to be fair, Kourtney called Kim an "evil, distraught" human and called her family "disgusting."
The argument was so bad that Kourtney skipped Kim's baby shower, which is pretty unforgivable. "I really hoped Kourtney was gonna get over herself and just show up, but she didn't," Kim said. "So, I don't think she's big on family because if she was, she would be at my shower."
Just gonna go ahead and share this pic of Kris Jenner, who is truly all of us:
August 2, 2018
Kim shadily tweeted about Kourtney trying to profit off the Kardashians' brand while simultaneously being a hater:
Things are...not going great! Basically, this is Kourtney:
August 3, 2018
Kourtney told E! News she's "definitely proud to be a Kardashian" but feels like "every day almost I was being picked on and criticized and I just couldn't take it any more." Awk.
August 5, 2018
Kim and Kourtney got into an insane fight on Twitter, and honestly I'm just gonna go ahead and drop the tweets:
Oh, also Khloé chimed in:
August 10, 2018
The Kardashians dropped another explosive clip of Kourtney accusing Kim of only caring about KUWTK. "Everything to you guys, the show is more important, work is more important," she said during a therapy session. "We all have different priorities and working, it's not my top priority. It's never going to be."

We also got some insight into how the Kardashians think of their show as a job, and feel like Kourtney is lacking professionalism. "She can't commit to filming a season and sharing her life if she's not going to at all," Kim said. "We just want her to be held accountable and be responsible—that when you take a job and are getting paid to do something, you honor that. Because all of us do."
And then in yet another criminally insane clip, Khloé tried to get Kourtney to talk to her and Kim, but she ignored them for her phone and they had this truly brutal conversation:

Khloé: "In therapy are you on your phone or do you give your therapist attention?"
Kourtney: "Hmmm."
Khloé: "If you were listening instead of zooming in on some picture, you would've known what I was saying."
Kourtney: *Silence*
Khloé: "...Okay, well I'm not investing myself, so you can f*ck off then."
August 22, 2018
Kim and Khloé learned that Kourtney was thinking of going out of town with her kids for the holidays and they were less than thrilled. "Do you think it's like, a cry for help? A cry for attention? Is she the new Rob?" Kim said. "She drives me so crazy. I just don't even know what to do."
August 26, 2018
In an unaired clip from KUWTK, Khloé and Kim complained that Kourtney doesn't want to be part of the Kardashian family anymore, and threatened to take away her "Kardashian privileges" as a result.
Direct quote from Khloé: "She could f*cking shove Kardashian up her f*cking vagina. No one cares. We should say, 'Oh, you don't want to be a Kardashian? Let's pull all of your Kardashian privileges.'"
Scared!
September 13, 2018
E! dropped a truly bummer clip of Kourtney finding out she's not the legal guardian of Khloé Kardashian's daughter True. Um. Kim is.
To her credit, Kourtney tried to roll with it, saying "I'm a little bit disappointed that I'm not the guardian, but honestly, you don't know what your parenting style is until you have kids." Mature, but still...her face!!!
October 5, 2018
Remember when Kim, Kourtney and Khloé traveled to Tokyo so Kim could shoot a Yeezy campaign? And Kourtney rocked this look?
Yeah, well Kim wasn't having it and told E!'s cameras "Kourtney with Japanese-inspired outfits and Khloé's wearing silver sequins, turquoise eyeshadow, huge chandelier earrings. They're just like completely clashing and making my outfit look really bad and they're ruining everything. I couldn't even eat dinner because I was so disgusted."
Kim confronted her sisters, and Kourtney's clapback was straight savage: "You think I look like a clown?" she said. "Well, you look like you just won the Tour de France and you're cycling around town."
Reminder, this is what Kim looked like:
November 29, 2018
In what appeared to be an attempt to apologize to Kourtney over that whole "least interesting to look at thing," Kim literally said "What I meant is you're the most boring."
Um...that is....equally mean. And Kourt's face says it all:
Here's the full clip if you're in the mood to feel awkward.
December 4, 2018
Kim visited Jimmy Kimmel and straight-up said that Kourtney was the most likely to sue her because she is "ruthless." Kim pointed to that one time she tried to put Kourt in her video game and she demanded more money. "When I used her character in a video game," Kim said. "And I paid her. But yeah—she wanted more."
May 23, 2019
Kourt told Paper that she basically wants to ditch KUWTK and not be famous anymore. "I always say I want to move away someday and just be away from it all," she said. "Sail away. No one will ever see me again. I keep throwing up different places, but then I'll go there to visit and I'll be like, 'Nope, this isn't it, but glad I came.' We've just been to Finland. And I was like, 'Check, it's great for me to visit, but I'm not going to move there.' Maybe Norway. Switzerland? I've got a lot of ideas."
September 13, 2019
E! thirstily dropped another clip from a truly deranged fight between Kim and Kourtney, this time featuring Kim calling Kourtney a "fake humanitarian ho." Here's what Kourtney had to say about it:
"I said, 'You're going to school to become a lawyer and help the world and these are the kinds of problems you have?' And she's like, 'You're really a miserable human being and you keep not understanding the issue because you, all of a sudden, turn into such a humanitarian and talk about the world's issues—which you've not contributed one ounce to the world.'"
And here's what Kim actually said:
"You f*ckin' fake humanitarian ho. I actually do sh*t for the world and you f*cking fake it all day long and act like, 'Oh! There's people dying, Kim.' And what the f*ck are you doing about it? So shut the f*ck up."
September 16, 2019
The internet became convinced Kourtney was two seconds away from ripping Kris Jenner's 10 percent away and ditching KUWTK. So she went on The Real and told everyone that "every day is different [...] But at the current moment I'm happy and very into my blessings and feeling very good."
That said, she also added, "I definitely have my moments where [I want to quit]. Because I mean, life is short, and you want to be happy."
October 15, 2019
E! gifted us with a completely insane look at their current season—including footage of Kourtney implying she's quitting Keeping Up With the Kardashians. The moment in question went down when Khloé asks her sister, "You would be happy if the show ended?" to which Kourt replied, "Yeah! Who cares!"
Um. Me. I care.
November 7, 2019
After months of fighting with her sisters, Kourtney finally confirmed that she's taking a step back from KUWTK during an interview with Entertainment Tonight. "I just decided to spend more time as a mom and put more of my energy there. But I'm not saying goodbye," she said while her sisters looked 50 shades of shady. "But I think you'll have to see more of it on the new season, season 18. It isn't airing yet, but it's being filmed. Currently, in this room."
November 10, 2019
Kim, Khloé, and Kourtney roll into the People's Choice Awards and have the world's most awkward interview ever with Giuliana Rancic. The moment went down when Giuliana asked the sisters who they were wearing and Kourtney attempted to answer, saying, "I didn't plan this—Naeem Khan? Is that how you say it?" Kim then cut her off, leaned in front of her, and said, "All that matters is that we're wearing KKW Diamonds! That's all that—we're all wearing that." She then added, "I was saving you since you didn't know who you were wearing."
November 17, 2019
Keeping Up with the Kardashians aired an absolutely insane fight between Kim and Kourtney about their daughters' joint Candy Land-themed birthday party. Basically, Kourtney wanted healthy alternatives and Kim wanted, ya know, candy. Because Candy Land was literally...the theme...of the party.
E! dropped a bunch of tense clips from the fight, including this one where Kourtney tries to say candy is off-brand for her, and Kim is literally like, "Then why does your car have leather seats? Why are you wearing plastic glasses?"
We also got a clip of Kim saying, "It's a Candy Land-themed party! Yes, that's, like, what the party is about, Candy Land. It's not f*cking Gluten-Free Land over here."
Obviously, footage from this saga was filmed well before November (North's birthday is in June and Penelope's is in July), but Kourtney was still upset by the time the episode aired. She hit Twitter to defend herself against fans taking Kim's side, writing "I never said NO candy. I said not all junk food, let's have some salads, etc., and @KimKardashian said she wanted the ice-cream truck and I suggested organic ice cream with some nondairy options. Moderation."
She also said "My daughter happens to love salads and it was her birthday party, which we also had BBQ food, cakes, an ice-cream truck, and way too much candy. But you focus on one word that I said, okay?"
That just about brings us up to date, but if you have any further questions please feel free to call Kris Jenner at 1-800-THIS-IS-A-CASE-FOR-THE-FBI.
For more stories like this, including celebrity news, beauty and fashion advice, savvy political commentary, and fascinating features, sign up for the Marie Claire newsletter.
Celebrity news, beauty, fashion advice, and fascinating features, delivered straight to your inbox!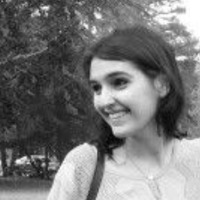 Mehera Bonner is a celebrity and entertainment news writer who enjoys Bravo and Antiques Roadshow with equal enthusiasm. She was previously entertainment editor at Marie Claire and has covered pop culture for over a decade.