When Jennifer Lawrence Wants Doritos, She Should Eat Doritos
A girl's gotta eat!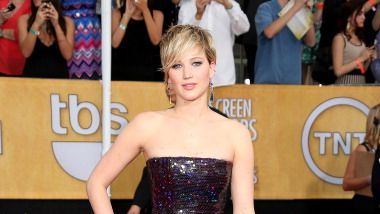 (Image credit: Archive)
via giphy.com
The magnificent Jennifer Lawrence has been exceptionally outspoken about her insatiable appetite and her positive thoughts on body image. Now, we find out that the costume designer for her award-winning movie American Hustle, had to craft multiple dresses for the starlet. One reason, in particular, stuck out as the most awesome.
The designer explained to Vanity Fair, "I'm kind of glad we [constructed four different versions of the dress] because Jennifer Lawrence is a very... let's say... raw and intuitive young lady, and she's not against eating Doritos and snack food in her costume. So we were glad that we had a couple [backups]."
It must have been a Doritos dust party on that set. Because when a girl gets hungry and wants Doritos, she should absolutely have Doritos. Or Cheese Doodles. Or chocolate. Where was our invite, J. Law? We. LOVE. Doritos.
Related Stories:
We Can't Wait for the Oscars 2014!
Female Hosts DOMINATE Award Show Season
The Best and Worst Red Carpet Moments of 2013
Follow Hallie Gould on Twitter.