The Artist Who Inspired Kanye West's 'Famous' Visuals Responds to the Video
"I was almost in tears."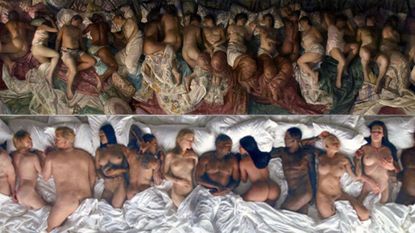 (Image credit: Vincent Desiderio/Courtesy Marlborough Gallery; Tidal)
When Kanye West's "Famous" video released last weekend, many pointed out its likeness to Vincent Desiderio's "Sleep," which similarly shows naked figures slumbering side by side.
Kanye took Vincent Desiderio's "Sleep" & brought it to life with a modern twist.. if that isn't genius idk what is. pic.twitter.com/bSDddfQFNoJune 25, 2016
See more
Soon after the premiere, it was revealed that West not only aimed to recreate Desiderio's famed piece, he personally collaborated with the artist too. Since the weekend, Desiderio has spoken out about getting discovered by Kanye and helping to create "Famous."
The artist apparently didn't know the rapper was recreating his work until the morning of the video's premiere at the Forum last week, according to The New York Times. He only found out West wanted to meet him the night before, when he received an urgent call at his studio. He was then flown out by the rapper's team to meet with West in Los Angeles for a confidential project. When West finally showed him the piece he was working on, Desiderio nearly broke down.
"I was almost in tears," he told NYT. "We just hugged each other."
Desiderio described his reaction to watching "Famous" for the first time:
"I was really speechless. Kanye saw things in it that I don't know how he could've seen. Kanye is truly an artist. Talking to him was like speaking to any of my peers in the art world—actually, more like talking to the brightest art students that have their eyes wide open."
Apparently, West didn't get legal consent to recreate "Sleep," but Desiderio didn't mind. In fact, he was flattered. "As far as I'm concerned, it has nothing to do with copyright," he said. Even if West did offer him money, he wouldn't have accepted it, he told NYT. "It was an honor that I was being quoted. There was no money involved at all," he explained.
The artist also defended "Famous," as art, despite the criticism it received for the nudity. Lena Dunham, for example, said it reflects a culture that makes "women feel unsafe even in their own beds, in their own bodies."
Desiderio, though a fan of Dunhams', responded, "Artists are not saints. They're not people whose first obligation is moral correctness." Later, he added, "Art goes to dangerous places."
Marie Claire email subscribers get intel on fashion and beauty trends, hot-off-the-press celebrity news, and more. Sign up here.