Lady Gaga Looked Crazier Than Usual This Week
Of course she did. You just have to see the photos to believe this actually happened.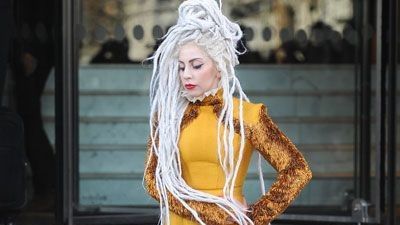 (Image credit: Marie Claire)
The list of way-out-there Gaga ensembles goes on and on. There was the meat dress, the egg, the bow made out of hair, and more recently the horse made out of people. This week the pop princess pulled out all the stops and brought us five incredibly awkward looks that caught our attention. Hint: These are not your usual nine to fives.
Dreds paired with a Victorian grandma and black patent stripper boots (which will make a daily appearance).
'Twas the night before Christmas when... Lady Gaga dressed up as something Rudolph barfed up? We actually loved the fancy red romper, but felt this whole look would have been more flattering without the pine branch topper.
The dreds came back with the heels and Gaga posed as a crustacean in PJs.
Hey, her bra again, plus neon orange chaps. At least she matched her lingerie to her overall color palette. Plus, her heels got a colorful paint job.
And finally, Gaga dressed as the tween dream: taffeta, sequins, and mashmallow.
Related Stories:
Lady Gaga Unveils her ARTPOP Cover
10 Fashion Trends We Hope Never Come Back
Follow Hallie Gould on Twitter.