17 Incredibly Juicy Never-Before-Heard Details About 'The Devil Wears Prada'
Anne Hathaway wasn't the first choice to play Andy.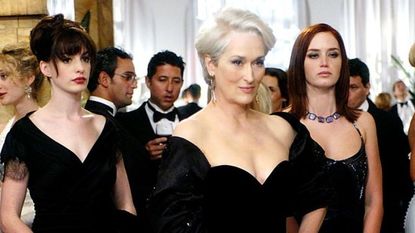 (Image credit: Everett)
The Devil Wears Prada turns 10 this year. (Yes, you're that old, blah, blah. You're not really that old. It's fine. Anyway.) To mark it's anniversary, Variety conducted a masterful, juicy oral history. Writer (and NY bureau chief) Ramin Setoodeh spoke to everyone: Meryl Streep. Anne Hathaway, Emily Blunt, Stanley Tucci, director David Frankel, writer Aline Brosh McKenna, Fox 2000 president Elizabeth Gabler, and lots more. And he got dirt. The good stuff. The really good stuff. Read the whole thing.
Here, a little breakdown of all the best bits:
1. Meryl Streep was initially offered a "slightly insulting" salary. So she negotiated to double it. It was Streep's first time negotiating for more money. "The offer was to my mind slightly, if not insulting, not perhaps reflective of my actual value to the project," Streep said. "There was my 'goodbye moment,' and then they doubled the offer. I was 55, and I had just learned, at a very late date, how to deal on my own behalf."
2. Anne Hathaway couldn't work nights because ex-boyfriend Rafaello Follieri didn't want her to. "Annie was very emotional," said director David Frankel. "She was living with a guy [her ex-boyfriend Raffaello Follieri] who was a felon and embezzler. He didn't want her to be working at all; he hated that she worked nights. She was always fragile when we shot late."
3. Fox originally wanted Rachel McAdams in the Andy role, but McAdams turned it down multiple times because she wanted to stay away from mainstream material.
4. Hathaway wanted the part of Andy so badly, she traced the words "hire me" in the sand of a zen garden on then-Fox 2000 executive president Carla Hacken's desk when they met for the first time.
5. More than 100 actresses were considered for Blunt's role—and Blunt was a surprise addition. She did a tape on a whim because she was already in the Fox lot, doing multiple callbacks for the female lead in Eragon (a part she didn't get. That rejection was the reason she eventually could get the Prada part). Blunt was late for her flight to London and did a tape in jeans and flip flops.
6. The character of Emily was supposed to be American, but Blunt read the part in her British accent, and it was changed. She did have to audition one more time because of her wardrobe: "[Frankel] said, 'Listen I would have cast you off the tape, but the studio wants to see you one more time," Blunt recalled of the phone call she got in a London dive bar. "'Can you did what you did but dress the part more?'"
7. Stanley Tucci accepted his role as fashion editor Nigel 72 hours before his character debuted on set.
8. Four different scripts were scrapped for the project before Aline Brosh McKenna wrote the winning one from scratch. Frankel wanted one that stuck less to the book material. "Miranda was a witch, and Andy's motivation was to get her revenge," he said of the first drafts. "There was a lot of conflict that ended with Miranda being humiliated. I felt that wasn't satisfying. My view was that we should be grateful for excellence. Why do the excellent people have to be nice?" So the plot was rewritten to be about the sacrifices Andy made to make it at a fashion magazine.
9. Streep was behind two of Miranda's most iconic scenes—that cerulean blue sweater scene and hotel room scene—were added. Streep wanted Miranda to be a fully formed character, a face that audiences saw "without its protective glaze, to glimpse the woman in the businesswoman."
10. No one thought Streep would make Miranda sound the way she did. "I think we all had an idea of what Miranda would sound like," Hathaway recalled of their first sit down. "It was a strident, bossy, barking voice. So when Meryl opened her mouth and basically whispered, everybody in the room drew a collective gasp. It was so unexpected and brilliant."
11. Miranda's character was inspired by two men: Clint Eastwood and Mike Nichols. "The voice I got from Clint Eastwood," Streep said. "He never, ever, ever raises his voice and everyone has to lean in to listen, and he is automatically the most powerful person in the room. But he is not funny. That I stole from Mike Nichols. The way the cruelest cutting remark, if it is delivered with a tiny self-amused curlicue of irony, is the most effective instruction, the most memorable correction, because everyone laughs, even the target. The walk, I'm afraid, is mine."
12. Streep changed Miranda's last line to "Everybody wants to be me" to "Everybody wants to be us."
13. The costumes for the film, overseen by Patricia Field, cost more than $1 million.
14. Streep wanted Miranda's appearance to be a cross between 85-year-old model Carmen Dell'Orefice (particularly her hair) and "the unassailable elegance and authority of Christine Lagarde," Streep said. Yes.
15. The scenes where Miranda Priestly throws her coat down on Emily's desk were very hard for Streep to film. "There were probably 30 takes where either her arm got stuck or the coat didn't hit the desk at the right time," Blunt said. "That was one of the funniest things I'd ever seen."
16. Stanley Tucci ended up meeting his future wife—Blunt's sister—because of the film. Blunt later invited him to her wedding to John Krasinski, where Tucci met her.
17. Don't get your hopes up for a Devil Wears Prada sequel. "I'd love to make a movie with all the people again that's something totally different," Hathaway said. "But I think that one might have just hit the right note. It's good to leave it as it is."
Follow Marie Claire on Facebook for the latest celeb news, beauty tips, fascinating reads, livestream video, and more.
Alyssa Bailey is the news and strategy editor at ELLE.com, where she oversees coverage of celebrities and royals (particularly Meghan Markle and Kate Middleton). She previously held positions at InStyle and Cosmopolitan. When she's not working, she loves running around Central Park, making people take #ootd pics of her, and exploring New York City.