The Couple Who Aged 70 Years in 5 Minutes Reacts to Their Viral Video, Makes You Cry Yet Again
"Not many people get to go viral and get married on the same day."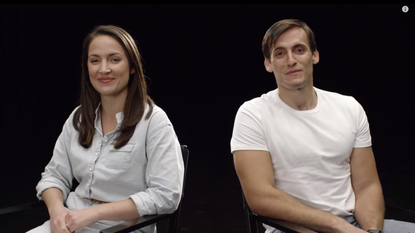 (Image credit: Youtube)
Marie Claire newsletter
Celebrity news, beauty, fashion advice, and fascinating features, delivered straight to your inbox!
Thank you for signing up to . You will receive a verification email shortly.
There was a problem. Please refresh the page and try again.
Update 6/9: The young couple who went viral after being aged 70 years (see the video at bottom) had a bigger wedding day than they imagined.
"We realized [the video] was released when we were on our way to our rehearsal," Kristie Scherrer told The Huffington Post (opens in new tab). Kristie said many of her friends had seen it before the couple even reached their rehearsal.
Twelve hours after they tied the knot, Kristie and Tavis sat down with their friends and family to finally watch the project—and their reactions are even more heart-warming than the original.
Original post 5/15: No matter who you are—but especially if you're in a relationship with someone you want to spend your life with—you *will* shed a tear at some point during this video.
In The Cut's latest edition of their "100 Years of Beauty" series (opens in new tab), soon-to-be-newlyweds Kristie and Tavis allow a makeup team to transform them into older versions of themselves. What starts off as a fun experiment turns into an emotional trip through the future and, charmingly, a glimpse into the life they will soon begin. And at each reveal, both Kristie and Tavis get surprisingly emotional. (Same here.)
"I can't help but think about what the potential last 50 years were," says Tavis."To see her look like this I just think of where we've gone."
Prep your tissues, people.
Simedar Jackson is an esthetician, content creator, and lover of sci-fi fiction living in Brooklyn, New York. She is passionate about creating space for Black and Brown people in the beauty and wellness industries by providing access to culturally nuanced education and services that meet their needs. You can find them doing their skincare routine, reminding friends to reapply SPF, and watching reruns of Love Island.