I Lived Like Kim Kardashian for a Week, Part 1: Fashion
Keeping up with Kim's wardrobe ain't easy, dolls.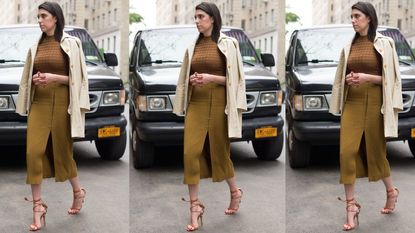 (Image credit: Tyler Joe)
To celebrate the release of Kim Kardashian's glorious selfie book,
Selfish
, I decided to Kardashify myself and live like the reality star for an entire week, trying everything from her diet to her elaborate makeup routine. In a four-part series, exploring her fashion, beauty, body, and life, I'm sharing what it's like to be my best self—aka try to keep up with Kim Kardashian. Part one: Dressing like Kim Kardashian.
Kim Kardashian is brave — like really, really brave. And has more confidence than an entire lacrosse team of Abercrombie & Fitch models. I, on the other hand, do not. This is what I learned from dressing like Kim Kardashian for a week.
First off, Kim and I pretty much have opposite body types. While Kim is petite and famously curvy, I am tall and, well, it turns out secretly curvy. Where Kim is all about the "let's put it all out there, then even more out there, and then take all our clothes off" look, I am a curve camouflager, which tricks me into thinking that my figure resembles an exclamation point rather than an ampersand. But once I put on Kim's clothes, I realized I am full ampersand, period—I've got boobs and hips, you guys.
When I got to the office, people were into it. "Where is that skirt from?" my coworkers asked, checking. Me. Out. "Oh, A.L.C., fall 2015," I said, breezily, neatly settling into my desk. Really, I was less suave than that, but let's go with it. All day I sat up straighter, looking very Kim—not only because I looked awesome (that skirt, yo ... buying it in Sally size as soon as it's available), but because the GD thing was so tight it felt like it was going to split every time I slouched. Why is my face so grumpy in the picture, while Kim looks so perfectly serene? Well friends, it's because (1) I have resting bitch face (2) it's actually crazy-hard to capture that pleasantly surprised yet totally unfazed look while trying to concentrate on sucking in, standing up straight, and not breaking both ankles.
For my second day in Kim's closet, I went for a more relaxed look, because wearing something so tight was a shock to my wuss system and I needed a breather. But not literally, because for this one, I wore Kim's famous waist-trainer under the look. The outfit itself is one Kimmy wore on a date night with Kanye earlier this month. Since Kim doesn't do simple, even when it comes to a jeans and a T-shirt look, the whole thing is fitted to her bod like she's wearing denim paint. I felt more comfortable in these cropped J.Brand jeans, Manolo Blahnik heels, and this nice, coverage-providing leather jacket, but I still wasn't used to wearing such a tight, revealing tank top in the office. Halfway through the day, I layered a loose T-shirt over the tank. Sorry, Kim.
Oh, I also brought ELLE.com's photographer, Tyler Joe, (and my signature RBF along for the ride for this one, because like Kim, I try. Hard.
On Wednesday, I went for it. Screw my insecurities and office dress codes, Kim would toss her long-brown-then-short-brown-then-blonde-then-brown-again hair at such ideas. Dolls, I went for the Givenchy look Kimmy wore to the brand's Paris Fashion Week show. But first, I got my hair did, because if I was going to do the thing, I was going to do the thing right. Kim might not do casual, but she does employ one trick I often use on the weekends—what I like to call my "I might be going to the gym look." I'm not even a member of a gym, but because I don't want to put on pants ever on the weekends, I often throw on workout gear when running to do a quick errand (OK, sometimes for the entire day), and if I bump into someone I know, maybe they'll think I'm wearing leggings because I'm healthy! And coming from a workout! Kim employs this same tactic too, so, for my quick trip to Bumble and bumble for a blow-dry, I threw on some super chic APL kicks plus matching leggings and a zip-up (and sports bra, because you really have to commit).
Post-coif, it was time to slip into The Givenchy. I would like to take this moment to state that throughout this experiment I sweat more in my life while getting dressed than I ever have before. Anyone who's ever worn Spanx knows the struggle is real, but getting into a lace-up bodysuit is another beast. And I mean beast. The shimmying, the lacing, the arranging of things, the stress—it's a lot, but eventually, I managed it without calling for help (though I did take my cellphone with me to change because safety first). And JK about the screwing my insecurities thing, because after I saw myself in this look, I threw my leather jacket back on to shield my bod/boobs as I walked to my desk in this little number.
Kim. How do you do it? My colleagues were in awe about the physics of the bodysuit, but I can tell you that this thing is so tight, everything just kind of stays where you want it to—or don't want it to, even. In The Givenchy, you don't have a choice. How did I feel? Super aware of the fact that my body was on full display, but also, kind of fucking fantastic. That said, I did not wear this on the subway home.
On Thursday, I had a date. I also had a skintight black dress and some killer Gianvito Rossi heels on the agenda. For work, I went for my trusty Spanx and a strapless bra under the tank dress, which was again, tight (*THEME*). Throughout the day I was fine, though I wore a jacket over it in the office (it's cold in here, okay? ), but when it came time to meet a stranger for drinks, I felt nervous, mostly because this outfit was not me. "NO, you MUST wear it," ELLE.com's social media editor Kate Winick insisted. "It's sexy. And boys like seeing your body." I wavered—Kim would wear this like it ain't no thang, actually she originally wore this look to go check on her Southampton Dash store last summer, but it still felt like a lot. In the end I compromised and wore flats, the black dress, no Spanx (after a few hours it felt like it was restricting the circulation to my vital organs and was creating a kind of upside-down muffintop effect on my thighs) and a pretty big jacket that gave me a distinctly Derelicte look. I was okay with it. Kate was not. "You have promise to take that jacket off during your date." "Maybe," I said in that way that obviously means no. But guess what? Date was into the XLBD. He told me. With words.
For my final look, I went for something comfy—and by comfy, I mean made of all the things you'd consider super laid-back and pajama-esque like tights, undies, a mesh leotard, but was possibly one of the most uncomfortable things to wear in front of other people, ever. Behold, the look Kim wore to the Kanye West X Adidas show:
I think in the past five days, my coworkers have seen more of my body than in the 15 months I've worked at ELLE.com. I couldn't even wear the Yeezy look outside (which was constructed from American Apparel pieces and a Capulet oversized jacket because I was LITERALLY in my underwear. I certainly made a statement and drew a lot of looks, but clothes don't make a person, and these outfits, even though they, in a backwards kind of way, did give me a certain boost of confidence, didn't fully make me Kim Kardashian. But, I certainly tried...
Next week: I Lived Like Kim Kardashian for a Week, Part Two: Beauty
Sally is the Editor in Chief of Marie Claire where she oversees coverage of all the things the Marie Claire reader wants to know about, including politics, beauty, fashion, and celebs. Holmes has been with Marie Claire for five years, overseeing all content for the brand's website and social platforms. She joined Marie Claire from ELLE.com, where she worked for four years, first as Senior Editor running all news content and finally as Executive Editor. Before that, Sally was at NYMag.com's the Cut and graduated with an English major from Boston College.