Editors handpick every product that we feature. We may earn commission from the links on this page.
5 Ways to Breathe New Life Into Your Fringe Jeans
Don't give up on this style just yet.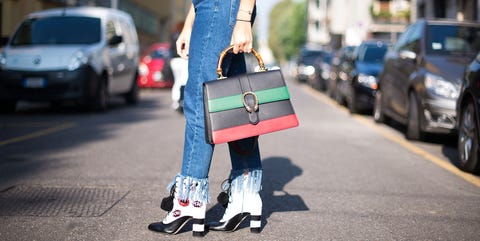 You'll find me in black high-waisted skinny jeans year-round—they're my denim crutch. But lately, I've been eyeing that pair of lightly-washed fringe bottoms in my closet. I bought the jeans last year, when I told myself I'd give the trendy style a try, only to continually reach for the same three pairs I've had forever.
Fast forward to now and the fringe piece is silently judging me for having not worn it. I almost donated the pair to Beacon's Closet (where it can join my clothes from yesteryear) when a little voice inside me said "stop." I realized it's not that I dislike the jeans, I just need inspiration for how to wear them. Via some street style research, I've found five different ways to style fringe jeans—all of which I'm planning to re-create asap. I challenge you to do the same with yours.
This content is created and maintained by a third party, and imported onto this page to help users provide their email addresses. You may be able to find more information about this and similar content at piano.io