The Best Tote Bags From Amazon to Get You Through the Week In Style
They'll fit your laptop, water bottle, and snacks, and look good doing it.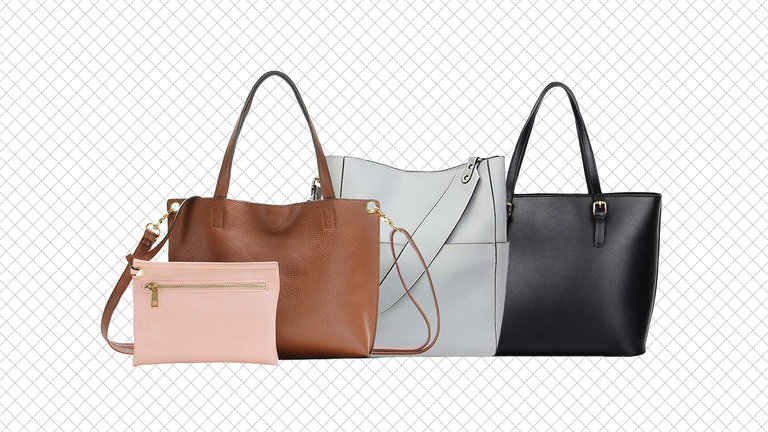 (Image credit: Design by Morgan McMullen)
Our work totes take a beating during the work week. They're crammed with laptop, chargers, and other miscellaneous objects. Thrown on the floor by our chairs. Pelted by the rain as we commute in to work. Thus, when it's time to finally replace our beloved tote, it can be hard to let go. When you're ready to start looking, however, there are tons of brands that make beautiful work-appropriate tote bags. But if your search hasn't turned up any winners, you may also want to check Amazon—the hidden gem of work totes. Of course, you'll need to dig through the mehhhs to get to the good ones, which we have found ahead. One of the next 12 work totes will win your heart, and laptop, over.
1/12
Chomeiu Laptop Tote Bag With Charger
If Your Battery's Always Dying
This structured bag fits everything from your laptop to a small pup, if your office is dog-friendly. (One reviewer uploaded pics for proof.) The most exciting feature of the tote, though, is the external USB, which allows you to quickly recharge your phone when you're bouncing between meetings. Buy a bag for yourself and one for your work wife.
2/12
Overbrooke Reversible Vegan Tote Bag
Best for the Eco-Conscious
For the earth-conscious shoppers out there, here's a vegan tote to carry all your precious belongings. This bag does have a faint new-smelling odor, as some buyers have reported, but leave it out to air and it should be fine. The tote comes with a detachable coin pouch to hold all your smaller miscellaneous items in. If you dislike the maroon, it comes in three other colors.
3/12
Kate Spade New York Canvas Book Tote
Best for Bookworms
Bookworms will love this whimsical tote from Kate Spade New York. It's functional yet stylish thanks to the graphic design, making it a stand out piece at the farmer's market or in the office. Stuff it with your latest novel (we're currently reading Mrs. Everything) or load it up with snacks for a summer picnic.
4/12
Scarleton Reversible Tote Bag
Best for Everyday Use
This reversible work tote reigns supreme, with over 1,000 comments raving about the quality and size of the bag. The faux leather tote looks like the real thing and holds up well for travels. In fact, one reviewer wrote it looks better over time with use. (Magic?!) What it can hold: laptop, chargers, wallet, a kindle, earphones, office shoes, and a snack.
5/12
Chiceco Basic Large Travel Tote
Best for Moms
The main compliments on this tote center on it being a good option for working/pumping moms. On the weekdays, it can hold all your office gear and on the weekends, it turns into a cute functional diaper bag. The lightweight bag can also be easily cleaned with a wipe, perfect for moms running around with little ones. One con to note are the straps, which might dig into your shoulders should the bag become too heavy.
6/12
ArcEnCiel Canvas Shoulder Tote Bag
Best for Quick Trips
This canvas tote comes in three colors, though I like this white, navy, and black combination the best. It's lightweight, sturdy, and can be rolled up and packed into a suitcase, unlike leather totes. This is the casual bag you bring to work on Fridays when you know you have a flight to catch. It can hold up to a 15-inch laptop and has extra interior pockets inside for chargers and other miscellaneous objects.
7/12
Aleah Wear Work Tote Bag
Best for Working Remotely
Unlike the previous canvas tote, this one has a gray background with white and gray stripes. The tonal color makes it easy to match with clothing and because of the hue, makes it a suitable summer work bag. Reviews have been largely positive, ranging from "not too big or too small" to "very stylish and love that it is waterproof." It can fit a Macbook Pro 13 inch with a hard case shell, chargers, and more.
8/12
XB XIBANG Laptop Tote Bag
Best Designer Dupe
This tote bag comes in five different colors, so if you're not looking for a basic neutral, try the burgundy color. It's still versatile but will add that rich hue to warm up your outfits. One fan wrote, "I was very impressed with the quality. The two tone is a nice accent, along with the flower print on the inside. This is the perfect size for my laptop and many other items to and from work...Also, the zipper pouch is another great feature, along with the two inside pockets. I have already recommended this to my coworkers."
9/12
BagzDepot Reusable Canvas Tote Bags
Best for Tossing Everything In
Multi-purposes totes are a win-win in my book. This one can easily hold your groceries from the farmer's market and with a quick wash, turn into a simple tote bag for work. There's room to hold all your necessities and according to some fans, it is thick and sturdy. However, the quality seems to vary with each purchase, so double check to make sure yours is on par. If not, simply return.
10/12
Bostanten Leather Shoulder Bag
Best With Summer Dresses
This bag comes with two straps, one woven and one leather. You can switch it up depending on your mood. For work, opt for the leather piece for a polished look. On the weekends, switch to the woven one for more of a boho vibe. This bucket shape is a nice change from the traditional square style and can still hold just as much. If you're not completely sold on it, just read this review: "This purse is perfect. I bought it to give as a gift for Christmas, but I can't bear to give it away. I can picture it as my go-to bag this summer with a flirty sundress and a floppy straw hat."
11/12
SQLP Waterproof Leather Shoulder Bag
Best for Staying Organized
Your bag-lady tendencies will disappear in an instant with this spacious tote. The accessory comes with a middle pouch, which serves as a divider between two compartments, providing even more pockets to stuff things into. Pros: this bag holds a lot. Cons: the mint or pen you dropped in there a week ago has disappeared into the void.
12/12
Molodo Satchel Top Handle Tote Bag
Best for Day to Night
This bucket tote comes in seven different colors and contains an inner zipped pouch that can be easily removed. The single-strap bag can definitely fit a laptop and a book or two. Fans love that the tote is affordable but still of amazing quality. Some have remarked, however, that there is a cowhide smell, but airing it out for 24 hours should do the trick.
•••
For more stories like this, including celebrity news, beauty and fashion advice, savvy political commentary, and fascinating features, sign up for the Marie Claire newsletter.