6 Sex Tips That Even *Sexperts* Use
So you know you're in for killer advice.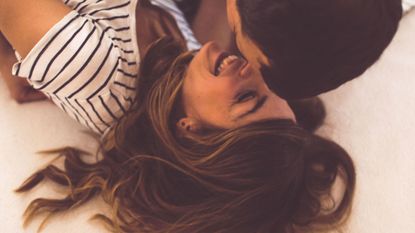 (Image credit: Getty Images)
It's easy enough to follow tutorials on must-try sex positions or study up on technique with the help of videos, but what about the stuff that actually makes for a healthier sex life and a better orgasm? Below, instead of simply asking experts for sex tips, we pressed them to reveal what actually works for them in bed (personal examples strongly encouraged). Because if firsthand advice from sexologists won't get you anywhere, what can?
"This is so simple, but so necessary...and it's maintaining the habit of kissing my husband before he leaves the house every morning. Research has shown that this (and a kiss before bedtime) is beneficial to any relationship, and it's a great way to stay affectionate and connected even when time doesn't allow more. Sexually speaking, it keeps intimacy on our radar, which helps us be more responsive other actions in the bed." –sexologist Yvonne K. Fulbright, Ph.D.
"I've found one of the best ways to enhance my sex life is to introduce new products. It not only mixes things up—which we all know is key to having an expansive, fulfilling sex life—but partners get just as excited to try something new, whether it's a new lubricant (not just for dryness or discomfort!) or the way the vibrations feel on their bodies." –sexologist Emily Morse, host of Sex with Emily
"Don't forget to masturbate even if you have a partner. Enjoy solo sex often—it's good for health and mood, and besides, it just feels so nice." —Joan Price, author of The Ultimate Guide to Sex After 50: How to Maintain–or Regain!–a Spicy, Satisfying Sex Life
4. Tidy Up
"Create an environment that is stress-free and reduces as many external distractions as possible. I clean, turn off the TV, silence my phone, turn off the computer, and even turn the clock away so I can't see the time. This helps to release feel-good endorphins like dopamine, which motivates our pleasure and reward center in our brain." —Ava Cadell, Ph.D., author of NeuroLoveology, the Power to Mindful Love and Sex
5. Don't Focus on Your Orgasm
"It's not always about the orgasm. There is immense pressure to be a rock-star-sex-goddess in the bedroom 24/7 as a sexologist. My partner and I will kick it old school and make out, cuddle, or give each other a nice sensual massage. There is something inherently intimate about touching your partner in all of these different ways. Try exploring their body for your pleasure. Not that sex doesn't evoke similar feelings, but it's a different kind of feeling. Of course, the aforementioned activities can totally be followed by orgasm-filled sex, but just those activities can leave me satisfied. It's always reassuring that you can still feel good about the sex you have and relish in the pleasure, orgasm or not." —sexologist and relationship expert Megan Stubbs
6. Make Sex a Priority
"It's really incredible, the power of orgasms. The way your body needs them, it's important to make sure make sure that sex is a priority of yours. I usually suggest once a week because most of the research studies are based on that. And I see women who get obsessed about having an orgasm and they end up getting vaginal irritation. So I'm really more about making sure you claim sex, that you're doing it once a week, and that rather than obsessing about the technique, that you start thinking about the relationship." —sex therapist Mary Jo Rapini, author of Re-Coupling: A Couple's Four-Step Guide to Greater Intimacy and Better Sex
Follow Marie Claire on Facebook for the latest celeb news, beauty tips, fascinating reads, livestream video, and more.
Celebrity news, beauty, fashion advice, and fascinating features, delivered straight to your inbox!