This Model Gloriously Outs Dudes Who Send Her Unsolicited Dick Pics
Emily Sears is a QUEEN.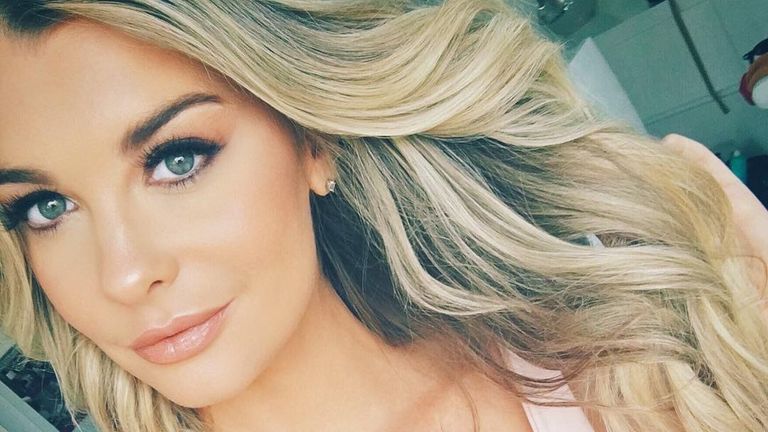 (Image credit: Instagram)
Australian model Emily Sears has curves for days and 2.4 million Instagram followers who are into her curves for days. (And also probably into her her shoes, because she has some awesome shoes.) Of course, since this is the Internet, she has to deal with lots of gross idiocy because she posts pretty pics online and is a woman. Case in point, lots of bros sending her unwanted dick pics. Thankfully, Emily has a brilliant policy for dealing with these human wangs:
My favourite hobby is searching for men who send me disgusting DMs online and replying with pics of their female family members and wives.😊🔪January 25, 2016
See more
OMG YES GIRL.
And she's not joking:
Here's when happens when you send me dick pics to DM. I do not play. Names hidden to protect this woman's privacy.✋🏼 pic.twitter.com/IDZnkUpfXBJanuary 18, 2016
See more
She'll also reach out to these guy's wives and girlfriends. Here she talks with Buzzfeed about how she and her friend DJ Laura Luxx do this:
"I think the first time I decided to contact a girlfriend was probably close to two years ago when I opened my Instagram inbox to yet another dick pic with an explicit caption about wanting to fuck me from some random guy I'd never spoken to," Laura told BuzzFeed News."I wrote back, telling him that his behavior was terrible, and he replied with a string of sexual slurs and abuse, and kept calling me a slut."When Laura clicked on the profile of the man to block him, she noticed almost every photo he had posted was with his girlfriend, and was described in captions by his girlfriend as "the best boyfriend ever!""I guess I felt really sad for her," Laura said. "So I sent her a message with a screenshot of our conversation telling her that I was really sorry, but I thought she deserved to know how her boyfriend was behaving towards other women. "I know if the roles were reversed and it was my boyfriend sending that shit out, I would want to know."
I'd want to know, too, because that's harassment and if you're doing it, you're a shit person. And most people don't want to date shit people. This woman certainly didn't:
Received today after the article was posted.Cropped to protect privacy. The messages are part of a much bigger issue pic.twitter.com/vR58XDarIOJanuary 29, 2016
See more
Heck yeah, Emily Sears!
Laura Beck is a Los Angeles-based TV writer and frequent contributor to Cosmopolitan.com — her work has appeared in the New York Times, New Yorker, Jezebel, and the Village Voice.