Adventures of a Sex Phone Operator: The Surprising Highs, the Grossest Lows, and the Lesson I Took Away from It All
I knew the experience might change me—but I didn't realize how much.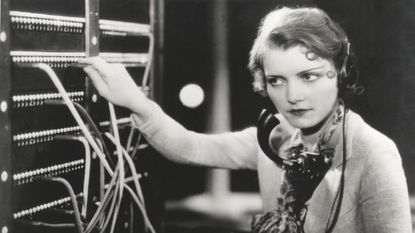 (Image credit: General Photographic Agency / Stringer)
Marie Claire Newsletter
Celebrity news, beauty, fashion advice, and fascinating features, delivered straight to your inbox!
Thank you for signing up to Marie Claire. You will receive a verification email shortly.
There was a problem. Please refresh the page and try again.
When I left home and went to the big city for college, I found myself strapped for cash.
I looked online for "telephone acting gigs," which is how the job was advertised. Companies looked for "talent," not sex workers or snake oil salesmen. The best money was in being a psychic, but I didn't think I could fake it. The idea of lying to people who might actually be looking for help or comfort made me uncomfortable. Horny dudes looking to get off? Those were people I didn't mind exploiting.
So after a few weeks of living off beans and rice, I made the plunge and applied for my job in the phone sex industry.
Getting in was easy. Just mention you're a co-ed with a background in drama and you're golden. Nobody cares how good you are or what you look like. The game is all about fantasy, about whether or not you're capable of maintaining the illusion of being whatever the caller wants you to be.
The only component that turned out to be complicated was getting paid. As a phone sex operator, you don't get paid per call, or even per hour. You get paid per minute at a rate based on how *long* you keep callers on the phone. The longer your average call lasts, the higher your per-minute rate. The rate topped out at 15-minute calls—at that level, you made what worked out to about $35 an hour. And that's good money for a college student working at night out of her studio apartment.
The problem, of course, is keeping your callers on the phone.
At first, I tried to build imaginary relationships with callers, to get them invested in a character I'd created—give them the coveted "girlfriend experience." But I learned quickly that it takes a long time to build up a clientele like that. Most callers, nearly all of them, don't give a crap who you are, who you're pretending to be, or even who they want you to be. All they want is a living, breathing person on the other end of the phone while they climax. And if most of your clients are men already on the verge of orgasm, your calls don't last very long.
At first, I was shocked. I'd answer the phone in my sultriest voice, and before I'd even gotten through asking what their wildest fantasy was, they were moaning, "Oh, God!" and hanging up without saying goodbye.
I had intended to exploit them for cash, but I felt more and more like I was the one being exploited. I listened to guy after guy make these sad little climax sounds and hang up—and I was paid mere pennies for doing it. Between these 90-second calls and pranks from pubescent kids, keeping up my rate got a lot more difficult.
So I began to lie.
Instead of answering the phone with a coy giggle or a, "Hey, stud," I was all business. I didn't bother listening for the tell-tale squelching noises. I snapped quickly and brusquely, "Hello, I'm prepared to connect you to a girl. Can you please describe your ideal operator?"
The men, all of them, paused. "What?"
"If I'm going to connect you to a girl, I need to know your preference. MILF, coed, dominatrix? I've got a lot of operators available. Just let me know which you would prefer so I can put you through."
If you're all business, people feel pretty awkward about jacking off into your ear.
I would ask a few snippy questions, thank them for their patience, and then set the phone on the bed beside me while I came up with a character to meet their fantasy needs. By the time I picked up the phone again, they were cold. They'd been interrupted—and they needed a little help getting back on track. At this point, I'd had them on the phone nearly five minutes. I did the math: If I could keep them on another 10, I'd have a decent paycheck.
I continued to use that trick, pretending to be a dozen different girls, and my pay was pretty good. Men on the phone asked for strange things, and so long as I could make them wait for it, I obliged. While a phone sex operator in the U.S. isn't allowed to pretend to engage in a lot of illegal activities (pretending to be a family member, a minor, or an animal for example), they can explicitly pretend to be a person pretending to be those things. So when a guy would call and want to have phone sex with a mother and daughter at the same time, I could tell him I could pretend to be two people, but if I actually got another person on the line I'd get in trouble.
I performed these scenarios regularly. I even pretended to be women pretending to be dogs. But I knew where to draw the line: I hung up on one caller who wanted me to pretend to be his daughter.
For the clients I actually did engage with, I found that it was so much easier for them to come when they didn't have to articulate their fantasy details to me—when they were just the secret desires they'd already explored in private.
Being a phone sex operator actually taught me a lot about human intimacy. It's difficult to open up—to anyone—about why something excites us. It's so much easier, and socially acceptable, to shut your eyes, let it feel good until it's over, and then feel dirty or shameful about it afterward. I learned that the more my clients actually talked to somebody about their fantasy, the more they accepted it and went with it, and the better that fantasy felt when it went from imagination to some kind of action.
But I also saw firsthand that intimacy and love are not the same.
I never gave men the full girlfriend experience—they didn't want it. They didn't believe I loved them and they didn't believe I was invested in them as human beings. But they did believe I was excited—and even more, excited by the same secret imaginings as them.
Once in a great while, a caller would forget the super sexy reason he called and we'd just talk. He'd tell me about the woman at the office who inspired his fantasy, and I'd find myself giving him advice, encouraging him to share his feelings and make a move. I'd tell him to remember she was a real person who might feel the same way.
Once in every 50 or 200 calls, I'd end up telling the caller to talk to his girlfriend (the girlfriend out with her friends while he stayed home to express secret turn-ons with a stranger). I told those men their girlfriends could pretend to be somebody just as well as I could, and it could be sexier for them when they could see through the lie.
I never had a call that didn't end in the shuddering sounds of a male climax, but there were rare moments before it came when they forgot about sex, too drawn in by connecting with another person, free of judgment.
What I know now is that intimacy isn't always about love—or even sex. Intimacy is about letting somebody inside your head, into your needs, fears, and darkest desires. It's about acknowledging them aloud, even to a stranger whose face you never see.
Follow Marie Claire on Facebook for the latest celeb news, beauty tips, fascinating reads, livestream video, and more.
Celebrity news, beauty, fashion advice, and fascinating features, delivered straight to your inbox!