The Real Reason I Went Back to a Sex Club After My Awkward First Time
Came for the sex, stayed for the food🍗.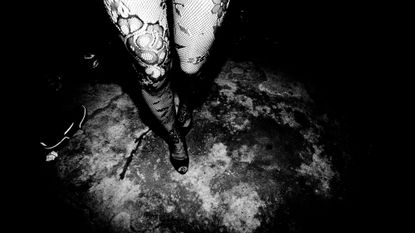 (Image credit: Getty Images)
Sometime last year, my best friend was invited to a sex club in Manhattan by someone she was sleeping with.
When I say sex club, I mean Eyes Wide Shut, but without the creepy masks and mandatory white-tie-with-a-cape attire. The type of place where you pay a fee and can basically choose to participate in an open orgy. You can just watch other couples/threesomes/foursomes, have sex with the person you came with, invite a third (fourth? fifth?) into your copulation, or just straight-up masturbate for an hour. Whatever floats your O.
The experience was all my friend would talk about—what she saw, what she didn't see (but heard), and also, strangely, what she ate.
Yes: In addition to broadening her sexual boundaries, the sex club apparently also broadened her palate with, of all things, an impressive buffet.
I'm not talking the gross, salty stuff that gets served at strip clubs. I'm talking dishes like Chilean sea bass and avocado salad, lobster macaroni and cheese, filet mignon—*fancy* food. And, like the side dish of sex being served all around it, it was all-you-can-eat.
As a single woman in the city always looking for my next extravagant culinary experience on a noticeably unextravagant budget, I was intrigued. All-you-can-eat five-star food for $30? And maybe a bizarre sexual encounter to serve as the (potentially literal) cherry on top?
Sure. Let me get my bib.
My friend started forwarding me emails from the sex club (sex clubs have mailing lists?) boasting their upcoming menu for the next sex soiree: baby back ribs, lemon rotisserie chicken, smoked salmon—and, lest I forget the most convincing part, a bottomless liquor fountain.
We made a pact to go. Together.
So on a freezing Valentine's Day night (because if you're going to do it, you might as well go all out), we bundled up to "treat" ourselves to a fancy dinner in Midtown—courtesy of the sex club.
We arrived at the nondescript building at around 11 p.m. and paid a nice, middle-aged woman with a mom haircut our $30 each. My friend asked if there was still food available. "Of course," she said, smiling. "Go right on in, girls."
We immediately whooshed through an entire room of naked people touching each other, my friend following her nose right to the buffet table. But once we got to the pile of platters, we realized—there was no food left. Not a crumb. Just the sad remainders sauces and steam.
"This is bullshit," my friend said as she pulled out her phone. "I'm getting us a refund."
Mind you, it's my first time in a sex club. So when she leaves to go back to the nice lady at the ticket booth, I'm suddenly alone, mere feet away from people who are moaning and grunting, occasionally popping their head in to also see that there is no food left.
But I'm so awkward with my body—I don't even know if I should sit or stand (maybe stand for awhile and then sit?) because I don't know how to be in such close proximity to strangers openly having sex. Apparently, this does not come naturally. At least not to me.
After what felt like an eternity, my friend finally reappeared and said she had secured us both refunds. Hungry and cold, we passed back through the room of humping strangers and went home.
A year later, still being tempted by regular email blasts about decadent chocolate cake and buffalo mozzarella, my friend and I decided to give it another go. Only this time, we strategized differently: We got there early—at around 7:30, prompt dinner time.
This time there was food. Mountains of it. And we ate like kings. Plates of rotisserie chicken and the most delicious Chilean sea bass I've ever had—surprisingly delicate. Well worth the $30 and soundtrack of orgasms in the background.
While we're shoveling food into our faces and mumbling to one another about how this is the most incredible meal we've ever had, we begin to notice that everyone else taking a seat is either partially naked or completely naked. Meanwhile, my friend and I just look we're out to dinner—fully dressed. We chit chat with strangers like, where are you from? Oh yeah, I used to live around there but I moved here. But there's no denying the awkwardness of reaching across four pairs of exposed breasts for another helping of garlic mashed potatoes.
At one point I got up (to go inquire when the next batch of rotisserie chicken was coming out) and bumped into the co-owner—a lovely man in his mid-40s who repeatedly told me that he just "wanted everyone to have a good time and enjoy themselves." His wife was the other co-owner, and she did all the cooking. She takes tremendous pride, he said, in serving rich, tasty dishes to the patrons.
After dinner, people started traveling to different rooms to commence the true festivities of the evening. I was too full to eat anymore, and figured I had already sat across from these people at dinner, so why not explore? Even in this setting, there was something innately distasteful about bailing after dinner.
Because I was fully clothed, I wasn't permitted to go upstairs where nudity was mandatory (fair), but I still got an eyeful wandering around the rest of the place. I saw a Hasidic man getting a blowjob—his yamaka still on despite that he was completely nude. I saw a woman with the largest, fakest-looking breasts I've ever seen riding a man who didn't seem to care either way.
And then I wandered to a dimly lit room that was sectioned off by a spinning fan you could peek through. As bodies started to come into focus, I realized there were about 50 people in there—doing everything. Massive piles of group sex, threesomes, foursomes, spectators, and entire clusters of people masturbating. People in their 20s and 30s all the way up through their 70s and possibly even 80s, of all different races. To this day, it's the most diverse space I have ever seen in New York City.
The evening eventually wound down, and my dinner companions started putting their clothes back on and saying goodnight to each other. From the inside of a bathroom stall, I heard two men exchange high-fives and say they would see each other next week.
My friend and I left, and wandered into the night with full stomachs and a new sense of curiosity. Maybe, I thought to myself, I'd go back some day...if only to answer the siren call of that lobster mac and cheese.
Follow Marie Claire on Facebook for the latest celeb news, beauty tips, fascinating reads, livestream video, and more.
Celebrity news, beauty, fashion advice, and fascinating features, delivered straight to your inbox!