Inside a London Sex Party for the Sexual Elite
One writer investigates what a Killing Kittens party is really like.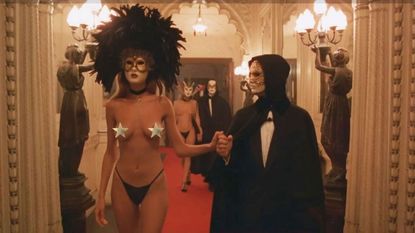 (Image credit: Warner Bros.)
WARNING: NSFW
Everyone around me is fucking.
Everyone.
On a T-shaped couch, dozens of naked bodies are kissing and thrusting like a sexual assembly line. A blonde woman with enormous breasts is making out with a curvy redhead as a petite brunette goes down on her while a man fucks her from behind, holding down her hips with one hand while massaging the breasts of the another blonde with the other, and so on.
It's a chilly Saturday night in mid-October, and I'm in a darkly lit townhouse in Fitzrovia at a sex party for Killing Kittens, the famed London-based club that was designed explicitly for what the founders call the "sexually elite."
This was my first-ever sex party. Sex with strangers—especially lots of them—is not really my thing. But it seemed like a fascinating experience, so when a friend invited me to go during my holiday in London, I breezily accepted. Sex parties aren't exactly a new concept, but KK has a certain mystique because it's a known brand that prides itself on exclusivity. I wanted to see it from the inside.
With KK, you can't just rock up to a party. First, you have to apply via the site, upload some photos, and list your profession. The vetting process is one of the things that distinguishes KK—that's how it promises a safe environment full of attractive individuals instead of a cavern of lecherous creeps.
"The term 'sexual elite' more relates to the high-flying hedonist," Emma Sayle, the CEO of KK, told me in an email when I asked about the vetting process. She said KK isn't necessarily looking for "supermodel qualities," but instead people with "more the right lust for life and attractive looking people who obviously take care of themselves."
Roughly 20 to 30 percent of applicants are rejected, according to Sayle. "It's obviously hard to know if people are lying and everyone takes a good photo so there's always a few people that slip through vetting who shouldn't," she said, though everyone I saw at the party certainly fit the description of a conventionally attractive, successful 20- or 30-something.
If the orgy gods deem you worthy, you can buy tickets–which are usually £40.00 for girls and £160.00 for couples—to one of the sex parties that take place roughly twice a month in London. The location is always a nearly empty townhouse (often provided by members or rented through Airbnb), but it changes every time, and the address is sent to you the night before the party.
The Rules
The day before the party, I receive an email listing the address of the party, along with the rules, in bold:
Men must not approach women. Men must not enter the playroom solo or linger alone. Men must wait to be invited. Treat everyone with respect. No means no. No phones or photography. No Mask, No Entry. No gossiping. What happens at KK stays at KK.
The fact that men can only enter the party if they are with a woman also distinguishes KK from other sex parties, and it's part of Emma's vision for creating an environment that's oriented around female pleasure and empowerment.
"I wanted to create a safe environment for women to explore their sexuality and be the ones in control, not like the other sex parties out there which are run by men," she said. "It is a feminist club in that it's all about the girls having the power to control their vagina and decide how far they want to go."
The doors open at 9 p.m., and guests arrive in masks, fully dressed—most of the women come in gorgeous, glittering dresses; the men wear suits or tuxedos. Mobile phones, which are strictly prohibited (along with any photography), are left at the entrance as guests head to the basement, a sparsely decorated lounge lit only by long candles in gilded holders that cast dramatic shadows onto the white walls. A velvet curtain conceals a small indoor grotto, where guests pack in for the champagne and oyster hour, and where my evening begins.
My First Sliver of Sex
Happy hour—when guests mingle and get to know each other—takes place from 9 to 11 p.m. At 11 p.m., the doors close and no one else is allowed inside. This is when people can remove their masks, disrobe, and start to play. But making conversation isn't easy. Usually, at a bar, you can sit and wait for a man to approach you, or naturally strike up a conversation while waiting for your drink, but here all of the masked men are already occupied with the female who brought them, so it feels a bit awkward to just cut in without knowing whether or not they're dating.
As a novice, I'm unsure of the appropriate social protocol. Were you supposed to just hover around a circle of strangers until an opportunity for you to interject appeared, as at a cocktail party? Were you supposed to sit in a seductive pose and wait until you lock eyes with a man across the room and then silently undress each other, like people do in perfume adverts? Or were you supposed to just get straight to the point and tap the object of your desire on the shoulder and say, "Pardon me? Fancy a shag?"
To add to the problem, my Venetian mask is not nearly as comfortable as period films would have you believe. I have a hard time breathing and seeing in it, so I walk over to the couches to rest for a moment, and end up quite literally stumbling across an orgy.
It's in one of the little bedrooms, and there's such a mesh of arms and legs and heads and breasts that I can't even figure out how many people are engaged in intercourse or what precisely each one is doing. I try to do the math but the number of heads and legs never really match up.
I figure it must be past 11 (without my phone I really don't know and there are no clocks to speak of), so with a sigh of relief, I remove my mask and my dress, revealing the lingerie that I'm so excited to wear: a black bodice with white bows on the garter belt, along with lace thigh-high stockings. My friend Nicole* takes off her dress as well, and almost immediately a woman with long black hair, perfectly arched eyebrows, and the most incredible ass I've ever seen slinks by me in her sequined gown and says, "I love your lingerie." Immediately, her male companion, a good-looking, bald man in an all-white suit and crocodile shoes turns to me and agrees.
So, this is how it works, I think. A little compliment to break the ice, a little chitchat, a little sex. Makes sense. Not so different from a bar really.
But I'm wrong.
The Room Where Everyone Fucks
As Nicole and I, as well as our new couple friends Amira and Saheed*, ascend a spiral staircase, we hear music that has a steady beat but no melody coming from the main room. This is the room where everyone is fucking—where a T-shaped couch serves as a sexual assembly line. It's animalistic anarchy. It seems like once you get on the couch you tacitly agree to a sexual free-for-all. It certainly doesn't appear like anyone is being violated in any way, and I don't see anyone turning their head away or pushing back anyone's arms or other appendages, but there's also absolutely no exchange of consent. The more I watch, the more it seems like most of the people having sex exchange absolutely zero eye contact, let alone verbal interactions.
A man is fucking a woman next to another man fucking a woman when suddenly one of the guys reaches a hand out and starts massaging the adjacent woman's breasts or genitals without even looking at her. When that couple leaves another pair takes their place, and again a hand reaches out and slaps her ass, or the woman leans over and kisses her or sits on her face and starts grinding away. It's a miracle no one accidentally puts someone's foot in someone else's mouth or knocks heads while lunging at the same penis. But it's also strange, to me at least, to have sex with someone with whom you've had less of an interaction than the person who stands next to you on the tube.
I get a small taste of this later in the night, when Amira kisses my neck and suddenly I feel cold, wet lips on mine and open my eyes to a man I've never seen before slinking away. And while I'm going along with it all, I also feel gross at having been kissed before I had the option to say no.
By the look of it, the four of us are the only people in the room not having sex, and it's funny how quickly we become desensitized to it all. When I first spot that mesh of bodies writhing in the basement, I respond the way your nan would when faced with the same scene: with a look of shock and a jolt followed by a flustered "Oh, dear me!"
But after about an hour, I'm so desensitized to what's happening around me that I start discussing Brexit with Saheed—and I don't even look up when a guy starts fucking a woman from behind against the armrest of the sofa. "So, what do you think the economic ramifications will be?" I ask him as the sofa shakes back and forth.
At some point, Nicole makes out with Amira and I make out a bit with Saheed and then Amira unfurls his semi-flaccid penis through the zipper of his pants and half-heartedly sucks on it. But really, our enthusiasm is waning.
I fall asleep from a mixture of jet lag, champagne, and boredom.
I wake up.
I look around.
Yep, still fucking.
The Final Orgasm
At this point, it's around 1 a.m., and the party is in full swing, but we're ready to go. Amira suggests heading out to a few nightclubs, so we drive to some places in Saheed's Lamborghini, which features LED lights and gull-wing doors. I don't regret going to the KK party, but I also don't particularly want to go again, though I can certainly see its appeal, not least of all because about an hour before we leave, I spot a couple having what appears to be an amazing time.
Amira had just pointed out that the whole place was actually really quiet, apart from the ambient music. For all the sex, there's no moaning, genuine or otherwise. That's when, as if on cue, we hear a deep moan coming from an attractive blonde woman getting fucked by a very handsome man with dark curly hair. He's on his knees on the couch, wearing a white blouse unbuttoned all the way to reveal a muscular, tanned torso, holding her legs apart in a V shape by the thighs. She's lying on her back, having slipped down enough that her peroxide blonde hair is wiping the floor. Her round synthetic breasts bounce rhythmically with each thrust. Her moans grow louder and more intense until she comes. She curls her body up to him and he wipes away a few strands of hair sticking to her wet forehead, and kisses her very softly in between her brows. Then he slips on his khakis with natural ease and disappears into the darkness.
I see him again a little while later, taking a redhead from behind against the fireplace, and he does the same thing. After she comes, he mops away her wet hair and kisses her gently on the forehead, as though it were some sort of spiritual ritual, or an ode to a primordial time when sex didn't need words.
RELATED STORY
*Names have been changed to protect the privacy of attendees.
Follow Marie Claire on Facebook (opens in new tab) for the latest celeb news, beauty tips, fascinating reads, livestream video, and more.
My writing has regularly appeared in The New York Times, The Paris Review, Salon, VICE, Guernica, The New York Observer, BuzzFeed, Cosmopolitan, Seventeen, Esquire, Elle, Harper's Bazaar, and many more publications.

I was previously the Senior News Editor at Best Life Online and the Viral Content Editor in the Newsroom of Hearst Digital Media. My portfolio consists of a vast and diverse body of work that includes personal essays, lifestyle articles, breaking news posts, and viral content. My areas of expertise, however, are Russia, sex and relationships, and mental wellness.