Leather Harnesses, Ball Gags, and Furries Galore: My Weekend at a Fetish Convention
It was basically ComicCon, only sexier.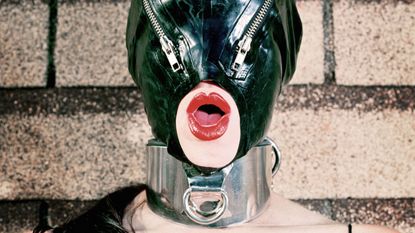 (Image credit: getty image)
Marie Claire Newsletter
Celebrity news, beauty, fashion advice, and fascinating features, delivered straight to your inbox!
Thank you for signing up to Marie Claire. You will receive a verification email shortly.
There was a problem. Please refresh the page and try again.
That man's skirt is legit, like, three inches long." My friend Julie, with a look of bewilderment, pointed across a pool filled with forty black swan floaties.
The man in question was easily seven feet tall, shirtless, and wearing a pleated leather skirt that matched his female partner's. They looked like porny school girls and I was here for it. His buttcheeks hung out from under the flaps of the skirt with reckless abandon. He did not give one single F.
The Pervy Pool Party had been sold to me as, "excellent people watching" and was the crescendo at the end of FetishCon, a three-day convention devoted to all things fetish. Everything from BDSM, to furries, to tickling, to sploshing (sexual pleasure from sitting in jelly-like substances) has a place at FetishCon.
RELATED STORIES
The location? Well, Tampa of course. Where else would you expect a fetish convention to be held? Obviously if the leather hotties and people dressed as dogs are going to congregate anywhere, it's going to be Florida. Tampa is ranked in the top 20 trashiest places in America. It has the most strip clubs per capita. One of my friends from Tampa uses it as a segue at parties to explain why she's wearing moon boots, like, "I'm from Tampa. I'm garbage, obviously."
The convention was held at the Hilton in St. Petersburg (which I'm told is not technically Tampa). Any hotel is a sterile location for a crowd with so many dildos present, but it was a far cry from a Holiday Inn Express. Props to the Hilton Hotels for being so sex pos. Snaps for you, Hilton. (Paris, are you there? It's me, Gigi).
Before I left for this assignment, divulging my plans to drunk friends in New York, I was consistently asked the same two questions: What happens at FetishCon? and Are you scared? I would guffaw and assure my cohorts that I was, most certainly, not scared, "Um. I'm a journalist. Hello!" In reality, I was peevish. I'm not afraid of fetishes or people with fetishes, but I secretly wondered, Is this going to be an orgy? And, if so, am I cool with that?
Unable to answer this question, I boarded a plane to Florida on two hours of a sleep and a pocketful of dreams.
Founded in 2000, FetishCon is basically ComicCon...only sexier. Or rather, it's ComicCon if the attendees explicitly stated that they wanted to have sex with each other. Most people dress up in costumes of a fetish variety; this includes role playing as doctors, school girls/boys, warrior princes/princesses, etc., as well as an array of full-suit animal costumes (furries) and a lot of latex. (There was a lifeguard by the pool and I'm not entirely sure if he was a lifeguard or a "lifeguard," if you know what I'm saying.)

The convention is a three-day extravaganza consisting of workshops, sexy parties (including one called The Twisted Dungeon), and a trade show. It's a celebration of all sex things weird and alternative. My kind of place. I was catching the last day. With only twenty-four hours in Tampa, I wanted to make them count.
As early as check-in, I realized I missed the memo about dressing up: a six foot three bald woman, decked out in full leather Xena Warrior princess-like regalia towered over me. I would later find out (through internet stalking, duh) that this was Queen Qandisa, an award-winning fetish model. Needless to say, I didn't have jack shit like the Queen's outfit crammed into the backpack of regular people clothes I'd brought.
I eventually decided on a lace blue bralette and a kimono. I even took a Boomerang dancing like I was supposed to be at this convention, and definitely was not some idiot outsider. (Do I belong now, mom? Hmm?) Then Julie and I headed downstairs to hit up the goods for sale. The trade show was the Willy Wonka's Chocolate Factory of fetish equipment: rows and rows of candy-colored play-gear, as far as the cramped cream walls of the Hilton allowed. Every porn fantasy you've ever dreamed of was in reach, from the handmade rope to the buttery leather whips and paddles, from luxurious handmade costumes to glass dildos blown with intricate designs.
A low-cut, plastic black dress caught Julie's eye. "This would look amazing on me," she said. She was not wrong.
I'm high-key obsessed with quality fetish equipment so I was in heaven. I perused the paddles of all shapes and sizes and ran my hand over the hand-stitched patchwork. I imagined the puckered skin of a butt, fresh from spanking.
Julie cautiously asked me about everything she was seeing. She had never been around anything like this in her life. "What are they doing over there?" she asked.
I explained that the man curled on the floor wearing a ball gag, being relentlessly tickled had a fetish for tickling. "What is with that costume?" she inquired of a man in a high school mascot-esque blue dog costume.
"Some people like to pretend they're animals when they have sex or do sexual play. It's a form of role play. I don't want to say it's bestiality play exactly, but it is a bit of that, I think," I explained.
RELATED STORIES
We wondered how the actual fuck anyone was wearing these elaborate costumes in this 90 degree heat. Later, at the pool party, we saw a group of three people train-humping each other on the dance floor, covered head to toe in navy spandex. I'm talking face fully covered, gyrating to Cyndi Lauper. How?!
As I was admiring some scented purple rope, a man in his mid-sixties, working the stand approached us. "Are you a model?" he asked me. He came uncomfortably close, just inches from my face.
By "model," he meant "porn performer." I believe society was built on the back of sex workers so, don't get me wrong. I respect sex work and sex worker rights, but I am not one of them.
"No. I'm a writer," I responded.
He reached up to touch my arm and I quickly recoiled. "An erotic writer?" he persisted.
"No. A journalist." Julie grabbed me with a NOPE THAT'S CANCELED look and we walked away, slightly alarmed by the lack of boundaries. Julie's both my friend and my publicist and she'd come to support me during this weekend of vice. She's only about ninety pounds, but her bark equals her bite.
There no room in the world for men believing they can touch women without explicit permission. It goes to show that even at a fetish convention—one explicitly designed to be a safe-haven for the fringe groups of society—no one is safe from creepers.
We rifled through our events calendar—a xeroxed list of all the workshops available at the convention—and followed the meandering crowd to the back of the hotel, where classes were held in windowless conference rooms. The workshops are, in my opinion, the best part of the whole convention.
At Psychological Domination, a class hosted by Jet Setting Jasmine and King Noir, the focus was how to dominate someone using techniques of the mind.
The room was packed. Sitting next to us were two chubby goth men, one holding his skinny wife on a leash with a dog collar. The crowd was engaged, often chiming into the lecture, as if to prove this was something they already understood conclusively.
Jasmine and King informed us of the existing types of mental domination: Edge play, or bringing someone as close to orgasm as possible, without letting them come; using technology to dominate someone over the internet; and a particular focus on financial domination, where someone gets off giving their finances over to a Dom.
(I'm over here like, hey, where do I get someone to give me money for no literally no cost to me? HMU.)
"Psychological domination is not abuse," King explained. "It is a consensual exchange of power. Doms and subs need to understand their place in the relationship and a responsibility to taking care of each other."
After the workshop ended, Julie and I went to get some water. "I've never seen anything like this," she told me, eyes darting around, taking everything in. There's nothing like learning that some people like to have their bank accounts dominated to send a type-A person like Julie into a whirlwind of thought.
We had time for two more workshops before dining at the hotel restaurant to fuel up for the Pervy Pool Party. In stark contrast to the world of psychological domination, we chose a class on consent. It wasn't exactly the "sexiest" subject matter, but when it comes to fetish, it's one of the most crucial.
The class was taught by the glorious, sumptuous Mistress Thick, a former porn performer. She was dressed like a super sexy bar-wench-dominatrix-pirate-princess to teach us how to be empowered as women. It became a very intimate conversation. The lesson moved from a workshop into an insightful disclosure of our own histories with consent violation.
"Conversations around consent need to constantly happen and evolve," she told us. "If you don't get a 'yes,' it's a motherfuckin' 'no.'" I ate my crappy hotel dinner with relish that night, famished from an emotionally overwrought afternoon of learning.
FetishCon is an intellectual adventure as much as it is a carnival for the misunderstood and outcast. From the hordes of folk clad in harnesses and assless chaps to the in-depth workshops, you never stop absorbing and contemplating. And despite the eccentric costumes and unencumbered embrace of all things taboo, it was a lot less-weird than you might think. It was awesome to see people expressing themselves freely in ways they may be suppressed from doing in their everyday lives. There was a pervasive sense of inclusivity and something therapeutic about attending. These were normal people who enjoy sex like everyone else.
On the ride to the airport Sunday morning, our cab driver seemed very intrigued about what had been going on at the Hilton that weekend, so as we climbed along the highway—a tropical storm forming in the distance—I told him all about FetishCon.
We talked about fetish and its psychological effects for thirty minutes straight and when he dropped me off at my gate, he said, "I'd like to take my wife there next year," a smile on his face.
"You should," I said. "You'll probably never be the same."
Follow Marie Claire on Facebook for the latest celeb news, beauty tips, fascinating reads, livestream video, and more.
Celebrity news, beauty, fashion advice, and fascinating features, delivered straight to your inbox!
Gigi Engle is a writer, certified sexologist, sex coach, and sex educator. Her work regularly appears in many publications including Brides, Marie Claire, Elle Magazine, Teen Vogue, Glamour and Women's Health.