Sex Diary: Casual and Kinky
"I remind myself that good sex doesn't mean relationship potential."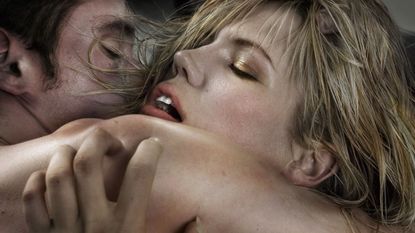 (Image credit: Archives)
Diana, 23, Web editor, New York City
MONDAY 7 p.m., work: Get a text from a friend asking about bar-hopping tonight. I'm not crazy about the scene, but I've been single for three months, and it's been almost that long since I've gotten laid. Say yes to the invite.
10 p.m., home: Getting ready to go out when Sean, whom I haven't spoken to in a year, IMs me. We've hooked up before, but it's always stayed PG since I'm intimidated by his experience--the only things not on his sexual résumé are, for the most part, illegal acts. We make plans for Wednesday.
3 a.m.: Back from the bars with no hookups or numbers.
TUESDAY 10 p.m., home: IMing with Sean. We flirt and agree to meet at his place. He's single, so I'm pretty sure we'll hook up, but I don't know how far I want it to go. Still recovering from the breakup. Want to keep my sex life uncomplicated.
WEDNESDAY 8 a.m., home: Wake up late and decide against a quick bikini-line shave, since I keep telling myself things won't go that far tonight.
10 p.m., Sean's couch: He asks about my breakup (a downer), then tells me about the sex toys he owns--an array of vibes, whips, and cuffs.
12 a.m.: He finally kisses me, and I instantly regret not shaving.
12:15 a.m., Sean's bedroom: He opens up his trunk-size goody drawer. I'm surprised. I don't usually expect to see Babeland's entire stock laid out in front of me the first time I sleep with someone. But his boldness is a turn-on, so I go with it.
3 a.m.: I'm grinning into the pillow; his skills with a vibrator deserve a round of applause. He cuddles up next to me unexpectedly and kisses my forehead--my kryptonite. Surprised to see this affectionate side of him, which feels a little inconsistent with just-for-fun sex.
SUNDAY 10 p.m., home: Sean and I chat online. We discuss our likes and dislikes in the bedroom as I remind myself that good sex doesn't mean relationship potential.
11 p.m.: I respond to a dating-site message from a guy 19 years older than me who plans to move to Sweden within the year. Even if we click, his situation makes long-term potential negligible. Just what I need to kick Sean, Mr. Friends With Benefits, out of my head.
More from Marie Claire:
30 Hot Sex Stories from Real Women (opens in new tab)
8 Sex Toys for Women (opens in new tab)
10 Sex Positions Perfect for Every Couple (opens in new tab)
The Ultimate Orgasm Guide (opens in new tab)