Super-Sweet Holiday Gifts for Couples
Got a couple of couples on your list? Or are you half of one? Either way, since this gift counts double, it may just be the trickiest one you'll buy this season. Here, our ideas for what'll make any duo happy.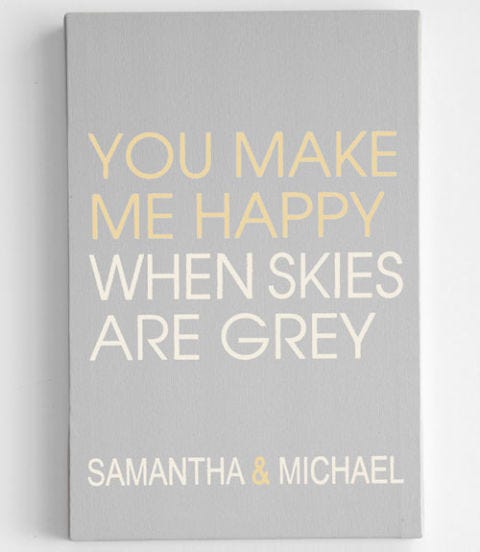 Personalized "You Make Me Happy" Wall Art
When giving a gift that tugs at the heartstrings, it's all about the personal touch. This simple-yet-charming work of typographical art (Samantha & Michael not included) will brighten up any room. We love the large stretch canvas one, but they've got tons of sizes and styles to choose from. $149 at
Red Envelope
.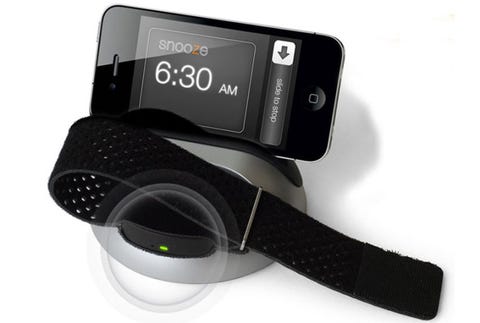 Lark Un-Alarm Clock
This gift will help you and your partner perform better in bed, but not in the way you (dirty-mindedly) think. Perfect for couples with different sleep schedules, this patent-pending vibrating wristband syncs up with your iPhone to gently and naturally nudge the early riser awake without ever disturbing their bedmate's REM cycle with the "REEE-REEE-REEE" jolt from a traditional alarm clock. Plus, the system's Sleep Tracker app helps the wrist sensor pick up on your patterns to report back on your quality of ZZZs. $99 at
Lark
.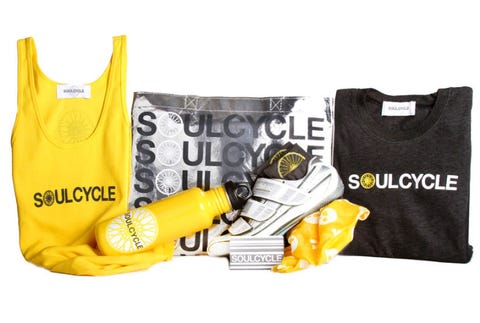 SoulCycle Starter Kit
The couple who sweats together stays together, right? For those of you based in New York or L.A. who also love to spin, encourage your guy to join you with this beginner's kit for SoulCycle. It includes a 5-pack of classes (worth $160) along with free shoes and water at each session, a pair of socks, a bandana and a T-shirt. And if you botheed a kick-start the women's starter pack comes with a chic tank. Now, there's no excuse to avoid a little exercise for two. $200 at
SoulCycle
.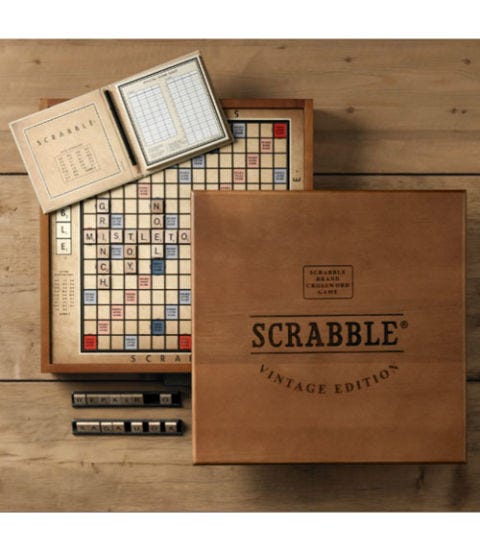 Vintage Edition Scrabble
Did you know that during the Great Depression, an unemployed man invented a board game using letter tiles that he first named Lexico? Neither did we! That little history lesson goes perfectly with this re-imagined — and dare we say romantic? — edition of what Scrabble might have been back then. Complete with a solid hardwood game cabinet, metal tile racks, and an adorable fabric pouch to hold the 100 embossed wood tiles, this sets the perfect scene for a cosy date-night-in. $199 at
Restoration Hardware
.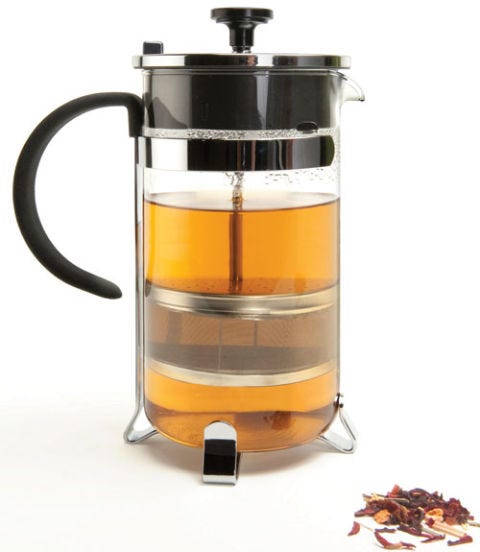 Duet Tea + Coffee
You like coffee, he likes tea. How will you ever survive? This dual French press and teapot may just make your opposites attract at that most crucial time in the morning when you are both sorely under-caffeinated. Easily transition from one to the other with the press and release of a knob! Was that so hard? $44 at
Miam.Miam
.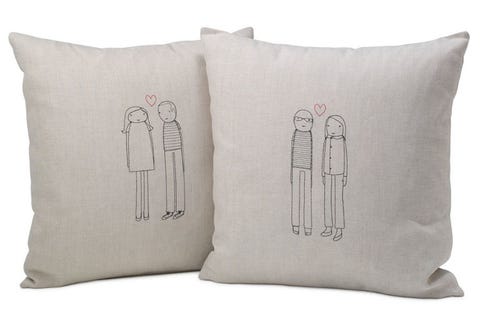 Personalized Couple Pillow
What better way to capture the adorableness of you and your mate (or your favorite couple) than with something just as cuddle-worthy? This throw pillow, embroidered with a caricature version of the two lovebirds, is handmade with natural flax, organic cotton, and recycled wool. Plus, you can customize it by selecting one of the site's dozens of featured characters to get it just right, down to the striped shirt. What a snuggly addition to movie night! $150 at
UncommonGoods
.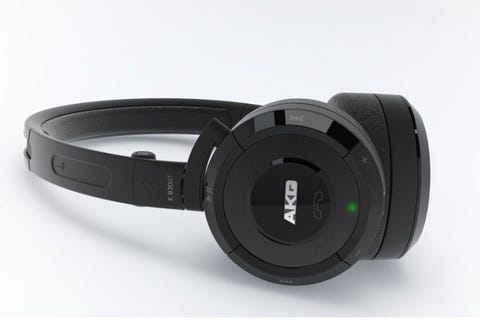 AKG By Harman Wireless Headphones
They often say that the best way to kill the mood is to have a TV in the bedroom. But, who are "they," anyway? For the 21st-century version of the odd couple — where one likes to go to bed early and read the classics while the other prefers staying up to catch every late-late night show on basic cable — these headphones sync up to the TV (or any Bluetooth-enabled device), so that you
both
will be in good moods. $300 at
Harman Audio
.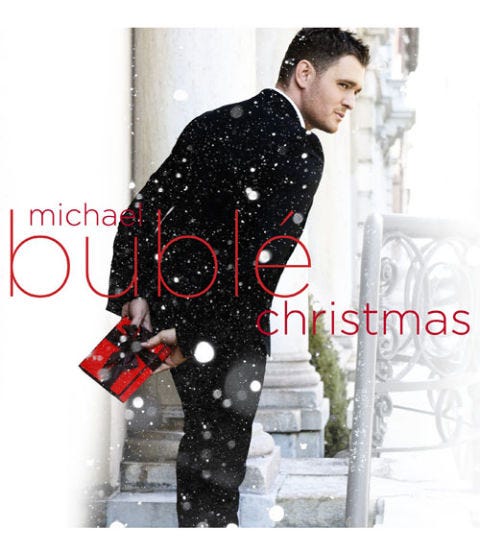 Michael Bublé Christmas Album
Every year, some singer comes out with a holiday album, and usually (with the obvious exception of Mariah Carey) they're just a big cheese-fest. But, we've got a soft-spot for this Canadian crooner, who adds serious live studio sexiness to such diddies as "Santa Baby" and "Winter Wonderland." Not a bad playlist for a romantic night of roasting chestnuts. $14 at
Target
.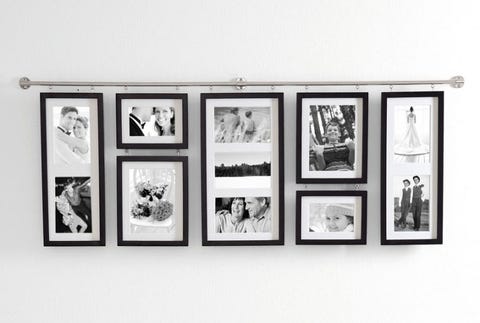 Hall Gallery Frame Set
If a picture is worth 1,000 words, then ten pictures is well worth the price for this hanging frame set. We suggest, though, that you gift it pre-stocked with cute, candid photos of the two of you. To really sweeten the deal, get them all done in dramatic black-and-white. $100 at
Red Envelope
.
This content is created and maintained by a third party, and imported onto this page to help users provide their email addresses. You may be able to find more information about this and similar content at piano.io