Kylie Jenner's (Blurry) Baby Bump Makes Its Debut in Newly-Surfaced Photos
Wait, how did nobody notice these paparazzi shots for three months though!?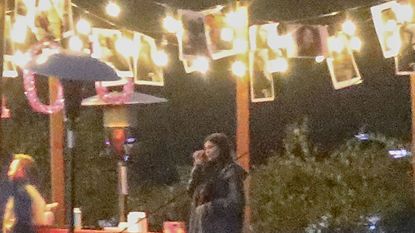 (Image credit: X17)
Despite her reported pregnancy breaking back in September, Kylie Jenner has managed avoid any photos of her baby bump surfacing in paparazzi shots, on Instagram, or even at Kris Jenner's annual Christmas Eve bash earlier this week. But, as it turns out, a first look at Kylie's baby bump emerged back in late September in photos that fans recently resurfaced on Twitter.

[asset removed due to syndication rights]
According to X17, the blurry paparazzi photos are from a surprise birthday party that Jenner threw for best friend Jordyn Woods that month — at Will and Jada Pinkett-Smith's Calabasas home, nbd. (Maybe the Calabalas Chuck E. Cheese was booked?!) Although the 20-year-old Lip Kit creator wore a baggy parka jacket to the event, she can be seen resting her arm on her stomach in the photos.
Though it's not exactly the pregnancy confirmation or reveal we had in mind, it's still a first look at the youngest Kardashian/Jenner sibling's mysterious (and still technically unconfirmed) —which will have to do until she officially shares the news herself.
Meanwhile, Khloé Kardashian confirmed her pregnancy news on Instagram last week with a black and white photo of her baby bump in her Calvins with boyfriend Tristan Thompson. She also revealed that she's six months along in her pregnancy on Twitter.
Rounding out the expanding Kardashian/Jenner family is Kim Kardashian West, who is currently expecting her third child via surrogate sometime this December or January. Can you keep up?