That Nicki Minaj/Miley Cyrus Moment at the VMAs? Here's the *Actual* Footage
Nicki Minaj Calls Out Miley Cyrus for Those "Not Very Polite" Comments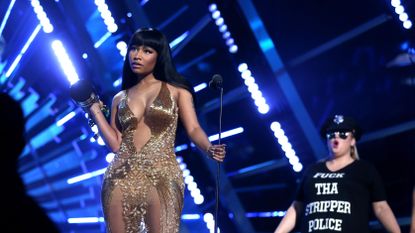 (Image credit: getty image )
Marie Claire Newsletter
Celebrity news, beauty, fashion advice, and fascinating features, delivered straight to your inbox!
Thank you for signing up to Marie Claire. You will receive a verification email shortly.
There was a problem. Please refresh the page and try again.
Update, 9/1: Remember the video that circulated yesterday of Miley's face in reaction to Nicki's now-confirmed-to-be-totally-unplanned-and-genuinely-real shade at the VMAs? (If you do not, or are blissfully ignorant, scroll down to two updates ago.) MTV is coming forward today to say that was Miley reacting to something else, not the shade, and in fact Miley's reaction to the shade was very different.
We realize the layers of truth to this onion just keep peeling, so here, why don't you watch the totally unedited footage and see for yourself?
Get More:
Is it just us, or does this whole thing seem a lot friendlier now? Like they're both playing along? Are those *smiles*?!

Update, 8/31: Fact: that Nicki and Miley beef was not staged. An MTV rep has confirmed that Nicki's comments were not anticipated or planned, and that Miley's reaction was very, very real.
Welp...
Update 8/30, 11:28 p.m.: Judging by Miley's face when Nicki called her out, we're guessing the shade was real.
Original 8/30, 10:20 p.m.: In the lead-up to her new gig as VMAs host, Miley Cyrus gave an interview to the New York Times in which she talked about the much-discussed Nicki Minaj/Taylor Swift Twitter exchange regarding this year's nominees. Apparently Nicki read that interview, because after accepting her award for Best Hip-Hop Video (she thanked her fans and her pastor), Nicki looked over at Miley and said, "Now back to this bitch who had a lot to say about me the other day in the press. Miley, what's good?" Miley responded by hinting that her words had been twisted by the the NYT reporter, but Nicki, standing off to the side and continuing to speak about it under her breath, clearly did not buy it.
Miley then fired back by saying the awards are "no big deal" and seemingly referenced her "Wrecking Ball" video, which some people believed Nicki was referencing in her original tweets. "It's just an award," Miley declared. "And I persevered."
Celebrity news, beauty, fashion advice, and fascinating features, delivered straight to your inbox!