Has Wikipedia Solved the Mystery of Kylie Jenner's Pregnancy?
Praise be.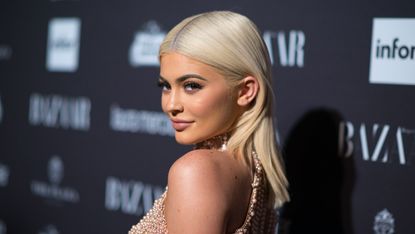 (Image credit: Getty)
The wait may finally be over, if you wholeheartedly believe everything you read on Wikipedia. Those who've closely followed Kylie Jenner's pregnancy rumors since last fall will be delighted to know that the season 14 page for Keeping Up With the Kardashians recently added a new entry for episode 19. For starters, the episode, set to air on Feb. 25, is called, "We're Expecting." Ready for more? Great! The episode description is as follows:
Following Khloé's pregnancy announcement, Kylie and boyfriend Travis Scott have some big news of their own to share with the family. Kylie chooses to have a break from her social media and focus on her upcoming blessing.
Unless Kylie's been playing the world this whole time and is actually announcing a makeup or music collaboration with Travis, this could be ~*the episode*~ in which she announces that yes, she is expecting her first child and more importantly, Kris Jenner will indeed become a grandmother once again, following the arrival of Chicago West and soon, Khloé's baby.
Also of interest: this entry for the following episode, titled, "It's a girl!."
Believe what you will, as you are dealing with Wikipedia here. Recall: in mid-December, days before Khloé officially confirmed her pregnancy, the KUWTK page listed "Baby Fever" as an episode airing on Dec. 24. Of course, that never happened. In fact, the show took a holiday hiatus following the Dec. 17 episode, "Press Pass," and did not return until Jan. 7 with "My Mother's Keeper." Khloé's pregnancy announcement episode, "Bun In the Oven," aired Jan. 15, almost a whole month after she confirmed her baby news on Instagram. All this to say, feel free to get excited/organize a viewing party, but set some boundaries, protect your heart, and prepare for the worst (ie., no baby news).
Meanwhile, if you care for yet another Kylie headline, PEOPLE is now reporting that the 20-year-old, who is allegedly due in February, has yet to hire a nanny in fear of new people being around her baby. Says a source, "At first, she only wants [mom Kris Jenner] and her sisters to help with the baby. She is worried about new people around the baby." Makes sense, considering Kylie caught an employee trying to take a photograph of her on a recent episode of KUWTK.
If anyone needs me, I'll be refreshing the KUWTK Wikipedia page every hour and of course, watching the show every Sunday from now until something, anything happens.
Celebrity news, beauty, fashion advice, and fascinating features, delivered straight to your inbox!
Peggy is Cosmopolitan.com's entertainment writer, specializing in Leonardo DiCaprio, This Is Us, and the royals. She's also a proud Canadian and pug lover. When Peggy's not obsessing over Leo's latest lover or gut size, she can be found watching old episodes of Friends or Gilmore Girls. Her dream is to one day live on a pug farm and write children's books, with illustrations by her very talented husband Greg.