Kylie Jenner Got a Gorgeous Tattoo to Honor Her Grandmother
And she broadcast the whole process on Snapchat.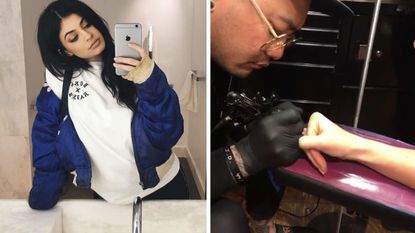 (Image credit: Instagram/Snapchat)
It was a busy weekend for Kylie Jenner. On Saturday, the reality star and cosmetics queen got two brand new tattoos, including one to honor her grandmother, Mary Jo Shannon, and another to match with her BFF, Jordyn Woods. She debuted both tattoos on Snapchat yesterday, and kept followers by her side through the whole process of getting them.
The tattoos are both elegant and simple: The former features her grandmother's name in cursive—presumably her signature—on her inner arm, and the latter features the letter "M" on the inside of her pinky.
But because getting new ink just isn't adventurous enough for King Kylie, while at the tattoo parlor, she also managed to convince her tattoo artist to let her give him some new ink, too.
Later in the same series of snaps, Kylie can be seen donning gloves and holding a tattoo gun to her artist's hand while he wipes blood and ink off in between strokes. It's hard to see what exactly Kylie's drawing (her friends narrate that it looks like it's a tiny heart), but either way, her "victim" seems to think she's doing a surprisingly good job for a first-timer.
If her lip kits, app, clothing collections, and TV show don't work out for her, it looks like Kylie might just have an excellent new option for a back-up career.
Follow Marie Claire on Facebook for the latest celeb news, beauty tips, fascinating reads, livestream video, and more.
Gina Mei is a writer and editor based out of Los Angeles. When she isn't writing, reading, and lost in an Internet vortex, she can usually be found petting the nearest dog.