How 11 Squad Members Were Impacted by Their Friendship with Taylor Swift
Whose career did she really help?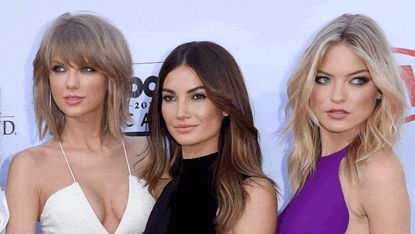 (Image credit: Getty)
1. Karlie Kloss
Karlie was already one of the world's most successful models prior to befriending Taylor Swift—she broke out in 2008 when she walked more than 60 runways in one fashion month—but there's no denying that her association with Taylor raised her profile among people who don't pay attention to fashion. Karlie and Taylor first met in person at the Victoria's Secret Fashion Show in November 2013, and were inseparable shortly thereafter. In September 2014, Karlie scored her first American Vogue cover along with eight other "Instagirls," but in December, Google searches for her name saw a huge spike after reports surfaced that she and Taylor made out at a 1975 concert. Three months later, Karlie was on the cover again of Vogue again, this time with Taylor. Two Vogue covers in six months is a rare achievement, and given that the second one was specifically about her friendship with Taylor, it's hard to believe she'd have gotten it so soon after her first one without her BFF by her side. Karlie and Taylor's friendship has since cooled a little, at least publicly, and while Google searches for Karlie's name have tapered off, she's still doing fine. She's collaborated with Momofuku Milk Bar on her cookie line Karlie's Kookies, has a successful YouTube channel called Klossy, and started a coding scholarship program for young women after learning to code herself. In 2016 alone, she's appeared in campaigns for Versace, Diane Von Furstenberg, and Topshop, and was just named the face of Adidas by Stella McCartney.
2. Haim
In March 2013, Haim gave an interview at the Woodie Awards that turned out to be quite prescient: When asked who Taylor should date next (she'd just split from Harry Styles), band-member Este Haim responded, "Don't date someone else; come out with us and we will party and we will be together as girls and be merry, and we don't need guys. Girl power." It's as if Taylor heard the message, decided to reinvent her personal brand, and as a thank-you, bring Haim into her spotlight (and benefit herself from their growing hipster-feminist cred). The friendship didn't blossom publicly until fall 2014, first with a polite Twitter exchange and then with a more overt show of camaraderie in December 2014, when Taylor congratulated the band on their three Grammy nominations. That was followed by an invitation to her 25th birthday party and a group outing to a Justin Timberlake concert. By the new year, the women were photographed vacationing together in Catalan and Hawaii, and on February 1, 2015, there was an announcement: "Haim is joining the 1989 Tour," Taylor alerted her followers. "This is not a drill."
But the band hasn't benefited much from their proximity to Taylor, aside from a spike in name recognition and press interest; at least not so far. Their debut album, "Days Are Gone," was released in September 2013, pre-Taylor, so its impressive critical reception and strong sales (it entered the Billboard 200 at number six and the UK Album Charts at number one) had nothing to do with the influence of their more famous BFF. According to Google Trends, their most-searched month was November 2013 (again, pre-Taylor); they saw another spike in February 2015, coinciding with the tour news, but it paled in comparison to the previous spike.
Taylor's impact might eventually be felt with the release of their sophomore album, which is long overdue. (The band just announced they're canceling their European tour to focus on completing the album, saying they're at a "critical point" in wrapping it.) But whether the followers they racked up posting dreamy vacay pics with Swift will translate into album sales remains to be seen.
3. Martha Hunt
Like Karlie Kloss, Martha had a successful runway career prior to meeting Taylor, but her appearance in the "Bad Blood" video introduced her to an audience outside the fashion world—Google searches for her name peak in May 2015, when Taylor premiered the video during the Billboard Music Awards. She also became a Victoria's Secret Angel in 2015 and landed a very NSFW spread in Lui, and this year covered Vogue Spain with the other Angels.
4. Rachel Platten
Rachel's been working hard in the music business since 2003 and first landed on a Billboard chart back in 2011 with "1,000 Ships," but her career didn't fully take off until "Fight Song" blew up last year. After its release in February 2015, "Fight Song" climbed to the top 10 of the Billboard Hot 100 in July—about one month after Taylor brought Rachel on stage with her at the Philadelphia stop of the 1989 tour. While the immensely catchy "Fight Song" would have done well on its own, Taylor's stamp of approval likely gave it a boost among her giant fan base. Earlier this year, Hillary Clinton used "Fight Song" at a few campaign stops, and just last week, Rachel sang it at the MLB All-Star Game (and yes, she was at Taylor's Fourth of July party a few weeks ago).
5. Lily Aldridge
Lily had been modeling for more than a decade before she met Taylor and had some non-fashion fame due to her relationship with Kings of Leon singer Caleb Followill, but once again, the Taylor friendship introduced her to a new, somewhat younger audience. The pair became friends after discovering they were Nashville neighbors when Taylor attended a Kings of Leon show; Lily went on to appear in the "Bad Blood" video and pop up as a surprise guest at a couple of 1989 tour stops. It's difficult to quantify Taylor's effect on Lily's career given that she was already appearing in music videos and landing Sports Illustrated covers prior to their meeting, but it is worth noting that Lily got to wear the all-important Fantasy Bra at the 2015 Victoria's Secret Fashion Show—post-1989 tour.
6. Cara Delevingne
Though Cara hasn't been in the business as long as some of Taylor's other model friends, her star was very much on the rise prior to her affiliation with the Swift Squad (and remember that before she met Taylor she was a member of Rihanna's inner circle). Her runway career took off in 2012, which is also the year she made her first film appearance, in Joe Wright's adaptation of Anna Karenina. She landed her first solo American Vogue cover in July 2015, though that probably had less to do with Taylor and more to do with her starring role in Paper Towns. In this instance, Taylor might be the one benefitting from association with Cara, whose image is a little more rock 'n' roll than those of the other squad members. She is, after all, the only Swift pal who's had to fend off cocaine rumors. Cara did attend Taylor's Fourth of July party this year, but any popularity she gains into fall will be her own doing—she's appearing as Enchantress in the DC Comics extravaganza Suicide Squad in August.
7. Ellie Goulding
Ellie Goulding was already a hit in the UK with two studio albums under her belt before meeting Taylor on the Jonathan Ross Show in 2012. Their encounter would lead to Ellie making multiple guests appearance on Taylor's Red Tour the following the year, a rumored romance with Ed Sheeran, and the rumor of Ellie being the subject of Ed's hit "Don't" in 2014. (Ellie would later deny that she was ever romantic with Ed, which, ouch). In January 2015, Ellie released "Love Me Like You Do" from the Fifty Shades of Grey soundtrack. Google searches for Ellie peaked in March, which was around the same time the song peaked at number three on the Billboard Hot 100 (an achievement just second to her 2012 hit "Lights," which peaked at number two that year). This was also shortly after Ellie introduced Taylor to Calvin Harris backstage at the Brit Awards (which inspired a relationship she would later sort of take credit for). Ellie would go on to spend International Women's Day with Taylor, Selena Gomez, and the Haim sisters, appear in the "Bad Blood" video, and the 1989 Tour. In November 2015, Ellie released her third album Delirium, which drew comparisons to Taylor's transformation from country-to-pop. (Ellie collaborated with Ryan Tedder and Max Martin, who worked on 1989). She would receive her first-ever Grammy nomination the following month for "Love Me Like You Do." Save for fan celebrations of The Moment Taylor and Calvin Met for the First Time earlier this year and this Instagram photobomb, Ellie and Taylor have been doing their own things.
8. Hailee Steinfeld
Their friendship dates back to 2013, if not earlier, when Taylor Swift attended the premiere of Hailee's Romeo & Juliet. But unless you're a Swiftie, you probably assumed they only became friends last year, right around the release of Pitch Perfect 2 (in May) and Hailee's debut single "Love Myself" (August)—because that's when they started making appearances together, virtually and on red carpets, in earnest. No judgment there: Friends should support each other's work; why wouldn't Taylor lend her fame to Hailee if it meant helping her promote a project? In this case, Taylor seems to have done just that. Even though "Love Myself" was buzzy in its own right for being about masturbation, Hailee's association with TSwift, particularly her on stage at Taylor's 1989 tour, helped generate more interest in her than there would have been otherwise. Almost every interview she gave leading up to the release of the song made some mention of Taylor, however vague and innocuous, and that only helped fuel more headlines and Tweets about Hailee's work. Although, ultimately, her single and subsequent EP, Haiz, didn't chart particularly well, it's safe to assume that it would have fared even worse without Taylor's support. In this case, Hailee did need somebody else.
9. Lorde
Lorde's "Royals," released in June 2013, was already a massive hit when she and Taylor became friends; it spent 9 weeks at the top of the Billboard 100 and spawned countless covers. So there's no arguing that Lorde herself made Lorde famous. But Taylor could have put a dent in that rise when Pure Heroine came out in September and Lorde caught backlash for calling Taylor's looks "unattainable"; instead, Taylor did the opposite by accepting Lorde's apology. The goth New Zealander was thus able to cement her status as "real artist," one who'd go on to win Grammys, rather than fall victim to the petty "feuding pop star" stereotype. At the same time, her association with Taylor—the shopping trips, the cooking lessons, the cutesy 'grams—gave her a softer, more youthful image than she might have had otherwise (although it did nothing to quell the suspicions of Lorde truthers). And, although it can't be confirmed, her friendship with Taylor may have boosted her album sales: After the 56th Grammy Awards, where Swift and Lorde appeared as besties following previous Shake Shack and Melbourne excursions, Lorde's album sales increased by 86 percent (in late February, she surpassed the 1 million mark). Of course, the two Grammys she took home and her unforgettable "Royals" performance probably helped more than anything (or anyone).
10. Gigi Hadid
In addition to handling her journey to bonafide supermodel status like a true pro, Gigi has been stealth at shuffling key players ever since making her New York Fashion Week debut in February 2014. It was around this time Gigi met Taylor through mutual friends, a moment Taylor marked with a quintessential Taylor Swift Photobomb. Gigi has since gone through two major breakups (Cody Simpson, Joe Jonas), become one-half of Zigi (with Zayn Malik), and a repeat guest at Insta-worthy celebrations (eg. Fourth of July, a tour of London, the 1989 Tour). Gigi's fame on Google search skyrocketed in February 2016 due to a combination of her wardrobe malfunction during Fashion Week and her relationship with Zayn, which was revealed for all to see in his debut solo music video for "Pillowtalk." This was also around the time Gigi celebrated an Instagram milestone with 13 million followers and graced TWO different covers for Vogue Paris (including a mostly nude one). Taylor and Gigi's friendship remains mostly at Insta-worthy levels, as displayed in recent celebrations and this Grease Live! sing-along. But it's mostly been Gigi just being Gigi. Her latest proof? Her first-ever AmericanVogue cover with "the world's greatest athlete" Ashton Eaton (and not Taylor Swift).
11. Jaime King
Jaime received a ton of Google search traffic in March 2015 when she announced Taylor as godmother to her soon-to-be second child. (People also looked her up when she gave birth to her son, Leo, that July. However, there was little interest when Jaime's show Hart of Dixie got cancelled two months prior). It's interesting to note that Jaime last experienced this level of buzz (on the Internet anyway) in 2005, when she starred as twins Goldie and Wendy in Sin City. Jaime's friendship with Taylor, which began shortly after a Golden Globes Party encounter in 2014 (the same year Jaime reprised her roles as the twins for Sin City: A Dame to Kill For), has been drama-free on social media, with Jaime posting a sweet message for Taylor on her son's first birthday, which was literally a breath before Kim Kardashian's Snapchat takedown.
Follow Marie Claire on Facebook for the latest celeb news, beauty tips, fascinating reads, livestream video, and more.
Celebrity news, beauty, fashion advice, and fascinating features, delivered straight to your inbox!
Patti Greco is a freelance writer and editor based in Brooklyn. She was formerly the entertainment director of Cosmopolitan.com and a staff editor at New York Magazine and Vulture.