Kim Kardashian Reveals When She'll Let North Start Using Social Media
Her answer might surprise you.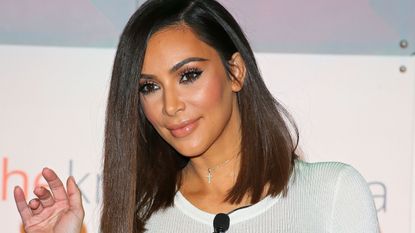 (Image credit: Getty Images)
She may be the empress of Instagram and reigning selfie queen, but how does Kim Kardashian plan to manage her children's experience with social media—now and further down the road? It would seem not quite as openly and freely as her own.
The reality star was a guest speaker at the #BlogHer16 exposition in Los Angeles on Friday, where she dished on her own social media habits, and how it plays into her family life. And while Kim may be all #NudeSelfiesTillIDie (opens in new tab), the mother of two has been careful to shield her children from the harsh spotlight that she and the rest of her family experiences daily. She credits Kanye with teaching her to be more private.
"I'm very open and [Kanye's] very private in the business," Kardashian revealed to the crowd. "I've taught him to be more open, and he's taught me how to be more private."
"You'll notice on weekends that I don't post as much because I'm with my kids. I'm really protective of my life with them. You might see them on Keeping Up With the Kardashians a little bit, but no real stories about them. Selfishly, I like that I can bring my kids to work. If I'm filming, I'm not going to say stop, I just tell [the crew] please don't get faces. They're there, but there's never stories around the children."
As you'll recall, last December after her son Saint was born, the reality star went to great lengths to keep her newborn baby off social media (opens in new tab) (though she's started to share glimpses (opens in new tab) of the 8-month-old in recent weeks) and away from the prying lens of the paparazzi (opens in new tab)—so much so that some people even started questioning Saint's existence.
"In this world, it's like if you didn't post it, it doesn't exist," Kardashian said. "People literally thought Saint didn't exist. They thought I had a whole fake baby because I wasn't posting about him. It was ridiculous."
Kim Kardashian may have control over her kids' exposure to social media right now (except for when North occasionally goes rogue and posts a surprise tweet (opens in new tab) or Instagram pic (opens in new tab) to her mom's accounts), but what about when her children are older? As someone who has been on the receiving end of some criticism (opens in new tab) for her at-times controversial posts (opens in new tab), Kim has plenty of social media experience and wisdom to pass on to her kids when they get there.
"I hope that my kids learn to understand that they really can do anything they want to do, and to always be kind," she shared. "In as abnormal of a world that they're raised in, that they are good people and live just as normal as possible. I hope that they are outspoken and follow their truths. And for any mistakes, I hope they see no one is perfect. People make mistakes, I've made a ton and they've been public, but you can get through anything. Try not to make the same mistake twice. Learn and grow from your mistakes."
Nori may already be a regular on her mother's Snapchat (opens in new tab) and Instagram feeds, don't expect the three-year-old to be posting on her own account any time soon. When will the adorable toddler be allowed to join the social media jungle?
"NEVER!" Kardashian joked. "Just kidding. I don't know. Some people have accounts for their babies, I don't think I'll do that. I think they'll have to ask me and have a conversation about that."
"I kind of went through that with my youngest sisters Kylie and Kendall," she continued. "They wanted Facebook accounts and me, Khloe and Kourtney had their passwords and spied on them for my mom. I'll be overprotective to an extent, creeping on their accounts all the time, but I think I actually know Kendall and Kylie so much more from watching their Snapchats."
Anyway, it seems North is not interested (opens in new tab) in Instagram and Snapchat at the moment. She's too busy watching her favorite YouTube videos.
"She always wants to watch YouTubers," Kardashian said. "You know that one with the kids, where they open up all the gifts? My daughters obsessed—she just watches the toy tutorials!"
We've already seen North try her hand at contouring (opens in new tab), and lord knows the girl owns any camera she's in front of (opens in new tab)—so perhaps she has a future as a YouTube beauty blogger? We'd subscribe to her channel in a heartbeat.
I am an experienced editor, writer, and creative strategist, specializing in fashion, beauty, and lifestyle content for digital media outlets, as well as video and social platforms. While I currently operate as a freelance contributor/consultant, with such clients as The Zoe Report, my 10+-year background in the industry was cultivated at the dot-coms of elite publications, including Harper's BAZAAR, ELLE, and Marie Claire.