Kim Kardashian's Concierge Pens an Open Letter Defending His Reaction to Her Robbery
"Remaining calm can mean the difference of life or death."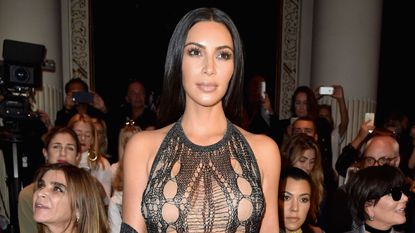 (Image credit: Getty Images)
The concierge at the Paris hotel where Kim Kardashian West was robbed at gunpoint has reportedly written an open letter about her robbery, according to TMZ.
Since investigations of the robbery have begun, Kardashian West has expressed to Paris police that the concierge seemed suspiciously calm during the attack on Sunday night, despite being threatened with guns. The 40-year-old hotel employee, whose name has not been disclosed, responded to her claim with a letter that was published in the French magazine Closer.
"Dear Kim: When you feel the cold steel of a gun at your neck, it is the moment when remaining calm can mean the difference of life or death, both our lives," he begins. He ends the letter with good wishes for the celeb: "I hope you are feeling better."
The robbers reportedly held the concierge at gunpoint, handcuffed him and forced him to show them to Kardashian West's room. New reports by Us Weekly say the assailants asked him, "Where is the wife of the rapper?" referring to her husband, Kanye West.
The concierge then led the group of suspects up the private elevator to Kardashian West's suite and was present for the entire robbery, TMZ reports. He even had a verbal exchange with the reality star. She asked him, "Are we going to die?" and he answered, "I don't know." It is unclear whether this was before or after Kardashian West was bound and "gagged" by the armed robbers and kept in her bathroom. After the break-in, the assailants took the concierge with them and left him in the lobby with his hands still cuffed, Kardashian West told police.
No arrests have been made yet, a source close to the investigation told Us, but the robbers are believed to be five middle-aged men "of European appearance." Meanwhile, Kardashian West has returned to her home in Los Angeles with her family and has been staying quiet on social media and avoiding public appearances for her safety.
Follow Marie Claire on Facebook for the latest celeb news, beauty tips, fascinating reads, livestream video, and more.