Margot Robbie Got Her Role in 'Wolf of Wall Street' by Slapping Leonardo DiCaprio in Her Audition
And, no, it was *not* in the script.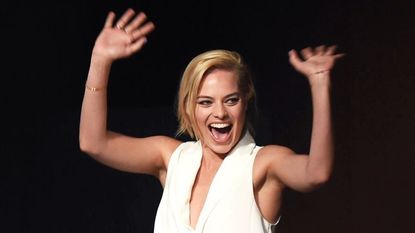 (Image credit: Getty Images)
Of all the things we'd like to do if we met Leonardo DiCaprio, we have to say that slapping him doesn't come up high on the list. However, Margot Robbie did just that in her Wolf of Wall Street audition, even though the move was entirely unscripted and unexpected.
Still, it paid off pretty hard. Margot bagged the lead female role in the film, and Leonardo—though stunned—asked her to go ahead and slap him all over again.
Speaking of the audition in Time Magazine's 100 Most Influential People Issue, director Martin Scorsese applauded Margot for her handiwork. "She clinched her part in The Wolf of Wall Street during our first meeting", he said, "by hauling off and giving Leonardo DiCaprio a thunderclap of a slap on the face.
"[It was] an improvisation that stunned us all."
Meanwhile, Margot previously spoke of the audition in an issue of Harper's Bazaar, explaining what was going through her mind when she slapped Leo's beautifully chiselled cheek.
"In my head I was like, 'You have literally 30 seconds left in this room and if you don't do something impressive nothing will ever come of it. It's a once-in-a-lifetime chance, just take it.' And so I start screaming at him and he's yelling back at me. And he's really scary. I can barely keep up.
"And he ends it saying, 'You should be happy to have a husband like me. Now get over here and kiss me.' So I walk up really close to his face and then I'm like, 'Maybe I should kiss him. When else am I ever going to get a chance to kiss Leo DiCaprio, ever?'
"But another part of my brain clicks and I just go, Whack! I hit him in the face. And then I scream, 'F**k you!' And that's not in the script at all. The room just went dead silent and I froze."
What could have been disastrous turned out pretty good for Margot and, needless to say, she probably has zero regrets over giving Leo one hell of a slap.
This probably isn't career advice we'll be taking on board, though…
We're nominated for a Webby Award—but we need your vote to win! Vote for the Women and Guns project here.
Marie Claire email subscribers get intel on fashion and beauty trends, hot-off-the-press celebrity news, and more. Sign up here.