12 Things You Should Know About Kim Kardashian's Personal Assistant
She went from NBA dancer to COO of Kardashian West Brands.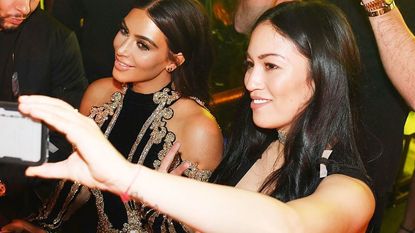 (Image credit: Archives)
Marie Claire Newsletter
Celebrity news, beauty, fashion advice, and fascinating features, delivered straight to your inbox!
Thank you for signing up to Marie Claire. You will receive a verification email shortly.
There was a problem. Please refresh the page and try again.
If you don't know Stephanie Shepherd by name, you've definitely seen her before. Perhaps it was on an episode of Keeping Up With the Kardashians, featured in a classic Kardashian photo booth Instagram, or walking beside Kim in a paparazzi shot. For the past four years, she's been Kim's executive assistant and an insider among the world's most famous family. Aside from what you see on her nearly 700K-followed Instagram, her backstory and connection to the Kardashians have largely been a mystery. Now, an in-depth profile of her on Refinery29 fills us in on what we've always wanted to know about Kim's right-hand woman. Here, the best highlights from the piece:
1. She started out her career as a dancer
Shepherd, an Ontario, Ohio native, danced for the Cleveland Cavaliers at 18 and moved to Los Angeles to pursue dancing (meanwhile manning the front desk part-time at Gold's Gym). Instead, she got into assisting gigs, most notably with choreographer Mikey Minden and his client, Erika Girardi (of The Real Housewives of Beverly Hills fame). She continued to do freelance gigs, even backup dancing for Pitbull.
2. She met Kim through a Pussycat Doll
After assisting Minden and Girardi, Minden's business partner and former Pussycat Doll Robin Antin asked if Shepherd would be interested in assisting her friend, Kim Kardashian. That was it!
3. She did two interviews before getting the job
First, she met with Kris Jenner's assistant. Then, she met directly with Kim at her home.
"She had no makeup on and was in her sweats, super pregnant with North. She was just like, 'Look, I need help, Robin loves you and says great things about you; this is what I need. Can you do it?' And I was like, 'Okay, sure, I can do that—and if I can't, I'll figure it out!' Meanwhile in my head, I was so nervous. Coincidentally we were both wearing French braids...Kim later told me she was thinking 'This girl has good vibes and a braid, I'm into her!'
She started the next day.
4. She does everything and anything
At first that included Kim's whole schedule, doing her laundry, booking travel, putting North's first stroller together, schlepping bags and suitcases, car bookings, really anything. She once had to search all of San Francisco for the Cards Against Humanity game because Kanye was "obsessed."
Now, logistics are all second nature to her. "I know how long it takes to go from Kourtney's to Kris' down to the second," she says. There are also more people to help: Kim employs a personal assistant, a house assistant, and two nannies. One of the house assistant's is Shepherd's hometown friend ("I need to know you're not a crazy person," she explains).
5. She got promoted to COO of Kardashian West Brands
While she still does executive assistant work–she's currently looking for a replacement–now, her day-to-day is about beings Kim's liaison for everything, including business. For example, she's the one who supervises Kimoji designs.
6. Kardashian staff get a lot of perks
Shepherd calls the group of assistants, makeup artists, housekeepers, and security "one big extended family."
"We get each other Christmas presents, we take care of all the kids alike they're our own kids," she says, pointing out that Kris Jenner in particular "makes sure every assistant, every staff member has a Christmas present, delivered to us by Christmas, with a thoughtful card. And it's a nice ass Christmas present." In the story she wears another Christmas present, snakeskin Yeezy boots, from Kanye. And all these gifts don't count the constant traveling in luxury/access to all nice expensive things.
7. She insists Kanye West is funnier than people think
"I think people would be surprised to know how funny Kanye is. Do people know that he's funny? I know everyone thinks he's so deep and serious, but he's also so funny, like he has me rolling laughing, and sometimes I'm like, Is this inappropriate that I'm laughing so hard? But he's just so fucking hilarious, he has these one-liners, and he's just so unfiltered. He makes me laugh so hard, but he's also truly the hardest-working man I've ever met."
8. She films the more personal footage on 'Keeping Up With the Kardashians'
She has some producer credits to her name, especially during their travels. She'll "producer-cam" behind the scenes footage for the show when they don't want a whole camera crew around. For Kim and Kanye's wedding, for example, she was filming everyone getting ready and also got the aerial shot of her walking down the aisle from the roof.
9. She didn't date anyone for two years
"There just wasn't time," she said. Her dating pool lately has been Kanye's inner circle ("I really should stop dating Kanye's friends!" she joked)–including her now-boyfriend Larry Jackson, head of content at Apple Music, who previously was a manager for Kanye and Grammy-winning producer for the likes of Jennifer Hudson.
10. Kourtney Kardashian did not like her at first, but now people think they're a couple.
Shepherd admitted she and Kourtney "weren't really close at all when I first started working," but then got to know each other while traveling to Miami and Iceland. Now they're so close she'll spend the night at Kourtney's house. "People always think we're either lesbians, because we're always together or holding hands, or that I am Kourtney, I guess because we look alike and have similar style," she says.
11. The Paris incident was "terrifying."
Shepherd immediately escorted Kim home via private plane after the Paris robbery. She recalled,
"It was terrifying. At the time, I had to hold it together and make sure everything was getting handled, and that we could get Kim home as quickly and safely as possible. Obviously I can't even begin to imagine what she's gone through, what she's had to deal with, but even I have been more cautious. We have alarms and security plans, and all that. Still, whenever I've had to stay home alone, I get a little scared. So I did get a couple of extra pepper sprays."
As for Kim's hiatus, Shepherd explains "we needed those four months to just really reflect on what's important."
12. She and Kim text a ton
"From the second we wake up until we go to bed," Shepherd says. Following the Paris robbery, she started even being more communicative. "I'll text Kim and her assistant Michael to say, 'Hey guys, I'm off the grid in yoga for the next hour,' just so they know where I am in case the world ends in those 60 minutes."
RELATED STORY
Follow Marie Claire on Facebook for the latest celeb news, beauty tips, fascinating reads, livestream video, and more.
Celebrity news, beauty, fashion advice, and fascinating features, delivered straight to your inbox!
Kristina Rodulfo is the Beauty Director of Women's Health—she oversees beauty coverage across print and digital and is an expert in product testing, identifying trends, and exploring the intersections of beauty, wellness, and culture. Prior to Women's Health, the Filipino-American, NYC native and NYU alumna was at ELLE.com for four years. As Senior Beauty Editor, she reported and co-produced the Webby Award-nominated documentary Beat: How Drag Queens Shaped the Beauty Industry and hosted the millions-viewed video series "Beauty Haul." She can never decide whether or not to get bangs, feels naked without winged eyeliner, and will never shut up about running the NYC Marathon.