Miley Cyrus Says She Felt "Sexualized" During Her Twerking Era
She also quotes Beyoncé and Justin Bieber in the same interview.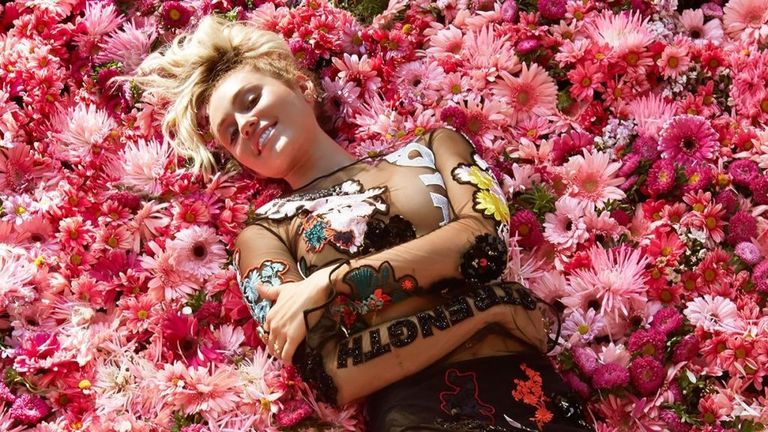 (Image credit: Camilla Akrans/Harper's BAZAAR)
The Miley Cyrus her fans have seen in 2017 is a far cry from the Miley of the Bangerz and Dead Petz years. For starters, she does her own makeup for photo shoots nowadays, and as Harper's Bazaar points out, the look is minimal. Speaking to the magazine for its August 2017 cover story, Miley says her old look eventually ran its course and lost its meaning. "It became something that was expected of me. I didn't want to show up to photo shoots and be the girl who would get my tits out and stick my tongue out," she says. "In the beginning, it was kind of like saying, 'Fuck you. Girls should be able to have this freedom or whatever.' But it got to a point where I did feel sexualized."
Of the previous Miley, the Miley who delivered the twerk fest seen around the world, she says the same critics who lashed out at her for the 2013 VMAs performance were nowhere to be seen during her Hannah Montana days. "People were so shocked by some of the things I did," she tells Harper's Bazaar. "It should be more shocking that when I was 11 or 12, I was put in full hair and makeup, a wig, and told what to wear by a group of mostly older men." She continues, "I didn't want to become any sort of man hater because I love all humans; I am a humanitarian. Beyoncé said, 'Girls run the world,' and that was an important thing to say because I think subconsciously we are beaten down to believe that isn't true our whole lives. It's no wonder that a lot of people lose their way and lose who they really are because they always have people telling them who to be."
These days, Miley says she feels "really kind of far away" from the person who twerked and took a ride on a giant silver ball for a music video. But through it all, no matter what version her fans have seen of Miley Cyrus, it's always been Miley Cyrus. "Who I was on the last record was really who I am. It's just myself has been a lot of different people because I change a lot," she says. One of these changes is Miley's sobriety, something she's discussed in recent interviews promoting "Malibu." According to Miley, just like everything else in her life right now, this change is not permanent. "To quote the wise Justin Bieber, 'Never say never.' But right now I want to be clear."
Read Miley's full interview with Harper's Bazaar here.
Follow Marie Claire on Facebook for the latest celeb news, beauty tips, fascinating reads, livestream video, and more.
Peggy is Cosmopolitan.com's entertainment writer, specializing in Leonardo DiCaprio, This Is Us, and the royals. She's also a proud Canadian and pug lover. When Peggy's not obsessing over Leo's latest lover or gut size, she can be found watching old episodes of Friends or Gilmore Girls. Her dream is to one day live on a pug farm and write children's books, with illustrations by her very talented husband Greg.