Meet the Two Besties Who Dress Up Exactly Like Kim Kardashian and Kanye West
They have some tips for dressing like Kimye on Halloween.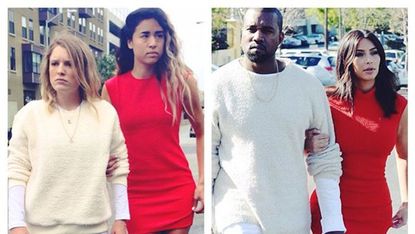 (Image credit: Archives)
We'll admit it: We have an unhealthy obsession with all things Kimye. So we were both comforted and insanely jealous (why didn't we think of this!?) when we stumbled upon What Would Yeezus Wear, a genius new Tumblr in which Katie Burroughs and Kathleen Lee, two friends and co-workers from San Francisco, recreate Kimye "lewks" down to the most minute details. They're so good Kim Kardashian herself "liked" one of their recreations on Instagram.
The Tumblr (which has become a bit of a viral phenomenon overnight) came about thanks to a denim shirt and an earnest love for Kanye's style. "I had gotten a denim shirt, and mentioned to Katie how I wanted to wear it with jeans because I saw Kanye do it, and she sort of chuckled when I said I loved Kanye's style, and I commented on the fact that she, too, had similar tastes," Lee says. "The day I wore the denim shirt we decided to take a pic to do side by side, and the pic we found of Kanye had Kim in it and Katie was wearing almost the exact same outfit so we took it together. Both of us knew right then it was funny, and we should do another." And so they did.
Related: The Lazy Girl's Guide to Waist Training Like Kim Kardashian
Photo: What Would Yeezus Wear
As for nailing the Kimye look—from the outfits to the facial expressions—Burroughs says it's all about the details. "I feel like Kim K double tapped our ice cream pic because she noticed the amount of attention to detail we're bringing—and she's the same way when it comes to her outfits, her image, her life. Game recognize game, Kim." Of course, since they don't have piles of cash and access to custom Givenchy and straight-off-the-runway Balmain, they have to improvise. "Until Balmain and Givenchy start sending us everything for free, we will continue to thrift, make clothes, rip our pants, use clip-on earrings as embellishments, and wear shirts as skirts," Burroughs says. "There's a lot that can be done with limited resources, but unlimited creativity."
But mere clothes do not a Kimye make. You have to be in the right mindset, too. "We put a lot of energy into facial expressions," says Lee. "I would say for Kanye it's about intensity, and usually he is protecting Kim from the paparazzi, so somewhere along the lines of a protective mama bear. For Kim the one word to describe her is poised. This woman is the consummate professional, she knows how to always look glam and ready for her close up. We try to get zen and conscious of how we're holding ourselves, good posture is key."
Related: What Dressing Like Kim Kardashian During Fashion Week Taught Me About Confidence
Burroughs and Lee alternate playing Kim and Kanye, but Lee confesses it's always a battle over who gets to be Kanye. "No offense to Kim, but some of her outfits are hard to pull off without her amazing body," Lee says. "Generally we try to mix it up if we can just to keep it interesting for both of us."
Today the Tumblr has 18 posts and Lee and Burroughs say they have no plans of slowing down. "We said we'd do this until we got noticed or got bored," Lee says. "We aren't bored and it's literally insane how much people are loving this. Neither of us expected it."
And since Halloween is, well, tomorrow, and Lee and Burroughs have essentially provided an instruction manual to the perfect couples costume, we pried them for some tips about how to pull off the Kimye.
Related: Quiz: Which Kim Kardashian Are You?
"What's great about Kimye is their style is clean, classic, with lots of neutrals, and they rewear a lot despite having more money than they know what to do with. [For this look,] it was important to find a good shade of jeans, those are from H&M, and I got that white top at Forever 21. It was a little deflating putting it on and having to be compared to Kim [haha]. Katie already owned both of her pieces. If you want to be Kanye a denim shirt is where you should start. Obviously that's where it all got started. Mine is from J.Crew. "
"The first thing that got this one going was Katie's amazing coat, from a thrift store. Katie, being in the Kimye zone at all times, recognized it's potential and scooped it up. The rest we both had. My motorcycle jacket is another key piece if you are going to be Kim or Kanye. Mine is from Zara and it is my most prized possession. For this, I actually ripped my jeans, which are one of my favorite pairs. That shows you how dedicated we are. They are 7 for All Mankind and I've had them for a few years, but, duty calls, and if Kim and Kanye wear ripped jeans, I wear ripped jeans. Katie's leather pants are great, too. Another great find. Hers are from this great store in Hayes Valley called Azalea. They are big fans of WWYW. I have some from Zara that also get used a lot. Leather pants are another key Kimye piece. We found that spot down the street from our building and put our fierce face forward! This one was quick. It took us maybe five minutes to nail it."
Via
Images via What Would Yeezus Wear
Leah Chernikoff is the former digital director of ELLE.