Taylor Swift Celebrity Friend Watch: Jay Z and Justin Timberlake Are Officially In
Could this mean...collab?!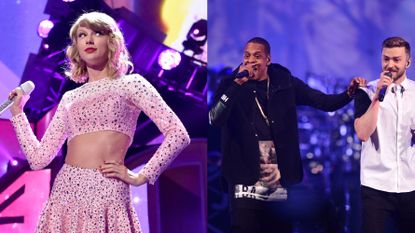 (Image credit: Getty Images)
If you thought Taylor Swift's inner-circle was strictly a sisterhood, pause and take a look at the boys club forming before our very eyes. Its two founding members? Jay Z and Justin Timberlake.
As far as we can tell, it all began when Jay Z and JT showed up at Swift's star-studded 25th birthday at her New York City apartment this weekend. Then, on Sunday night, Swift attended Timberlake's 20/20 Experience World Tour concert and danced the night away with Beyoncé while the gents performed their hit, "Holy Grail," onstage.
But it's last night's rendezvous that proves something's really brewing here: Jay Z and JT were spotted paying yet another visit to Swift's pad. And maybe we're jumping the gun, but as we look into our pop culture crystal ball, it's telling us one thing and one thing only: a collaboration is in the works. Go and brush your shoulders off, Tay.
Related Links:
Taylor Swift Adds Kendall Jenner and Cara Delevingne to Her Cool-Girl Posse
Taylor Swift Dances With Beyoncé At a Justin Timberlake Concert, Pop Culture Is Now Complete