Patricia Arquette Just Gave an Amazing Oscars Speech About Wage Equality for Women
And Meryl Streep was all OVER it.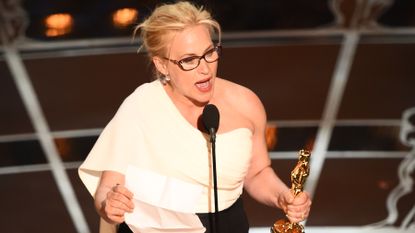 (Image credit: Getty)
Patricia Arquette took home the Academy Award for Best Supporting Actress tonight, and after thanking her family and her Boyhood compatriots, she turned her speech into an inspiring call for wage equality. "To every woman who gave birth to every taxpayer and citizen of this nation, we have fought for everybody else's equal rights," she said. "It's our time to have wage equality once and for all and equal rights for women in the United States of America." It only could have gotten better if she'd dropped the mic.
Her speech drew a ton of cheers and applause from the audience, of course, but nobody loved it more than Meryl Streep. Can she get a special Oscar just for her YAAAAASSSSS?
https://vine.co/v/OQH1W5Xhlb0/embed/simple
You should also check out:
Related Story
I'm the senior entertainment editor at Cosmopolitan.com, which means my DVR is always 98 percent full. I love romance novels, bourbon, and canceling plans so I can watch Lost for the 50th time.