Fashionomics: Sonia Rykiel for H&M
Sonia Rykiel's signature knits touch down at H&M with flash and fanfare.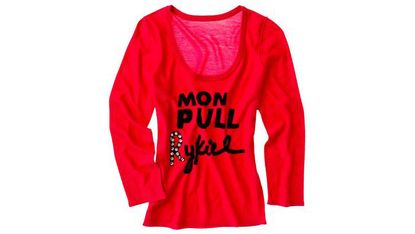 (Image credit: Ben Goldstein/Studio D)
A flock of geese, a parade of floats, a faux Eiffel Tower, and Kate Bosworth—all this (and cycling models!) hailed the arrival of Sonia Rykiel pour H&M at Paris' Grand Palais last December. First to hit shelves: a line of saucy lingerie; now, a collection of sure-to-sell-out knitwear that captures the essence of Rykiel's Saint Germain woman. Created by the designer's daughter, Nathalie, the pieces fuse her mother's famous black stripes with intoxicating poppy colors for a new generation. "We wanted to give the collection a fresh, happy mood," Nathalie says. And just like Carrie Bradshaw in her Rykiel top upon first landing in Paris, now we can all have our moment on the Seine.