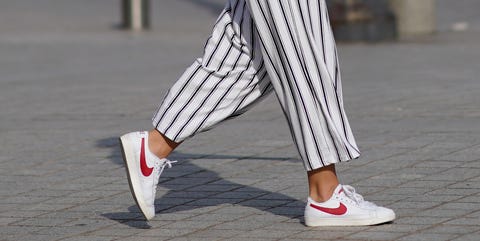 It's rare to find a shoe that fits comfortably on your first try. (If you've found that Cinderella pair, please email me.) For sandals and heels, you can almost anticipate them pinching or rubbing the skin off your heels, but for sneakers, it's slightly more difficult to tell which ones will result in sneak-attack blisters.
Though I'm lucky to have finally found a magical pair (they're Kenneth Cole "Kams" and Kendall Jenner owns them too—I always tell people this), I know I might not get so fortunate with my next sneaker purchase. So, I tapped several footwear experts, from shoe designers to style tastemakers in the fashion industry, to share their personal recommendations on "a comfy sneaker." Here, the best sneaks, from classics like Nike to newcomer brand Allbirds.
1
The Performance Sneaker
"Right now I am really into my Adidas Deerupt sneakers. The technical fabric and performance capabilities make it a really comfortable shoe that molds to your foot. It is perfect for all-day wear. In addition to the comfort, the overall design with the two tone and netting keeps me reaching for these shoes time and time again. These sneakers are also very versatile—I find myself wearing them on the weekdays and on the weekends, whether I pair them with jeans or a knit tank dress." — Erica Russo, Bloomingdale's VP and Fashion Director for Accessories and Beauty
Adidas, $100 SHOP IT
"Most people are surprised to know that I love to wear my Nike LunarEpic Flyknit sneakers to the office. Call it one of the perks of living in Los Angeles, which has a more casual work culture, but on days when I don't have any big meetings, I pair them with my workout clothes and do 30 minutes of Pilates during lunch.
On the weekends, you can find me wearing them to hike Franklin Canyon with my daughter Minty and my partner Michael. I love this spot because it's a bit off the beaten path and much less of a scene than Runyon." — Tamara Mellon, Designer and Founder of Tamara Mellon
Nike, $112 SHOP IT
"My go-to sneakers for travel are my Apollo Mocs by Native. They are lightweight and laceless, they're so easy to remove through security at the airport, and they don't lose their form as you squish them under the seat on the plane.
The perforated upper makes them totally breathable and the cushioned sole has great grip for running across airport terminals and over different terrain. Best of all, they weigh like nothing in the suitcase. I love all the color ways they make, but my light grey pair goes with everything except socks." — Rose Jones, TOMS Design Director
Native Shoes, $38 SHOP IT
"The Nike Air Max 270 is pretty much, hands down, the most comfortable and supportive sneaker that also looks good IMHO. I wear them when I know I'm going to be on my feet all day at a photo shoot or on appointments.
They're also great for travel because they double as running shoes. Plus, they're vegan which is essential for me. Most days I wear them with jeans and a men's striped button down, but when I'm feeling extra I'll pair them with a pantsuit." — Rachael Wang, Stylist & Brand Consultant
Nike, $150 SHOP IT
"I recently developed a new addiction: Allbirds wool runners. The wool is very soft and flexible on your bare feet, which means no socks necessary. The minimal, barely there feeling of these shoes coupled with the fact that they are extremely lightweight, makes them great for travel (which I do a lot of)! These are definitely my go to pair of shoes if I'm not wearing my Nisolos." — Zoe Cleary, Co-Founder and Designer of Nisolo
Allbirds, $95 SHOP IT
6
The Street Style Sneaker
"I am currently obsessed with my Nike x Off White air vapormax white sneakers. They fit like a sock and have the most comfortable cushioned sole. I rock them with everything from my activewear to streetwear and they are my favorite go-to travel shoe. They make everything I have look and feel hipper." — Kay Sides, Founder of R0AM
Nike x Off White, $540 SHOP IT