15 Celebrities Who Made Epic Fashion Comebacks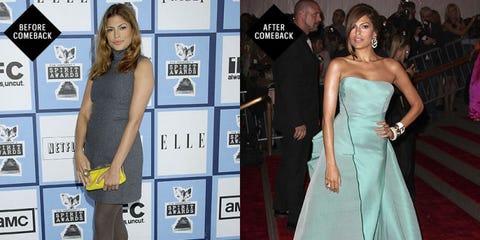 Getty, design by Katja Cho
Stars are kind of on another plane when it comes to style—even their not-as-great fashion moments look good compared to our jeans-and-a-hoodie uniforms. But there's a special thing that happens in the celebrity world sometimes: A star suddenly *majorly* ups her red-carpet game, and the whole world is like, "Okay girl, we see you." Here, 15 inspiring times famous people reinvented themselves.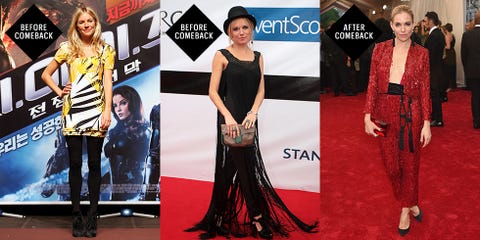 Getty, design by Katja Cho
Sienna Miller
Miller's style has always been consistently interesting, which is high praise for someone who walks as many red carpets as she does. But in 2015, she aimed even higher and reinvented herself as high-octane Fashion It Girl, from her previous Boho/Quirky It Girl.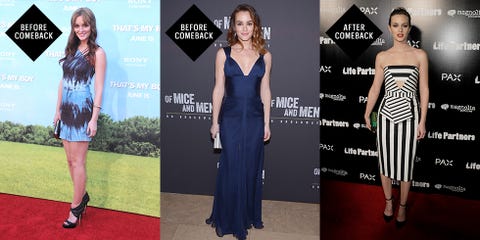 Getty, design by Katja Cho
Leighton Meester
Even the brightest style star would get tired of having to be "on" all the time. Maybe that's why, sometimes, they fade away, then come back stronger than ever in monochrome Cushnie et Ochs in 2014. Fashion's not just something you can quit, after all.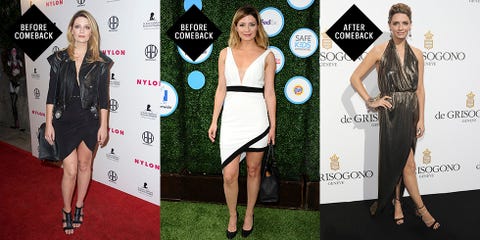 Getty, design by Katja Cho
Mischa Barton
Same as Meester—almost literally, except sub in "Maison Siran" and "2016."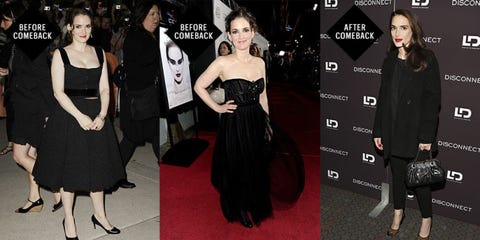 Getty, design by Katja Cho
Winona Ryder
Rare but good = how Winona Ryder brings it on her red-carpet appearances after 10 years of absentia.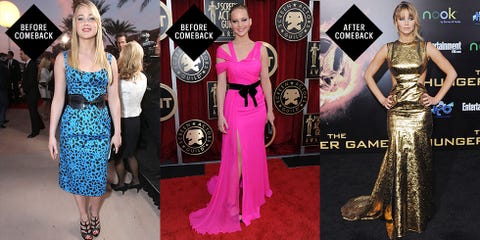 Getty, design by Katja Cho
Jennifer Lawrence, Pt. I
It's a testament to baby Jennifer Lawrence's star power that she could pull Oscar de la Renta on her own/without a stylist. And it's a testament to Rachel Zoe's skills that *she* helped create J.Law the Movie Star so early on.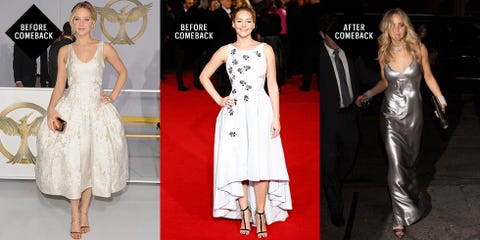 Getty, design by Katja Cho
Jennifer Lawrence, Pt. II
There was a bit of a gasp when Lawrence decamped from Zoe for new stylists Jill Lincoln and Jordan Johnson, both former Zoe protégés. Since that fateful departure, her style has only gotten sleeker and more diverse.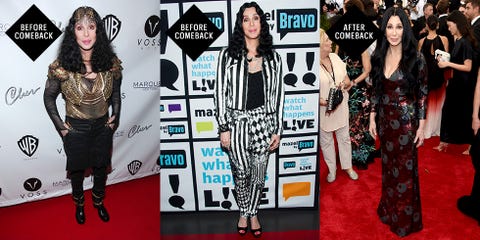 Getty, design by Katja Cho
Cher
Ninety percent of assessing Cher's style is just saying "Cher" with varying inflection. The first two pics are like "Cheeerrrrr," in like a "Oh, that icon who can do whatever she wants" way. The Marc Jacobs gown, on the other hand, is like "CHHERRRRRRRRR" to the tune of "Yasss, queen."
Getty, design by Katja Cho
Anne Hathaway
Left: in the throes of dating an Italian businessman who was convicted of defrauding investors out of millions of dollars. Right: single and scoundrel-free, with a breakup haircut to prove it.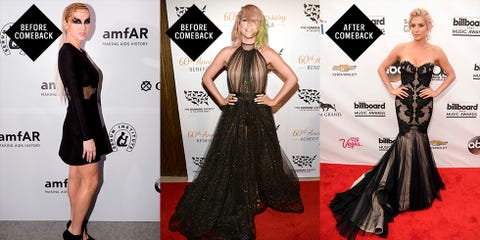 Getty, design by Katja Cho
Kesha
Everybody loves a comeback, though few of us probably loved one more than Kesha's at the 2014 Billboard Music Awards. After seeking treatment for an eating disorder earlier that year, the once again embattled singer emerged more glam and polished than ever before. (Also relevant: She staged a *life* coup last night.)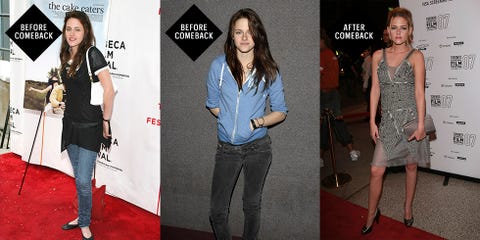 Getty, design by Katja Cho
Kristen Stewart
A simple case of B.S. (before stylist) and A.S. (after stylist). The right-most pic is Tara Swennen's handiwork, which continues to this day.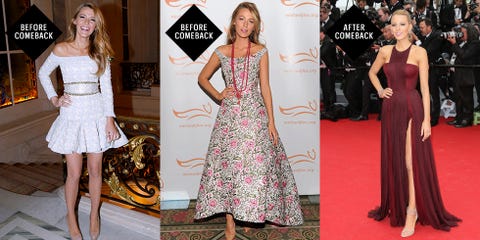 Getty, design by Katja Cho
Blake Lively
Twee Blake < sexy Blake. Always. Blame this brief foray into girly-ness on her ill-fated lifestyle venture, but it didn't take her long to get back in top form at Cannes 2014.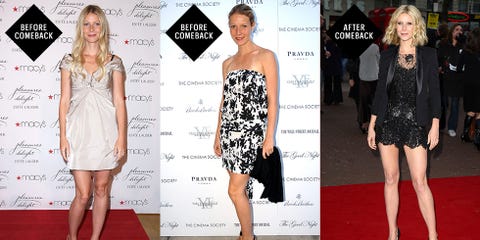 Getty, design by Katja Cho
Gwyneth Paltrow
Never has a comeback/sartorial climax been so well-documented as Gwyneth Paltrow, circa 2008, getting into the best shape of her life training with Tracy Anderson and cutting *the* lob that launched a thousand similar but not nearly as successful lobs.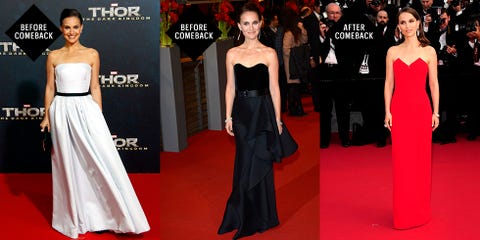 Getty, design by Katja Cho
Natalie Portman
She could never dress badly, per se—just a bit like she was on fashion autopilot, for a while. A succession of excellent choices following her scarlet Dior Haute Couture at Cannes 2015 cleared that right up.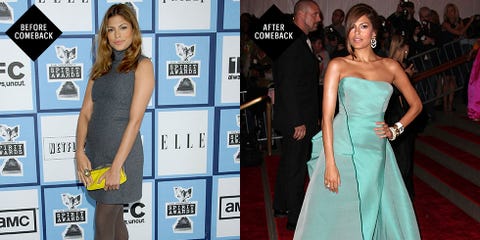 Getty, design by Katja Cho
Eva Mendes
In 2009, Mendes quietly checked into rehab for undisclosed reasons. Three months later, she made a triumphant return at the Met Gala in turquoise Calvin Klein.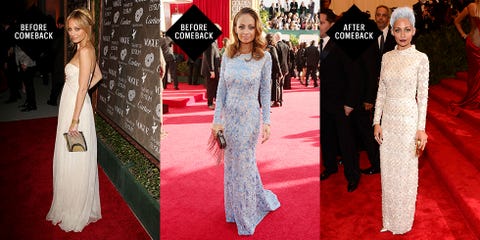 Getty, design by Katja Cho
Nicole Richie
Like J.Law, Nicole Richie's style so far occurs in two acts: The Simple Life then the pink rhinestone Michael Kors dress that marked the birth of chic, boho Nicole Richie, and more recently, the evolution of chic, boho NR into edgy, *fashion-y* NR.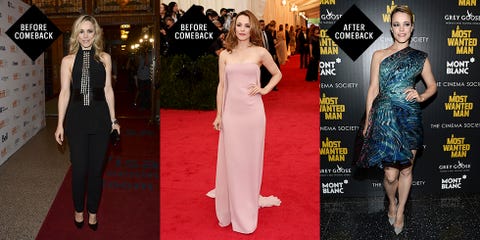 Getty, design by Katja Cho
Rachel McAdams
Nary a misstep for this one, but she definitely hit her stride—after a leave of absence from the red carpet—with an uncharacteristically loud Zuhair Murad Couture dress, which seems to have colored her picks since.
This content is created and maintained by a third party, and imported onto this page to help users provide their email addresses. You may be able to find more information about this and similar content at piano.io