The 41 Times Kate Middleton Nailed the Casual Look
Her mountain climbing outfit is somehow just as chic as her more formal ensembles.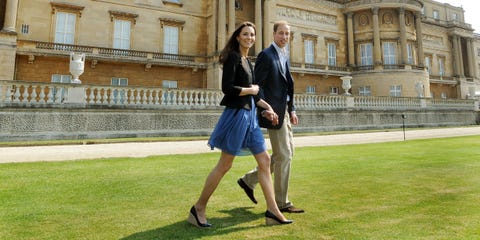 She's a fashion icon at every event, but the Duchess of Cambridge is often out and about in easy-to-wear outfits that prove sometimes all you need to look put together is a blazer and a comfy pair of wedges.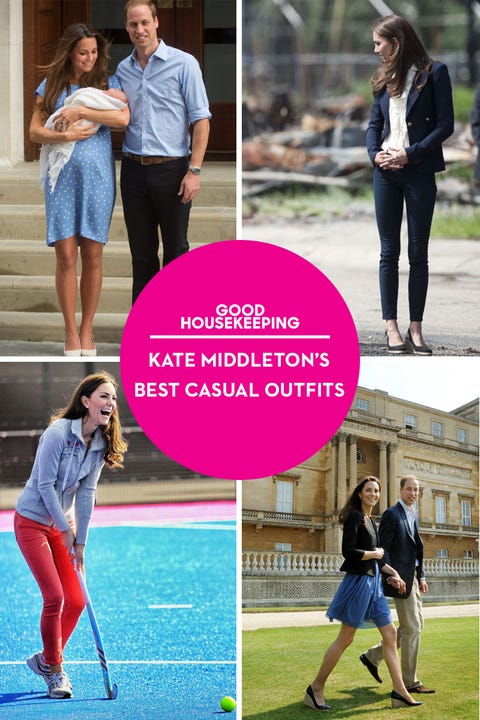 Pin this article for later!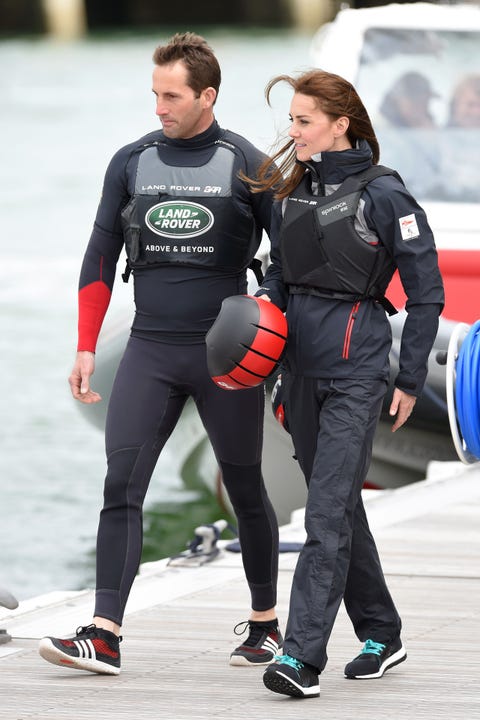 Racing Ready
May 20, 2016 — Kate changed into racing duds and running shoes to join Sir Ben Ainslie, the most successful sailor in Olympic history, for a day out on the water in Portsmouth, England.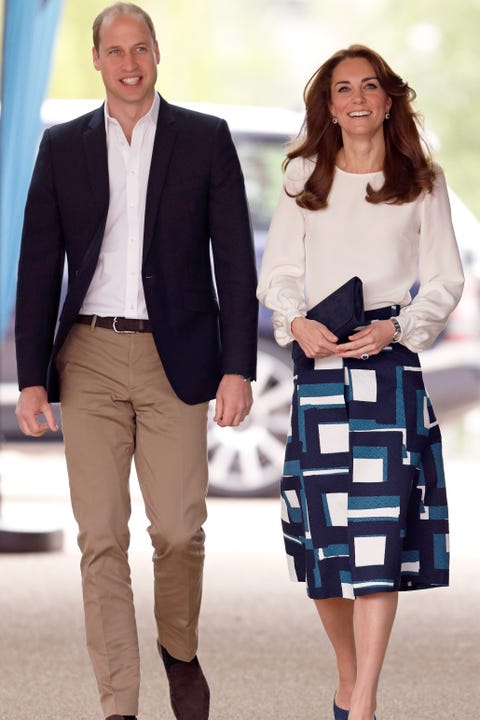 Geometric But Still Romantic
May 16, 2016 — For the launch of the Heads Together campaign to eliminate stigma on mental health, Kate paired a printed midi-skirt and white blouse with a simple black clutch.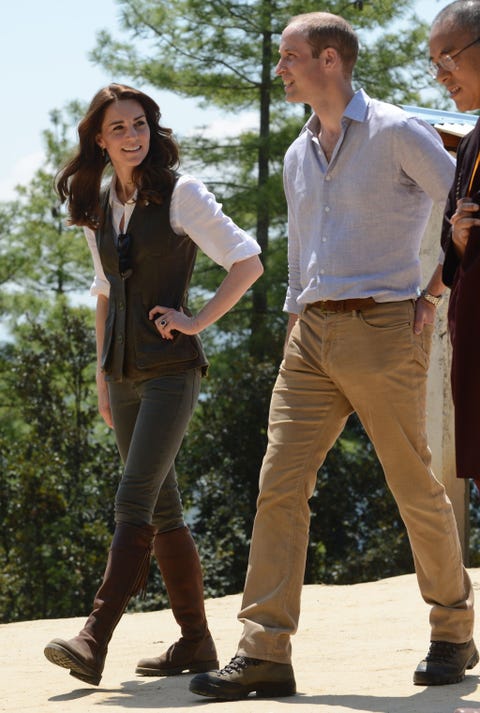 Outdoor Ensemble
April 15, 2016 — Kate wore a pair of Penelope Chilvers boots that she's owned for over 10 years to hike up to Paro Taktsang, the Tiger's Nest monastery, during a week-long tour of India and Bhutan. The rest of her outfit included a pair of jeans, a deep green vest from Really Wild, and a Jaeger linen blouse.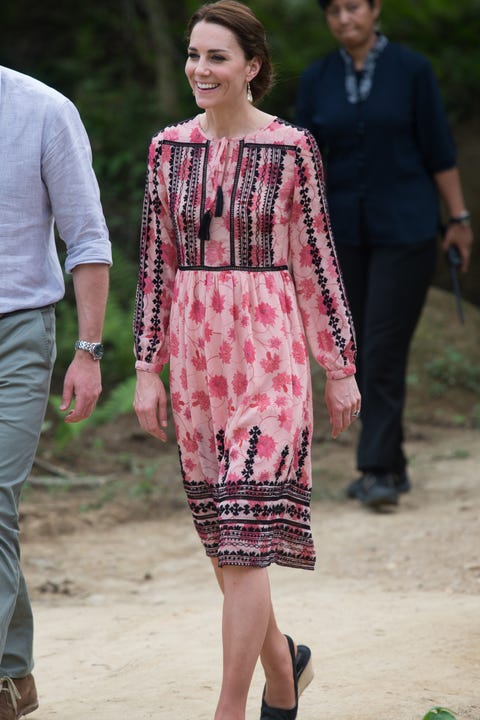 Pretty in Pink
April 13, 2016 — Earlier on her trip to India and Bhutan, the Duchess chose a pink floral dress with black details from Topshop to visit to the Centre for Wildlife Rehabilitation and Conservation (CWRC) at Panbari reserve forest in Kaziranga to feed baby elephants.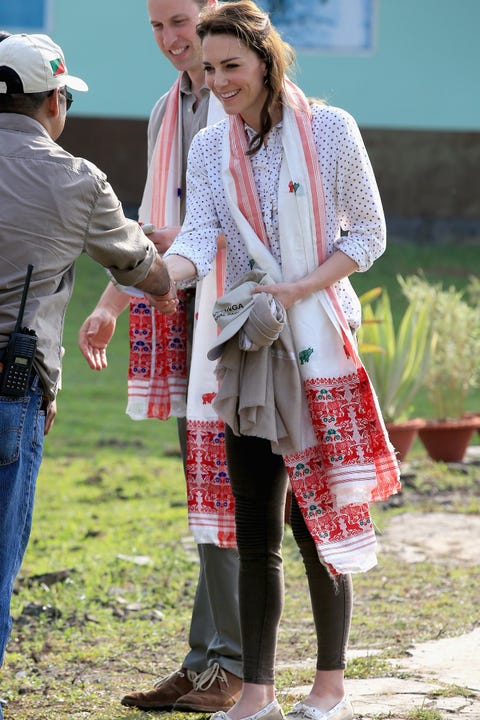 Safari Chic
April 13, 2016 — As she and Will prepared to leave on a safari in India's Kaziranga National Park, the Duchess wore a polka dot button-down, dark skinny jeans and an embroidered scarf.
To the Maxi
April 12, 2016 — Kate paired a lace-up printed maxi dress by Glamorous with a simple pair of nude flats for her visit to a contact centre run by the charity Salaam Baalak that provides aid to homeless children in New Delhi.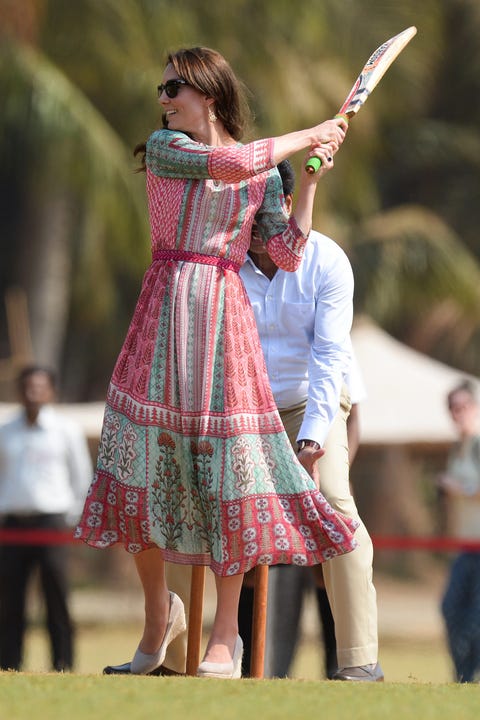 Prints Charming
April 10, 2016 — The future queen showed off her cricket skills at Mumbai's recreation ground, the Oval Maidan, wearing a dress by Anita Dongre, a popular Indian designer, and beige wedges from Monsoon.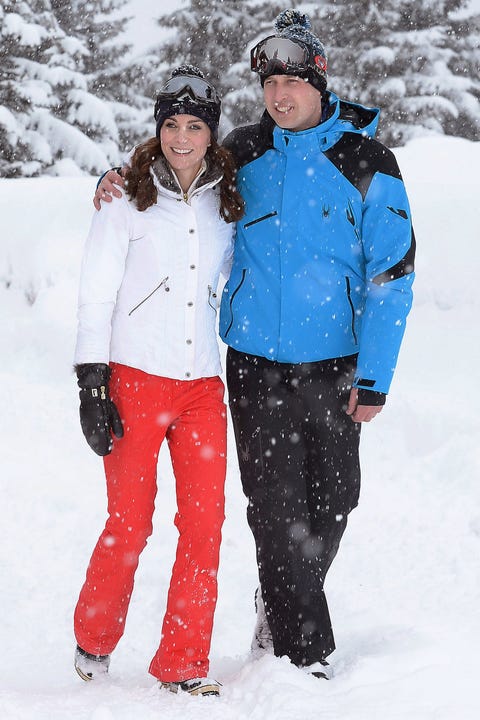 Cold Weather Wear
March 3, 2016 — The Duke and Duchess shared this personal vacation photo of themselves in ski gear while enjoying a short winter getaway in the French Alps.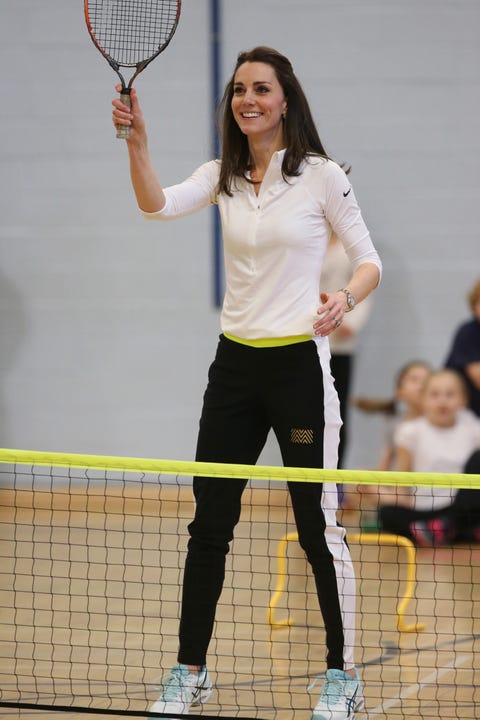 Tennis Gear
February 24, 2016 — Kate wore sneakers and track pants to take part in a tennis workshop with Andy Murray's mother Judy at Craigmount High School in Edinburgh, Scotland.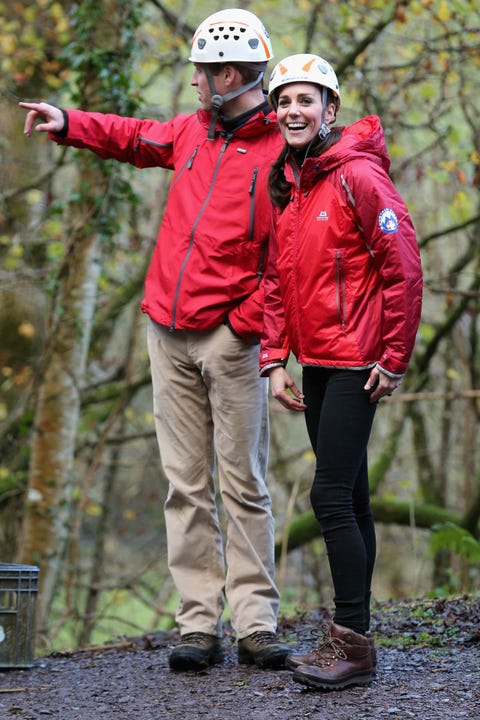 Rock Climbing Threads
November 20, 2015 — On a visit to North Wales, the Duke and Duchess wore matching red jackets to go rock climbing at the Towers Residential Outdoor Education Centre.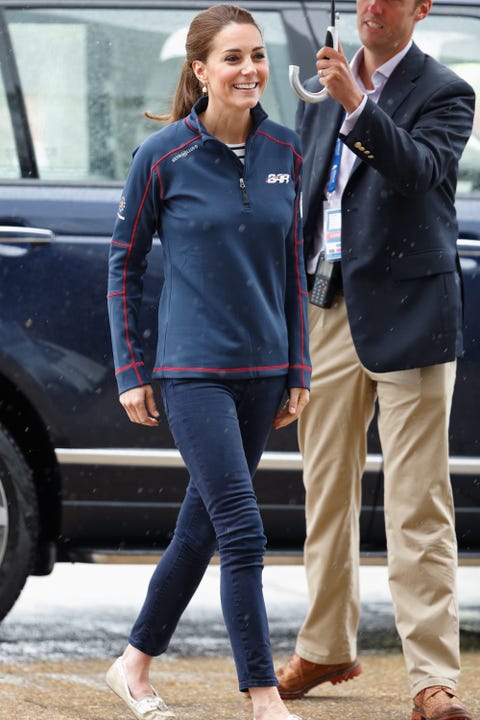 Nice and Nautical
July 26, 2015 — Kate wore a practical pair of Sebago Bala boat shoes with skinny jeans and an athletic pullover to the America's Cup World Series in Portsmouth, England.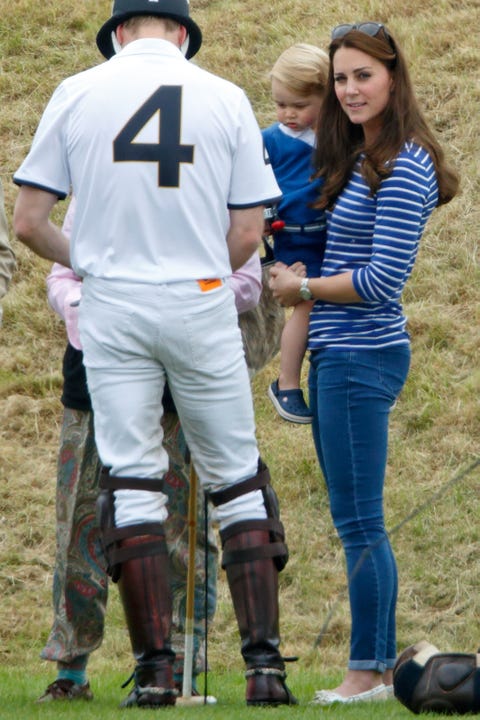 Breton Stripes
June 14, 2015 — The Duchess doesn't just wear boat shoes to nautical events—at this polo match she paired them with skinny jeans and a Breton strip shirt.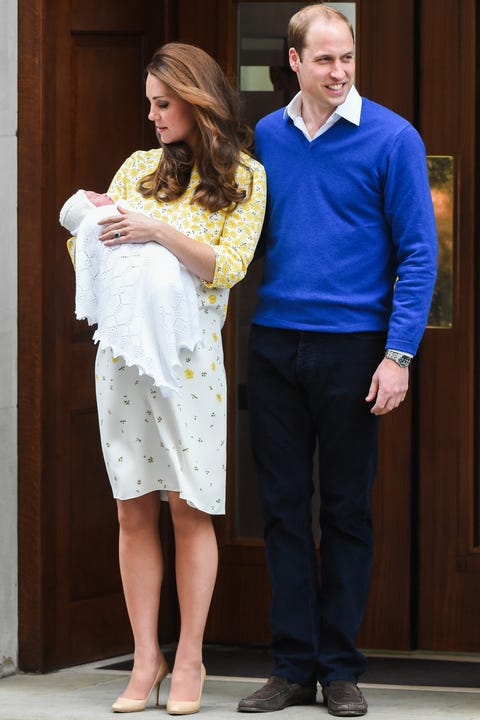 Spring Fling
May 2, 2015 — After giving birth to Princess Charlotte, Kate wore a custom Jenny Packham dress in a pale yellow buttercup print with beige heels.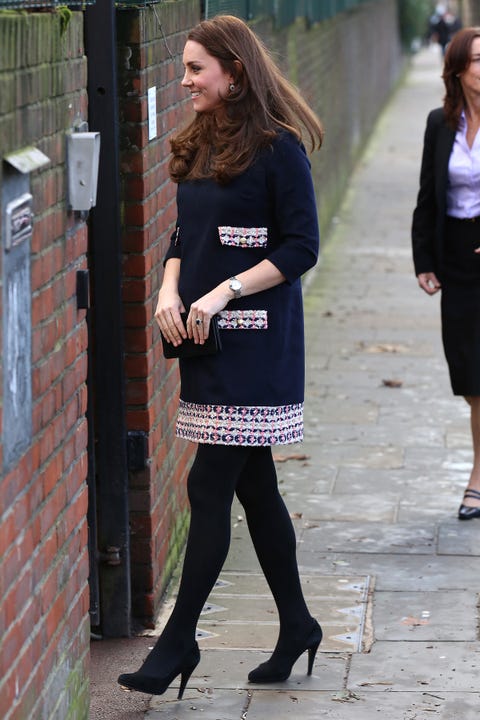 Winter Wear
January 15, 2015 — While pregnant with Princess Charlotte, Kate wore this patterned black shift to officially name The Clore Art Room at Barlby Primary School.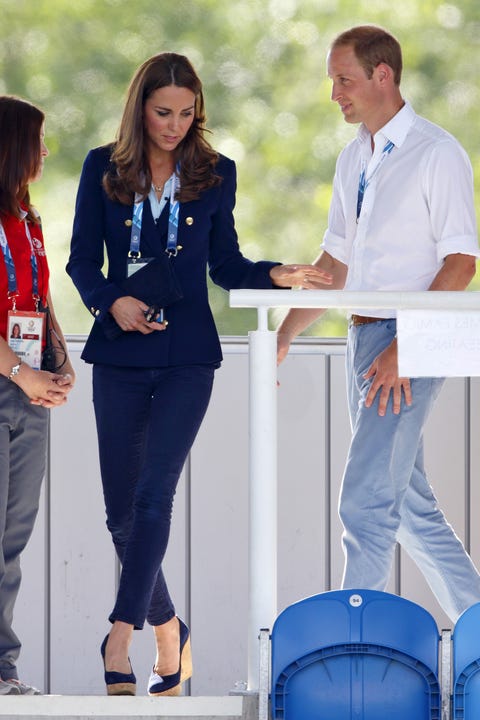 Double-Breasted Blazer
July 28, 2014 — Kate wore a double-breasted blazer with skinny jeans and Stuart Weitzman cork wedges to watch a hockey match at the Glasgow National Hockey Centre during the 20th Commonwealth Games.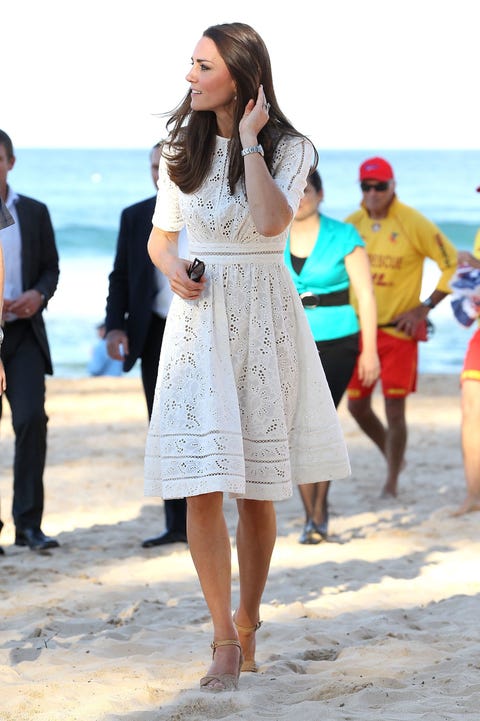 Little White Dress
April 18, 2014 — During her and Prince William's tour of Australia, Kate wore a white eyelet dress by Australian designer Zimmermann with another pair of Stuart Weitzman wedges to an event at Manly Beach in Sydney.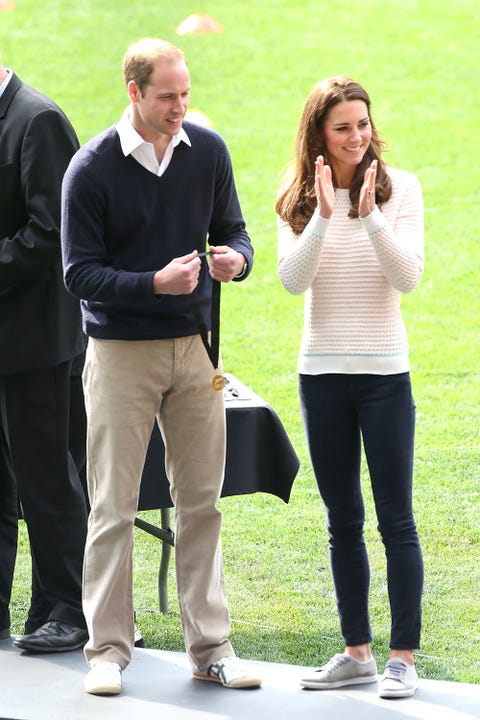 Sweater Weather
April 13, 2014 — Kate wore a cream-colored sweater with skinny jeans and gray tennis shoes to the Rippa Rugby tournament in Dunedin, New Zealand.
Fabulously French
October 18, 2013 — Kate attended a SportsAid Athlete Workshop in London in skinny jeans, a Breton-striped shirt, a navy blazer and her go-to wedge heels.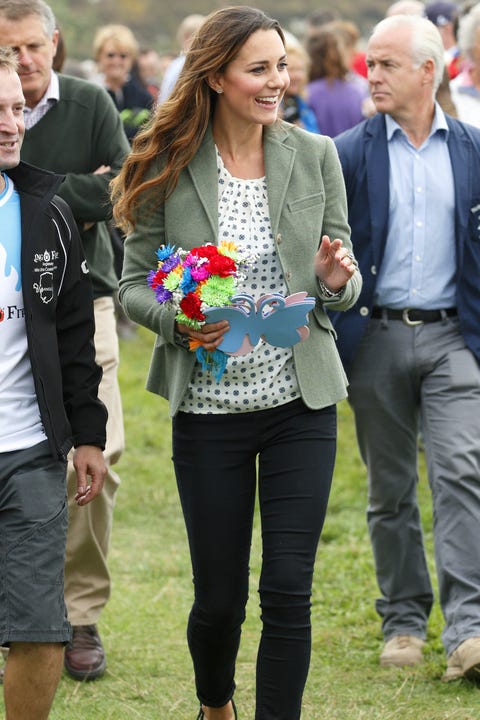 Casually Chic
August 30, 2013 — Kate turned to her casual uniform of skinny jeans, a blouse and a blazer once again for the Ring O'Fire Anglesey Costal Ultra Marathon in Holyhead, Wales.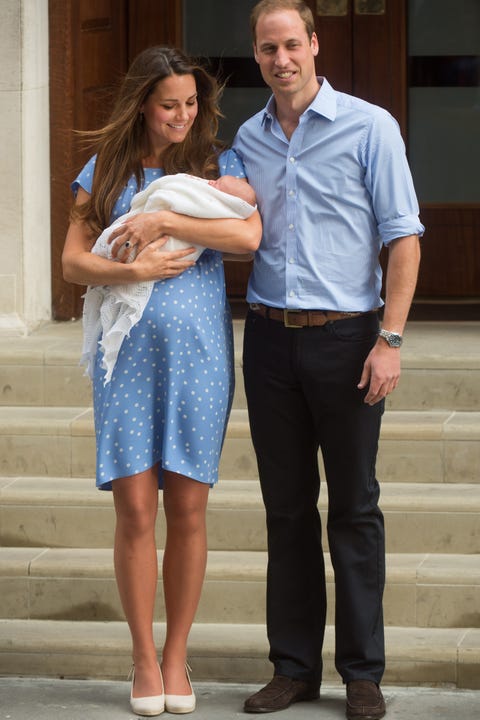 Baby Blues
July 23, 2013 — British designer Jenny Packham created a custom blue-and-white polka dot dress for the Duchess to wear when she introduced Prince George to the world.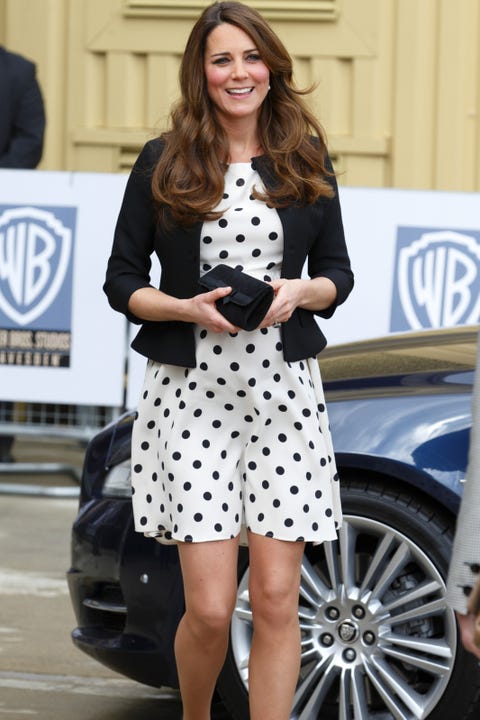 Pretty Polka Dots
April 26, 2013 — Even though she's royalty, not everything the Duchess wears is expensive. She wore a casual polka dot dress from Topshop with a black blazer to visit the Warner Bros. Studios Leavesden where the Harry Potter movies were filmed.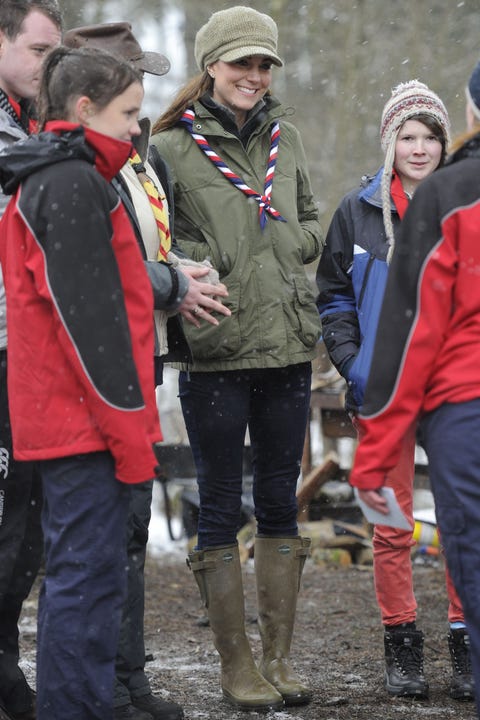 Cool in Khaki
March 22, 2013 — Kate has no problem getting into the outdoorsy spirit—for a scout volunteer training day in Cumbria she donned a wool hat, a pair of rain boots, skinny jeans and an army green jacket.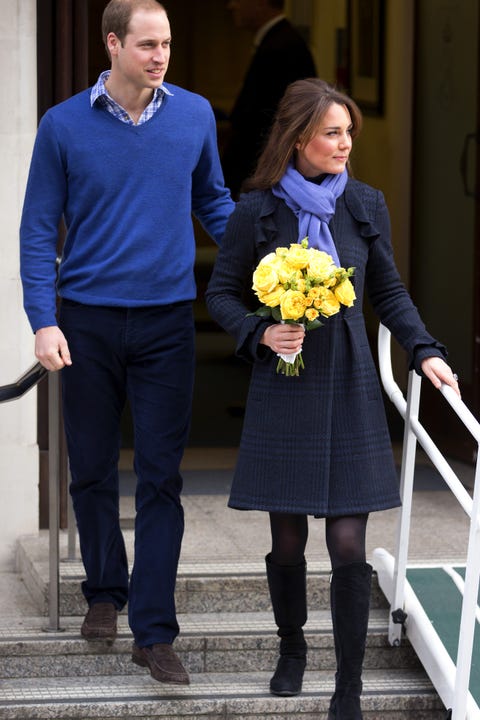 All Wrapped Up
December 6, 2012 — After being treated for morning sickness for her first pregnancy, Kate left the King Edward VII Hospital looking cozy in a navy Diane von Furstenberg coat, blue scarf and tall black boots.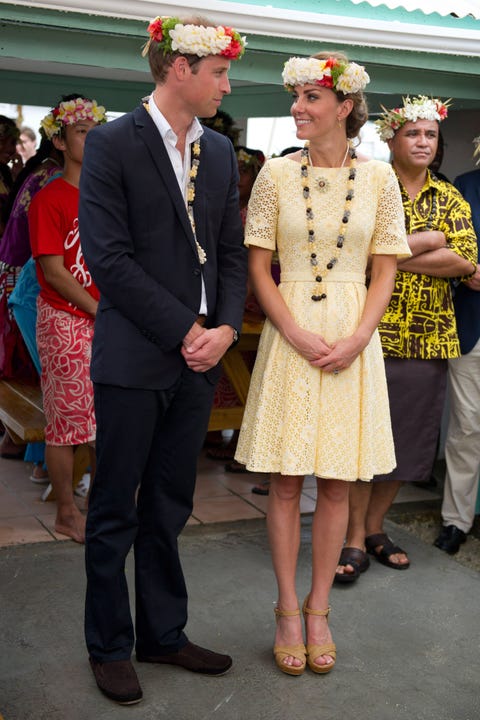 Eyelet Envy
September 18, 2012 — During the Diamond Jubilee tour of Singapore, Malaysia, the Solomon Islands and Tuvalu, Kate wore a lightweight eyelet dress in pale yellow with Stuart Weitzman wedges.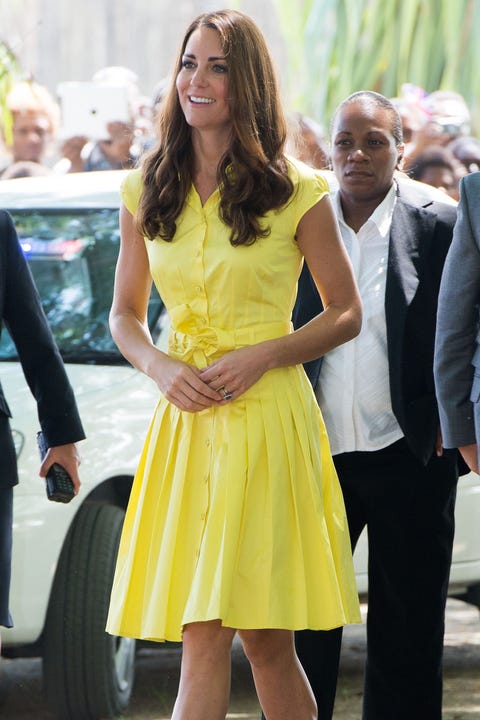 Mellow Yellow
September 17, 2012 — The Duchess wore another yellow dress—this one is by the brand Jaeger—for a visit to a village in the Solomon Islands.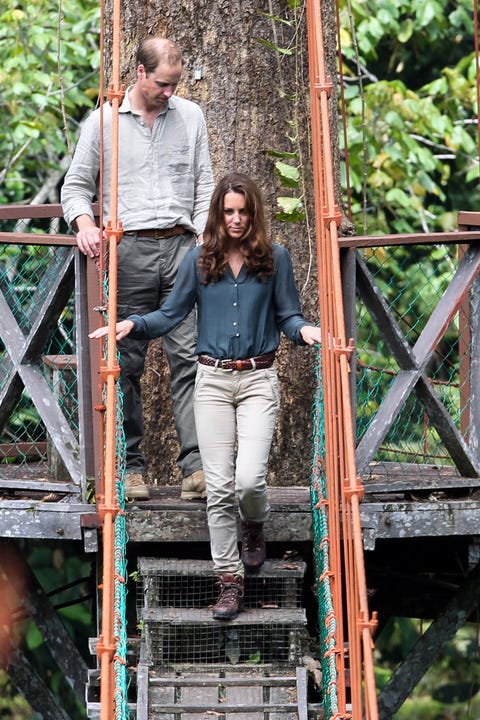 Hiking Gear
September 15, 2012 — Will and Kate managed to look comfy and polished in khakis and hiking boots while on a walk through the rainforest in Danum Valley on the island of Borneo.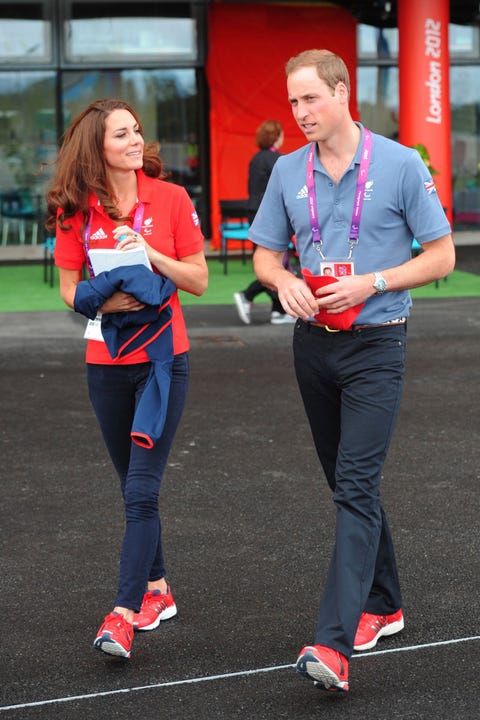 Matching Athleisure
August 30, 2012 — The future king and queen wore matching Adidas sneakers with polo shirts to a cycling event at the London 2012 Paralympic Games.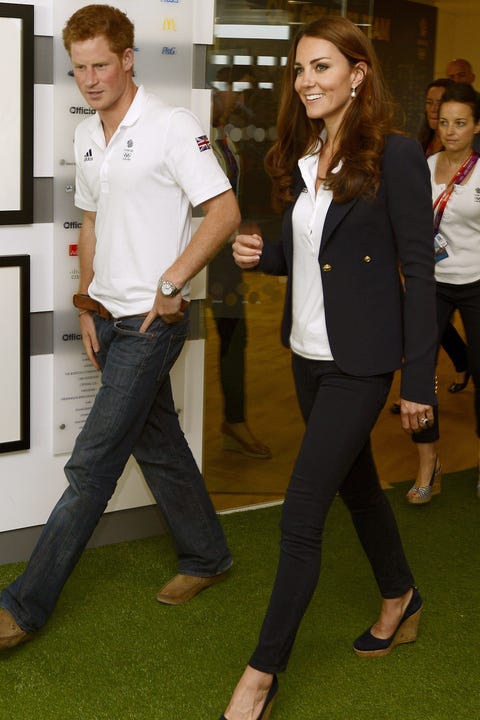 Perfectly Preppy
August 9, 2012 — During the London 2012 Olympic Games, Kate and her brother-in-law Harry visited athletes at the Team GB House in the Westfield Centre wearing similar outfits of jeans and white polo shirts. Kate accessorized her look with a pair of cork wedges.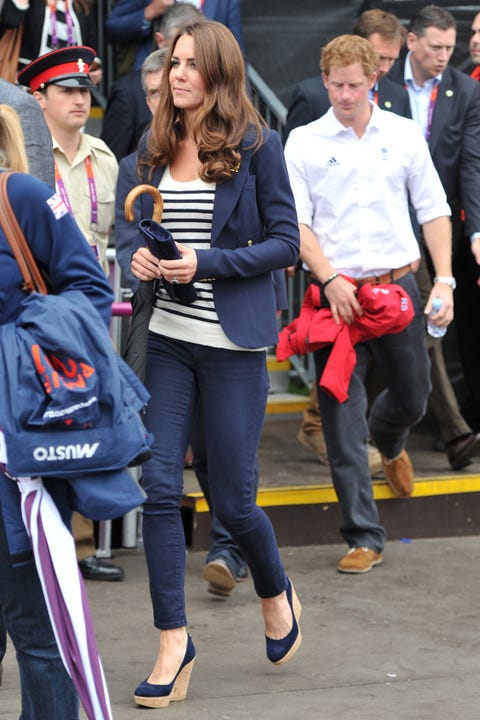 Navy Blue Hues
July 31, 2012 — At another London 2012 Olympics event, Kate wore the same outfit with a Breton striped shirt this time around.
This content is created and maintained by a third party, and imported onto this page to help users provide their email addresses. You may be able to find more information about this and similar content at piano.io