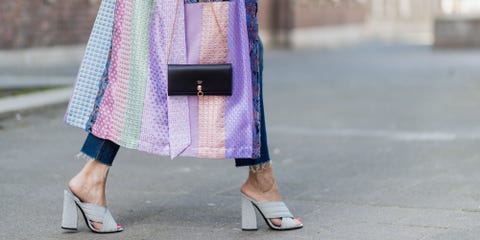 We use cost-per-wear to justify all sorts of questionable purchases, buy why not cook the books a different way? Say, scrimping and saving a bit there so you can spring for a Charlotte Chesnais earring here? That doesn't mean you have to economize on style, though, as the 12 pairs of chichi-looking heels ahead prove.
For when you haven't had the time to get a pedicure but you still want to get in on the exposed-foot fun.
$75, aldoshoes.com.
A walkable block-heel sandal in a shocking shade of cobalt.
$82, theloeil.com.
You know it as that clear tarp-y stuff your grandma covers her couches with, but fashion has made it, well, Fashion.
$80, shop.mango.com.
An ankle strap for security, a frayed ruffle detail for a Design Element™.
$44, us.boohoo.com.
A lot of look for a little price, from one of our secret shopping sources.
Pay homage to Jenna Lyons, who made leopard a neutral.
$98, asos.com.
Super soft suede makes tying the bow 283 times to get just the right loop-age a treat.
$80, reportshoes.com.
That kind of Marc Jacobs Nurse Ratchet vibe.
$85, stories.com.