Kourtney Kardashian Reveals the Secrets of Her Very Strict Diet
Not for the faint of heart.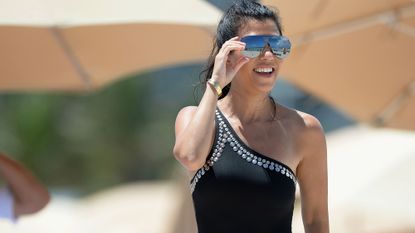 (Image credit: Archives)
Kourtney Kardashian is undoubtedly in the best shape of her life. She's previously spoken out about avoiding certain food groups and makes no secret of her daily workouts with her personal trainer, however, the details of exactly what goes into her strict regime still come as quite a surprise.
She revealed in a post on her app that as well as shunning dairy and gluten, she also avoids most fruits and vegetables when she is detoxing. This means that grains, beans, and legumes are also not permitted. Instead, proteins and fats form most of her menu, People (opens in new tab) reports.
The star begins her day with a creamy avocado pudding , which consists of one avocado, a tablespoon of cane sugar, half a cup of milk (presumably a dairy substitute), and a tablespoon of manuka honey. Lunch and dinner are made up of proteins and vegetables, usually fish or chicken with a side of broccoli or cauliflower.
She also added that she waits 14–16 hours after having dinner before consuming breakfast and avoids snacking altogether, except for the odd almond.
RELATED STORY
Her diet only gets more extreme on fasting days, which sees her only have water and bone broth for 24 hours. She does this for one day a week.
"I'm not going to sugarcoat it, this detox is difficult," she said, explaining that she hopes to follow this regime for just three months. "I also know that I need to enjoy my life, so I break the rules when I go on vacation or if there's a special occasion."