45 Gorgeous Half-Up, Half-Down Hairstyles to Try This Summer
All you need: A hair tie and a couple of minutes.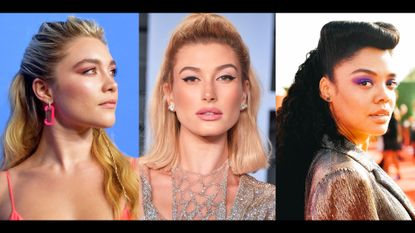 (Image credit: Getty)
Few things in life are truly universal. But the half-up, half-down hairstyle is a rare and welcome exception: It works for almost everyone who wishes to rock it, no matter their texture, shade, or preference. It's a true workhorse. If you're looking to conceal greasy roots, a textured pony at the crown can hide them until wash day. If you're doing Pilates or going for a run around your neighborhood and still want to look chic, a sleek pull-back will keep your strands out of your face. It's the perfect way to show off bold or experimental makeup by drawing attention to the eyes, and if you're just plain feeling indecisive, the look is versatile enough to inspire a new variation every day.
Best of all, it's the perfect style for day-to-night dressing, so you can hop from grocery shopping to a dinner party without taking a shower or reaching for a brush. This theory is more than proven by our favorite celebrities: contrasting flowing locks with some creativity up top—from a sculptural top knot to a chic half-ponytail—can look elegant, playful, or avant-garde, depending on the mood you're in or the event you're attending (even if it is virtual, for now) Ahead, 46 reasons why some half-up, half-down styling is the best way to break up your hair routine (yes, even you, short-haired gals).
1/45
Lucy Boynton's Delicate Touch
Bonus: The length of your hair doesn't matter with this style. While Boynton may have a chin-grazing bob, tying up half of her hair with a bow instantly lengthens it with volume, while giving it a nice feminine touch.
2/45
Jourdan Dunn's Sparkly Embellishment
Adding some bejeweled clips or accessories to your half-up ponytail is bound to make you shine from head-to-toe. It's also a great addition if you're keeping your makeup a little smokey and dark, like Dunn is here.
3/45
Lana Condor's '60s Volume
As Condor proves, curling your ends upward for a '60s-esque flip instantly adds volume. Don't forget to go extra Mad Men-style and clip the hairs on the back of your head together a little higher than usual to score that iconic movie star look.
4/45
Kelly Rowland's Swept-Back Style
Leaving little to no hairs free to surround your face will help draw attention to your beautiful face and other parts of your ensemble, like those gorgeous drop-down earrings Rowland's wearing.
5/45
Zooey Deschanel's Bangin' 'Do
Bangs aren't extra baggage—if anything, they're your best accessory. Face-framing, fringe bangs like Deschanel's will add a fun flair to any style.
6/45
Yara Shahidi's Topknot
Pulling your hair up into a sleek topknot, while allowing the rest of your hair to flow freely, adds dimension and helps control the amount of volume you want to put on display. Tie it with a scrunchie to go super '90s.
7/45
Camila Cabello's Wispy Bangs
Wispy bangs + long waves = the perfect cool-girl combination. Spritz your roots with volumizing spray to really make that pony pop like Cabello's.
8/45
Kim Kardashian's Super-Sleek Pony
A well-structured, sleek ponytail with no flyaways is not an easy look to achieve, but it immediately draws attention to the masterpiece that is your face. Adding a soft bend at the bottom of your ponytail makes this style appear more relaxed, if you don't want something so serious.
9/45
Ciara's Waist-Length Locks
Colored dreadlocks offer an array of styles at your service, including this loose half-up, half-down bun. Ciara looks effortlessly beautiful, and so can you.
10/45
Bella Hadid's Off-Duty Curls
After a long day, nothing sounds better than putting your hair up. Let those sun-kissed waves you wish you had year-round shine with this simple style. Bonus points if you swap your regular hair band with a silk scarf for a kick of color.
11/45
Tessa Thompson's Voluminous Moment
The extra minutes it may take to create this statuesque updo are totally worth it. A sturdy hairspray will make it easier to build up the height.
12/45
Lily Rose Depp's French Girl Waves
Soft waves paired with floral jewelry and embellishments are just so pretty. A large barrel curling iron can help you achieve the same chic look.
13/45
Florence Pugh's Beachy Waves
Textured waves paired with coral jewelry practically screams "beach party." Use a comb to rake back the hair without making the pony too tidy.
14/45
Jodie Comer's Proper Pull-Back
Texture at the root keeps this look accessible. Curl the ends with a large barrel curling iron, and tease the top of your strands near the scalp for a balanced coif.
15/45
Elisabeth Moss's Side Swoop
Wave your hair with a curling wand for uniform strands, then part your hair on the side and clip it at the back of your head—polished, but not too prim.
16/45
Beyonce's Braids
Braids welcome texture to a regal updo. French-braid your strands on each side of your head, then plait what's left down your back.
17/45
Hailey Bieber's Crowning Achievement
Half-up styles can give a lifted appearance to the contours of your face, and placing your pony at the crown maximizes this effect. Add a cat eye to lift the look even more.
18/45
Gigi Hadid's Top Knot
Day four hair has never looked so enviable. If you want to hide greasy roots, massage some dry shampoo into the scalp, shake it out, then wind the hair up top into a cute lil' bun.
19/45
Sophie Turner's Sleek Look
Pairing a perfected pull-back with an elegant necklace can instantly refine a deep neckline.
20/45
Kendall Jenner's Easy Pony
This is a weekend pony if we've ever seen one, especially for short- haired ladies. A tiny rubber band will do the trick, and don't bother using a brush. This look is better a little messy.
21/45
Jessica Chastain's Red Carpet Waves
It's a simple style, but the half-do look is effortlessly glamorous when you pair it with beachy waves, a fresh face, and chic jewelry.
22/45
Ashley Greene's Swooping Strands
To add some zhuzhing effect to your half-updo, drape the strands closest to your forehead up and away from your face like so.
23/45
Blake Lively's Waterfall of Waves
What better way to make an entrance than with a head full of perfectly satiny curls? Pin back your hair on one side for chic, princess-worthy contrast.
24/45
Olivia Wilde's Balayage Tendrils
When you want to show off a fresh crop of highlights, do as Olivia Wilde does and pull your hair back at the crown to give your tips the spotlight.
25/45
Emma Watson's Asymmetry
A deep side part and texture at the roots helps keep this half-ponytail style looking red-carpet fresh.
26/45
Zooey Deschanel's Top Knot
Deschanel knows the power of a chic top knot to break up a head of thick hair.
27/45
Rosie Huntington-Whiteley's Face-Framing Strands
When you tease the heck out of your hair at your crown, the more volume at the top of your head will make an elegant contrast with long flowing locks. Leave two face-framing tendrils out to achieve this look.
28/45
Penelope Cruz's Side-Swept Bangs
While most people opt to keep their hair away from their forehead for a half-updo, Cruz's side-bangs are a fresh take on the style that frames her face to perfection.
29/45
Ashley Olsen's Regal Bun
In which Ashley makes growing out a dye job look all the more sophisticated with a rounded and pinned bun plus loose layers.
30/45
Poppy Delevingne's Braided Half-Updo
Try double-sided fishtail braids when you're looking for a more edgy half-up, half-down look.
31/45
Kiernan Shipka's Pinned Back Flair
One of the most stylish teens around has her hair game down pat. Here, Shipka pins the hair back toward the side of her head rather than pulling it straight back.
32/45
Marion Cotillard's Swept-Back Style
Instead of parting hair down the center, try sweeping all of your hair back with a hair-clip and teasing at the roots.
33/45
Kristen Stewart's DGAF Floppy Ponytail
The perfect weekend look: tying back a messy half-ponytail (dark roots and all!) and letting the rest of your hair hang loose.
34/45
Angelina Jolie's Volume
All the hair and texturing spray used to keep your hair out of your face means more room to highlight your features and jewelry, right Angie?
35/45
Mindy Kaling's Quick Fix
For those mornings when you are running super late to work, try Mindy's insta-glam look. Make a deep side part, clip some hair back, and run out the door.
36/45
Zendaya's Headpiece
The easiest way to shake up your half up/half down style? Throw in a headpiece.
37/45
Kendall Jenner's Casual 'Do
To recreate Jenner's off-duty model look, make sure to gather your hair at the nape of your neck and secure it low for a chic take.
38/45
Kate Middleton's Hat
Because we can't have her title/husband/wardrobe/tiaras, we might as well try and steal her style tricks. The Duchess keeps it classy, as always, with a dainty hat.
39/45
Rooney Mara's Mini Bun
Keep a long hairstyle interesting by tying back a mini bun that's placed towards the back of your head rather than on top of it.
40/45
Rihanna's Loose Curls
Is there anything Rihanna can't pull off? Her take on the half up/half down hair comes with some loose curls in a bedhead effect.
41/45
Lily Collins' Sexy Waves
Stellar beach waves and all, Collins embraces her seductive side with this bumped-up look.
42/45
Kerry Washington's Glam Volume
What you're currently experiencing is hair envy. Get some of her glam by keeping volume in your hair as you pin parts back, or, more effectively, print out this photo and take it to a hairdresser.
43/45
Emilia Clarke's Bob
Clarke's look proves that you don't have to possess long hair to master the half up/half down style. To copy her look, part hair in the center, tease the hair at the crown of your head, and leave some pieces out (or wrap them around a curling iron) for a wavier effect.
44/45
Anna Kendrick's Piece-y Layers
For a messy-yet-completely-styled updo, look no further than this Anna Kendrick style. But take note—hairspray should be applied liberally.
45/45
Emma Stone's Side-Swept Style
Stone rocks the simple look with this super short and sweet half up/half down 'do.
Bianca Rodriguez is the Fashion & Luxury Commerce Manager at Hearst Magazines, covering fashion, beauty, and more for Cosmopolitan, Elle, Esquire, Harper's BAZAAR, and Town & Country. She likes lounging about with a good book and thinks a closet without platform sneakers is a travesty.