Chrissy Teigen and John Legend Welcome Their Baby Girl
Congrats!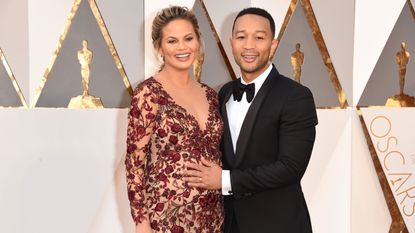 (Image credit: Getty Images)
She's here!
This morning, John Legend and Chrissy Teigen welcomed their 6-pound, 11-ounce baby girl—and her name is SO cute. Teigen announced the birth on Instagram, writing "Luna Simone Stephens, we are so in love with you! And sleepy. Very sleepy."
Congratulations, John and Chrissy! And while we'll be sad to see the new mom retire that amazing maternity wardrobe (opens in new tab) she's been rocking these past nine months, we are SO excited for the baby pics to come!
I am an experienced editor, writer, and creative strategist, specializing in fashion, beauty, and lifestyle content for digital media outlets, as well as video and social platforms. While I currently operate as a freelance contributor/consultant, with such clients as The Zoe Report, my 10+-year background in the industry was cultivated at the dot-coms of elite publications, including Harper's BAZAAR, ELLE, and Marie Claire.