Jenna Dewan Was "Blindsided" by Channing Tatum Dating Jessie J
She found out about them dating on the internet, like everyone else.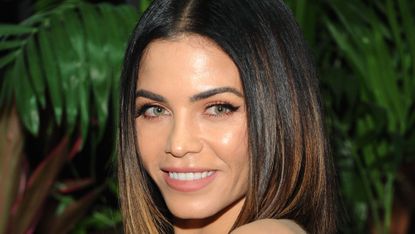 (Image credit: Desiree Navarro)
Sure, Jenna Dewan might be thriving now that she's expecting her second child with her lovely new boyfriend, Steve Kazee, but that doesn't mean splitting from her ex—Channing Tatum—wasn't hard. At the end of the day, Jenna is a human just like everyone else, and breakups totally hurt. Which is why in her new book, Gracefully You: Finding Beauty and Balance in the Everyday, she opened up about how tough it was for her when she found out Channing was dating someone else—Jessie J, to be exact.
In an excerpt from the book, Jenna said she learned the details of Channing's new relationship with Jessie J on the internet, like everyone else did. "I was learning things about my ex most people wouldn't have to face—and over the internet, as it was happening," she wrote. "There I was, on a plane, alone, finding out about his new relationship. I felt blindsided."
Jenna also explained the crippling feelings of shock that plagued the early stages of her and Channing's separation. "It felt as though I were in a dark closet, desperately trying to find the light or the way out," she said. "One week I'd be doing really well and the next I was slammed with a whole new slew of emotions. The rumor mill was churning out story after story."
Of course, there were days when Jenna experienced some emotional highs, but her lows were incredibly impactful. "The pain hit me like a tumbling avalanche. I was completely overcome with fear and sadness," she wrote. "It took many moments of sitting alone with my grief to force me into surrendering to my roller coaster of a situation."
But thankfully, things worked out for Jenna—meeting her boyfriend, Steve. "When I was ready, I started dating someone amazing," she said. "It was this cosmically great thing where we circled back around each other after a moment of instant recognition years ago."
So while Jenna went through emotional hardship during her separation from Channing, she managed to find a new happy ending. IDK about you, but I'm so excited for what Jenna and Steve's future holds!
For more stories like this, including celebrity news, beauty and fashion advice, savvy political commentary, and fascinating features, sign up for the Marie Claire newsletter.
Jenna Dewan opens up about her separation from Channing Tatum in her new book, Gracefully You: Finding Beauty and Balance in the Everyday.
In it, Jenna discusses finding out online that Channing is dating Jessie J.
RELATED STORIES
Starr Bowenbank is the assistant news editor who writes about all things pertaining to news, pop culture, and entertainment—you can follow her here. Writing aside, she loves singing literally everywhere, dancing in the street, hanging out in the East Village every chance she gets, and making her dreams come true.