Jennifer Lawrence Went to the Hospital For WHAT?
The Hunger Games star explains her emergency room visit; the internet explodes.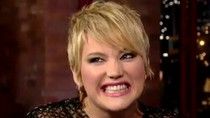 (Image credit: Limited Use)
This girl says the darndest things! Last night, as part of the Hunger Games: Catching Fire press tour, Jennifer Lawrence sat down with David Letterman to discuss, well, her bowel movements. Stay with us here. The ever-endearing starlet explained, "I thought I had an ulcer, but it turns out it was a fulcer!" Then she made this face:
She added, "You can only sh*t your pants so many times a day before you have to go to the emergency room." Then she mentioned the "Real Housewives of Beverly Hills" and the Kardashians because why not. So on a scale of one to the best thing ever, J. Law always comes out on top.