It's Okay, We're Here to Help Your Early-Onset 'Lemonade' Addiction: Watch the Whole Thing in GIFs
Can't. Stop. Won't. Stop.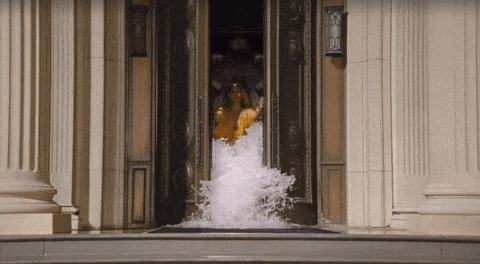 (Image credit: Marie Claire)
Take a collective deep breath, Beyhive. Yes, you are still alive after Beyonce's premiere of 'Lemonade.' After a week of Queen B and HBO teasing (opens in new tab) the mysterious special, we finally have a full visual album that feels magical, touching, spooky, spiritual, or heart-wrenching depending on which part you're on.
Don't have HBO? No problem, thanks to Giphy (opens in new tab), every single spectacular moment has been immortalized in GIF form. Let's relive the glory of 'Lemonade' together, shall we?
Before we even get into the music, we get a familiar shot of Beyonce's lady crew dressed in outfits reminiscent of the 'Formation' (opens in new tab) video:
Our first dramatic shot of Beyonce is at the top of a building right before THIS happens:
Don't worry, she conveniently lands in a room completely submerged in water and says a quick prayer...
... for the neighborhood she's about to unleash a flood of bad-assery on:
All while looking fabulous and carefree:
Next we get a glimpse of Beyonce that we've seen before in the 'Lemonade' teaser:
Since this song is called 'Anger,' you can probably guess what comes next:
What better way to cheer yourself up than a party bus with your crew?
On your way to see SERENA WILLIAMS!!!
Beyonce takes a quick head count of her ladies:
Before taking us from black and white to all-red-everything. We arrive in a fiery red room while The Weeknd serenades us:
B does some steamy dance routines, then decides to just burn the place down:
After a touching scene where a father talks about how meeting President Obama inspired him, Beyonce returns to her Texas roots:
It's a full on country song that honors all the dads of the world, including her own. (Hi, Blue Ivy!):
Beyonce then takes us back to her February Super Bowl performance, though it's a lot less crowded:
It's the perfect setup to some of the album's most stunning visuals:
After some very angry songs, we were beginning to worry about Jay Z. He finally joins the picture for a few intimate closeups that reassure our faith in the world's ultimate power couple:
Beyonce then ups the black girl magic with a few group shots featuring familiar faces including Zendaya, Amandla Stenberg, Quvenzhané Wallis, Winnie Harlow, and many more:
In one of the most powerful and heartbreaking scenes, we see the mothers of young black men who have been killed by police and gun violence including Mike Brown and Trayvon Martin:
And if you haven't already reached the full range of emotions the human body allows, Beyonce hits us with her precious family memories:
And that's a wrap! Are you still breathing? Me neither.