Kendall Jenner Beats Gisele Bündchen to Become World's Highest-Paid Model
She takes the crown from Gisele for the first time in 15 years.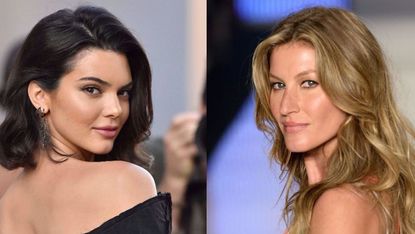 (Image credit: Archive)
Congratulations are in order for Kendall Jenner, who has become the highest-earning model in the world, according to Forbes.
The 22-year-old tops the list for the first time, ending the reign of Brazilian supermodel Gisele Bündchen, who, for the first time since 2002, is not at the top of the list.
Jenner earned a cool $22 million over the past year, which the money magazine estimates comes down to her earning potential through her huge Instagram following, as well as deals with Estée Lauder, Adidas, and La Perla.
Being part of the Kardashian-Jenner clan has also helped, according to Forbes, who say the family's reality TV show Keeping up with the Kardashians and her clothing line with sister Kylie, KENDALL + KYLIE, have also contributed to her net earnings.
By comparison, Gisele earned $17.5 million, which dipped by 43 percent from 2016, after she had a quieter working year doing fewer campaigns.
[/image]
Chrissy Teigen has also been included in the list for the first time, thanks to her $13.5 million earnings from various deals in fashion and food, including with brands like Smirnoff and Vita Coco.
Sisters have also made the list for the first time in the form of Gigi and Bella Hadid, with the elder sister earning $9.5 million and Bella (who, at 21, is the youngest on the list) earning a cool $6 million.
What is also great news is that body-positive campaigner Ashley Graham completes the list, having earned $5.5 million over the past year, making her the first curve model to feature, hopefully showing that the fashion world is on its way to embracing different body types.
Unfortunately, though the list shows a degree of diversity when it comes to body type, it appears the modeling world is far from representative as only one woman of color—Liu Wen—features, having earned $6.5 million.
Forbes bases its earning estimates, which are from June 1, 2016 to June 1, 2017 and before taxes and fees, on the on estimated incomes from cosmetic, fragrance, and clothing contracts, as well as interviews with agents, managers, and brand executives.
1. Kendall Jenner - $22 million
2. Gisele Bundchen - $17.5 million
3. Chrissy Teigen - $13.5 million
4. Adriana Lima - $10.5 million
5. Gigi Hadid - $9.5 million
5. Rosie Huntington-Whitely - $9.5 million
7. Karlie Kloss - $9 million
8. Liu Wen - $6.5 million
9. Bella Hadid - $6 million
10. Ashley Graham - $5.5 million
Olivia is ELLE's Digital News Editor covering pop culture, royal, lifestyle and women's news and features. Previously a features writer for Hearst's digital brands and lifestyle reporter at The Independent, she's amassed a healthy - and varied - expertise of Meghan Markle, women's and reproductive health issues and all 10 seasons of Friends.