Russian Fashion Site Apologizes for Outrageous Chair Modeled After Black Woman
Apologies are apologies but we can't unsee this one.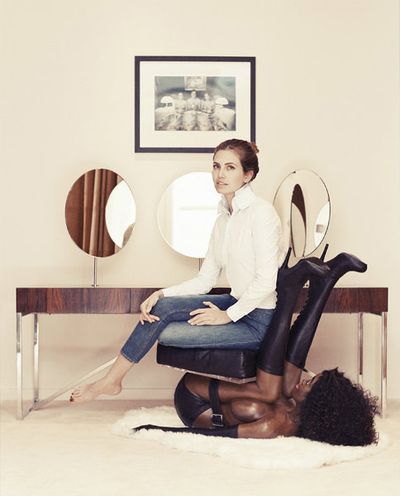 (Image credit: Archives)
Martin Luther King Jr. Day was met with controversy in the fashion world after popular Russian website, Buro 24/7, ran by street style star and Russian socialite, Miroslava Duma, published a controversial photo of Dasha Zhukova, the Editor-in-Chief of Garage Magazine. On the site, the accompanying photograph (which has since been cropped out) showed Dasha Zhukova looking into the camera, sitting on a chair that is designed to resemble a lifelike black woman. Duma also posted the picture to her over 540,000 thousand follows, which was met with significant backlash and has since been deleted.
The Editor of FashionBombDaily.com, Claire Sulmers, spoke toHuffington Post about the chair, noting that it was inspired by a set of chairs designed by British pop artist Allen Jones in 1969 but that, "The art and fashion industries are the few bastions of society where blatant racism and ignorance are given the greenlight in the name of creativity," Sulmers writes.
Even if the skintone was different, the photograph would still be offensive. Women seem to be the brunt of society, and no one deserves to be sat on, whether it is for art's sake or not.
We want to hear your thoughts.