How to Hem Your Own Pants
Hem Your Own Pants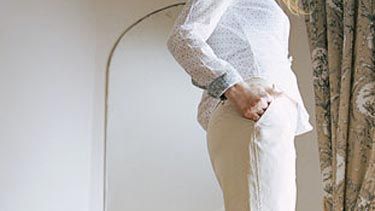 (Image credit: J. Tisne)
Step 1: First, have a friend fold excess material up inside the pants until legs are the length you want and pin new hems in place for you. (You shouldn't do this yourself, because bending down will change the way the fabric falls, and you'll misjudge the length.) To make sure both pant legs are even, have your friend measure from the floor to the bottom of each hem with a ruler.
Step 2: Now, take the pants off and lay them on a flat surface, keeping the pins in place to hold the fabric together while you work. Leaving two to three extra inches of fabric, trim excess using pinking sheers to prevent the edges from fraying.
Step 3: Sew up the hems with a needle and thread-try not to go all the way through the fabric, or your stitches will show. And don't pull the thread too hard, or it will leave bumps.
Step 4: Finally, iron the hems to give them a nice, sharp edge. Voil!
TIP: Be sure to try pants on with the shoes you're most likely to wear with them. --Ramón Diaz, Jr., top NYC tailor
Celebrity news, beauty, fashion advice, and fascinating features, delivered straight to your inbox!