Editor's Picks: Favorite Looks from New York F/W 2012 Fashion Week
Our fashion team has selected the most awe-inspiring fashion statements to hit the runway this season.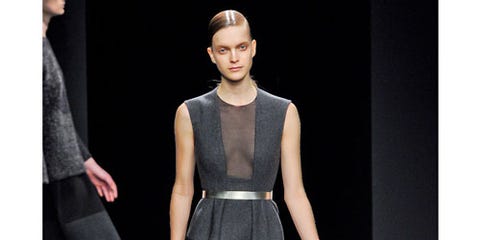 Each day of Fall 2012 Fashion Week, dozens of designers showcase dozens of models wearing dozens of amazing new looks. So how do you keep track? With the help of our fashion team, who has selected the most awe-inspiring fashion statements to hit the runway.For more fashion week coverage, visit our all-access pass to Fall 2012 Fashion Week!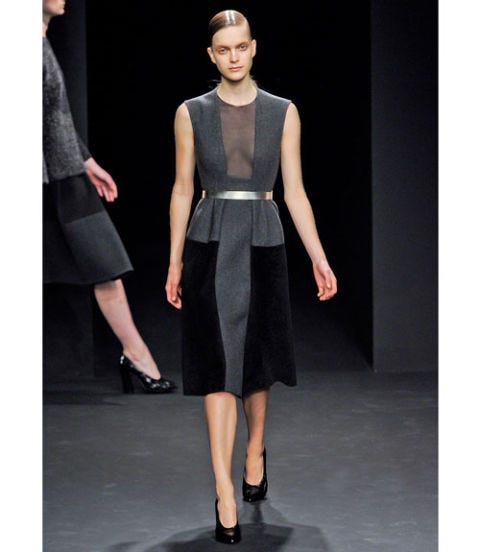 Calvin Klein
For day, wear with camisole, and for night, let the cleavage out to play (safely encased in chiffon, of course).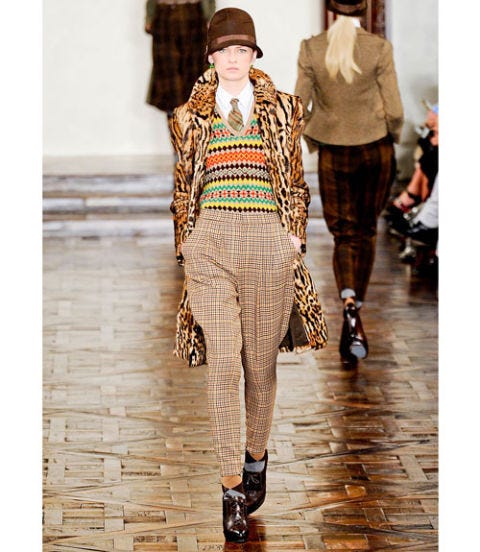 Ralph Lauren
If The Legend of Bagger Vance, Downton Abbey, and Boardwalk Empire had a baby, it would dress like this and it would be AWESOME.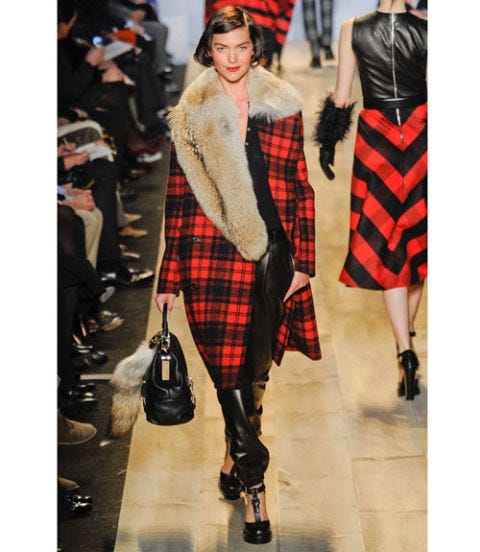 Michael Kors
Oh, hello buffalo checks and leather ski pants. Whaddayasay we run away to Aspen together?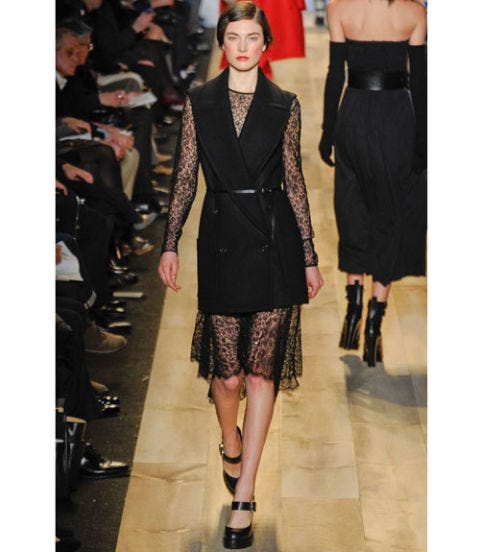 Michael Kors
Chantilly lace has never looked as strong as it does under a sleeveless peacoat.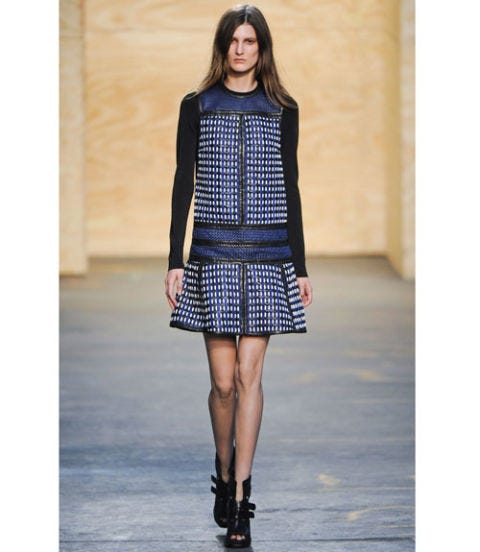 Proenza Schouler
[In Oprah voice] This season, Jack and Laz give you LEATHERRRRRR! Woven leather, braided leather, perforated leather, all kinds of fabulous leather!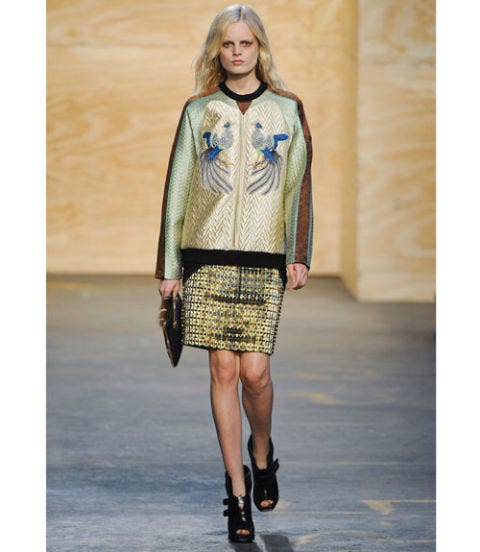 Proenza Schouler
Le coq sportif!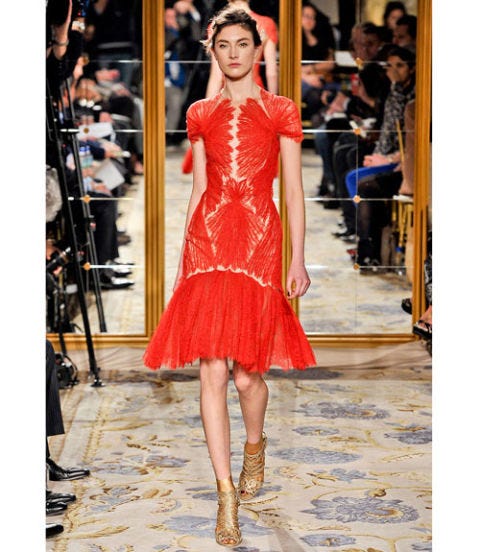 Marchesa
Forget The Bodies exhibit, we'll take the Marchesa dress version instead. It's at once edgy and elegant.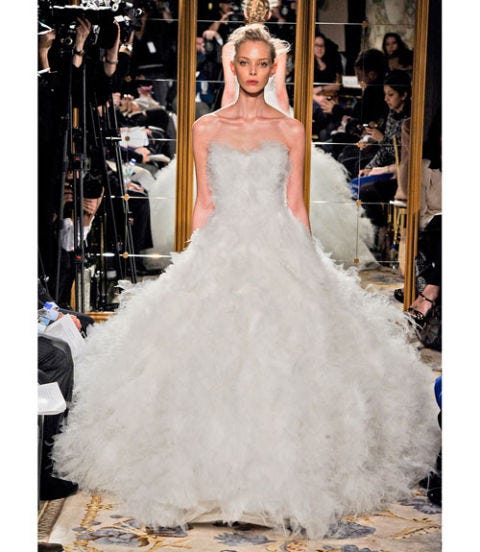 Marchesa
Who needs smoke machines when you can make an entrance in this bad boy? It glides on air!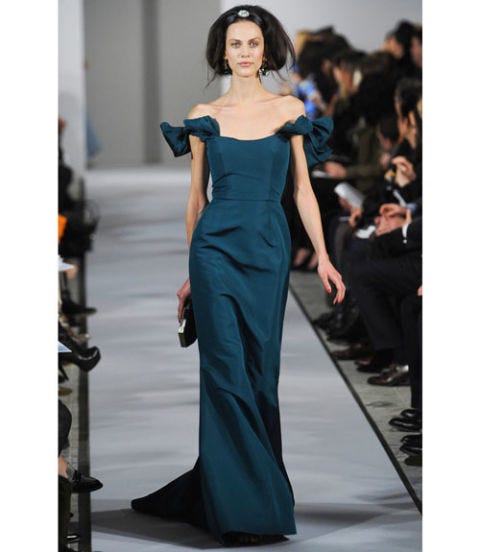 Oscar de la Renta
Fish tail? Check. Bust-support? Check. Sofia Vergara, please step forward to claim your next red carpet gown.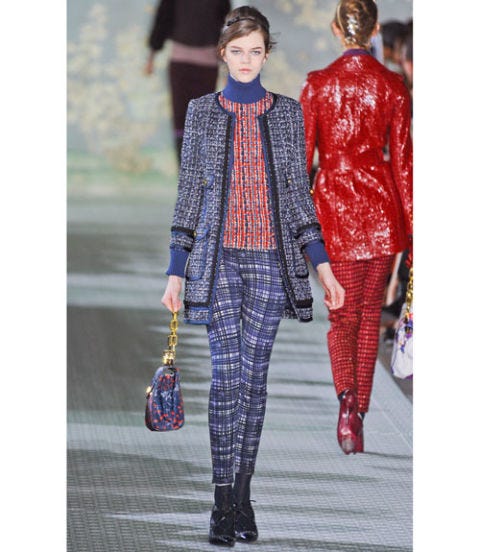 Tory Burch
This look is like a tweed and plaid city we want to roam around in for days.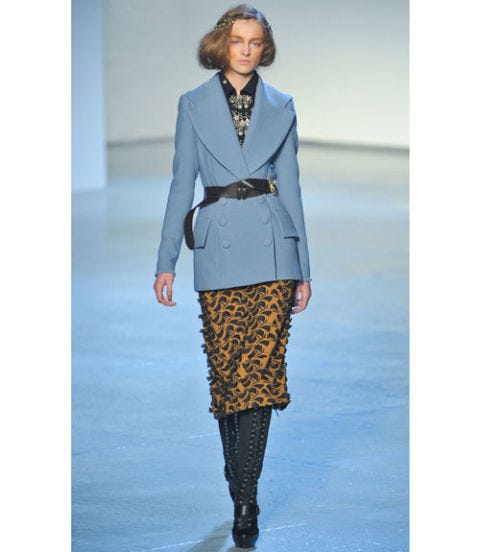 Rodarte
Fall 2012 is hands down our favorite Rodarte collection yet. This powder blue coat with golden skirt makes us want to go on a glamorous train ride back to the 1940s.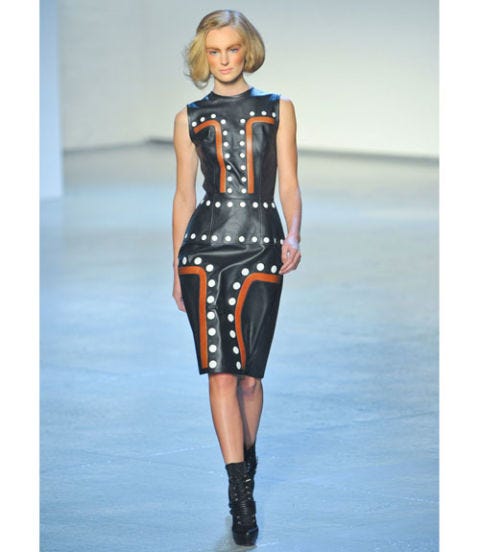 Rodarte
Aboriginal-style face paint meets the little black sheath dress. It's a match made in heaven.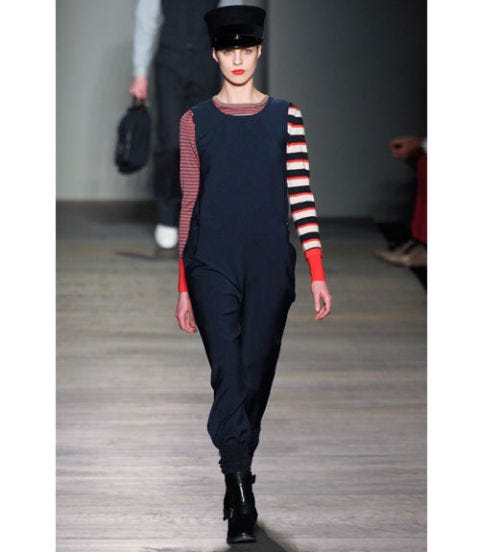 Marc by Marc Jacobs
Pa-rum-pum-pum-pum. Call us crazy but we love how delightfully madcap this little drummer boy look is.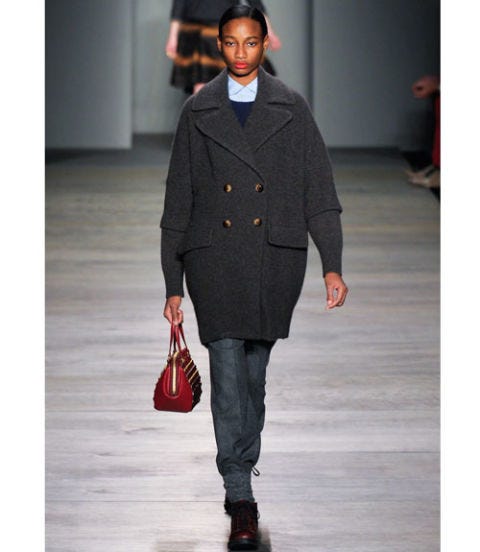 Marc by Marc Jacobs
Ooh! So that's how to wear a three-quarter length sleeve coat: Attach grandpa sweater sleeves to it! Clever, clever, Marc.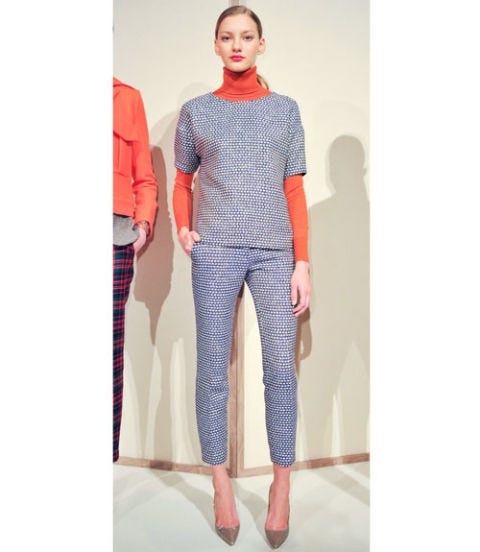 J.Crew
Not since kindergarten have we layered a turtleneck under a short sleeve sheath blouse. Thank you, J.Crew for giving us a reason to revisit the look sans the Fruit-Loop necklace (then again, it might look super-chic with this!).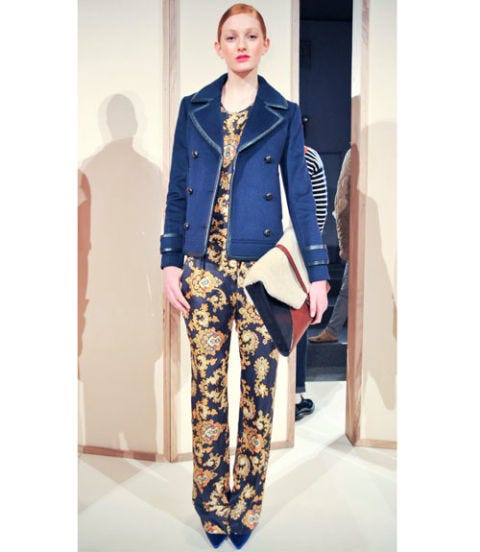 J.Crew
Everything looks better with leather trimmings — especially a classic winter coat.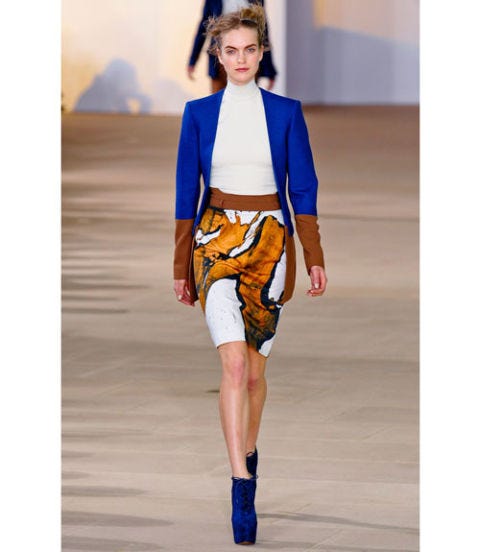 Preen
This is what we call an "add value" skirt: When done wearing, simply hang on wall for all to gaze upon as a work of art.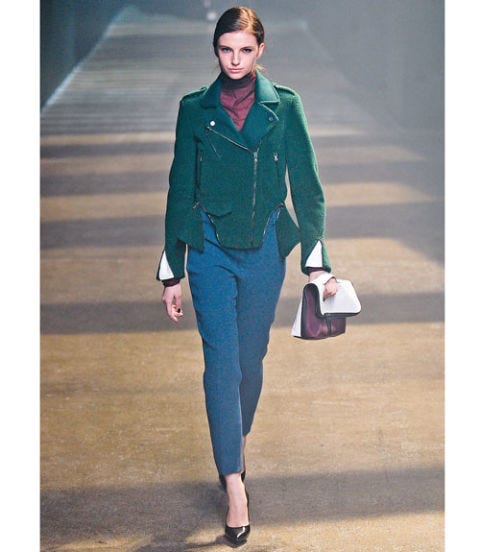 3.1 Phillip Lim
For those of us who have tried and failed to rock the studded biker jacket without looking like total posers, Phillip Lim's deconstructed shearling Perfecto in an unassuming forest green is just the ticket.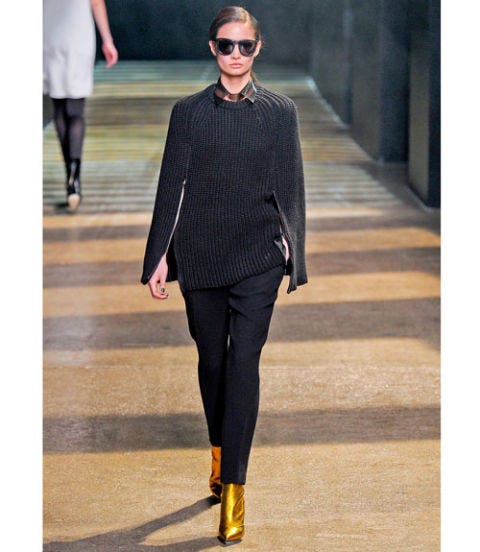 3.1 Phillip Lim
Besides being ridiculously cool, this sweater cape allows not only proper ventilation in overheated offices, but easy access for deodorant application. Genius.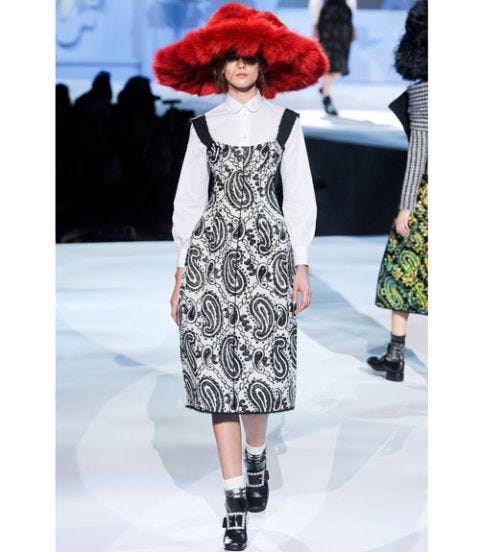 Marc Jacobs
The overarching theme of his fall collection may be Oliver Twist meets Ziggy Stardust, but with this embroidered paisley frock layered over a Peter Pan collared top is so very modern-day Lady Sybil Crawley.
Donna Karan
Nobody does power dressing like Donna. Nipped waist, popped collar, can't lose.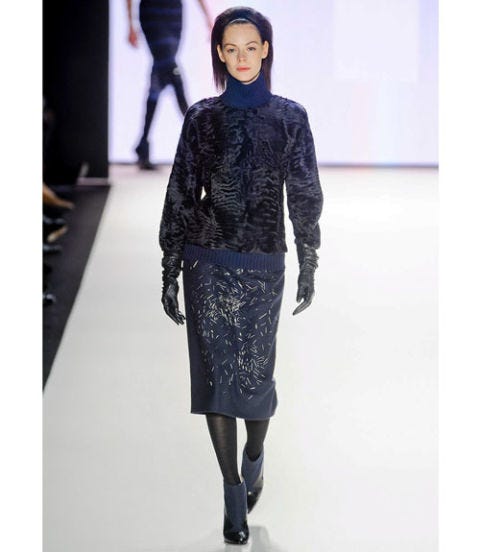 Carolina Herrera
We got rid of our stuffed animals long ago but would gladly cuddle up in this fuzzy-fronted turtleneck any day or night.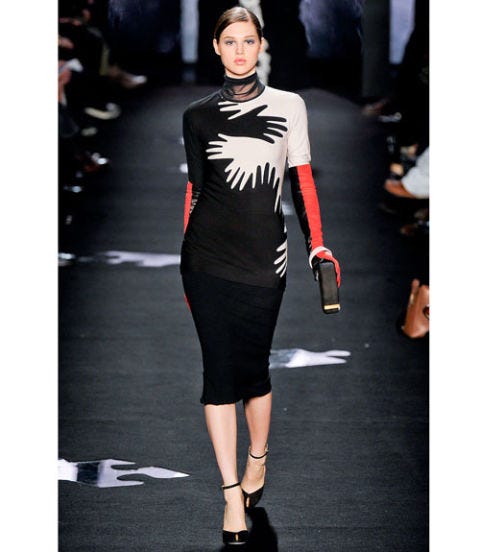 Diane von Furstenberg
Every season, without fail, someone gets handsy. For fall, Diane von Furstenberg cops a feel. Touch-a Touch-a Touch-a me...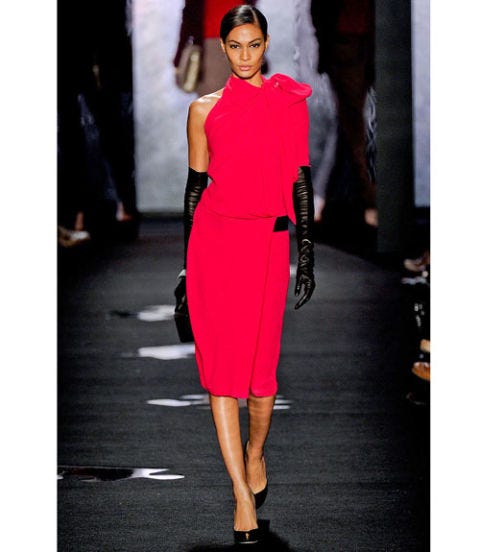 Diane von Furstenberg
According to DVF's show notes, this is a collection for a woman who can be glamorous at a moment's notice. With this dress? Easy.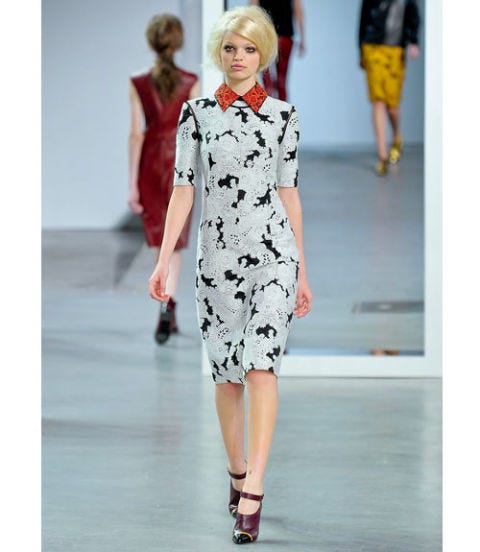 Derek Lam
An oxford collar looks doubly as chic when it's embroidered in florals and peeking out from a paisley jacquard dress.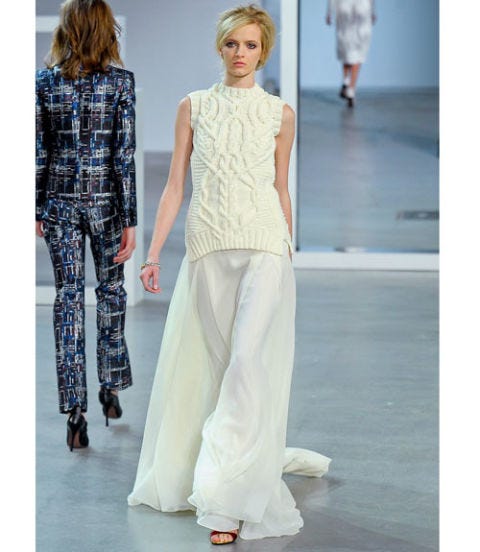 Derek Lam
Modern day angels mix their chunky handknit sweaters with silk georgette skirts. NBD.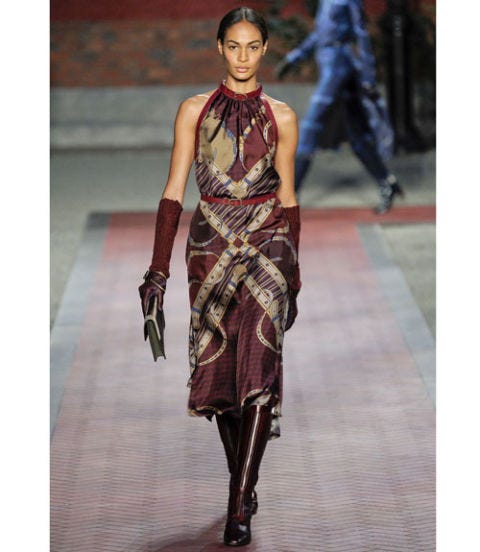 Tommy Hilfiger
We weren't those girls who were obsessed with horses growing up, but that doesn't mean we can't get behind Tommy Hilfiger's equestrian scarf prints. There's something that says "power" about them.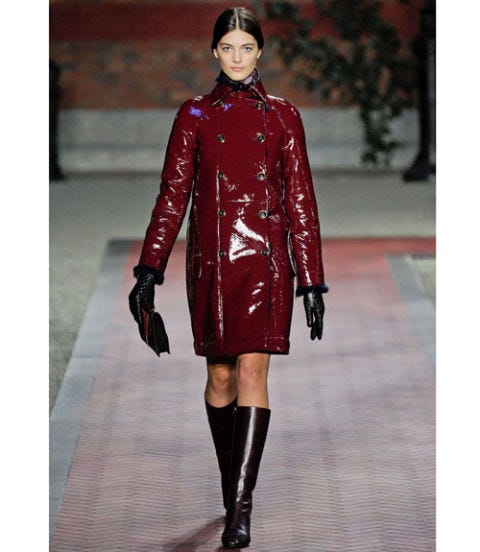 Tommy Hilfiger
There's been a lot of weather proofing on the runways. Consider this coat a necessity during hurricane season.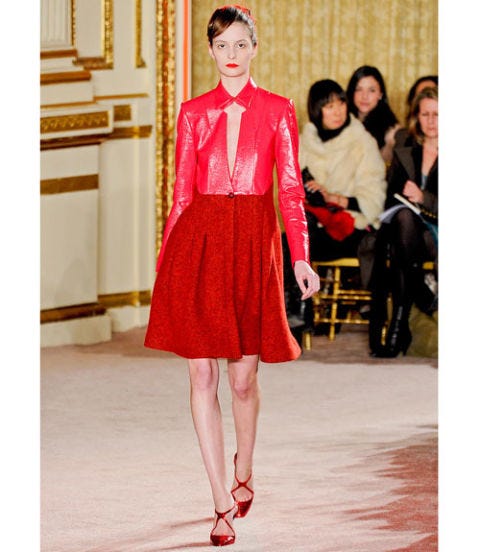 Thakoon
It's a dress! It's a coat! No it's a...droat?! Nice jolt of matte and shine, Thakoon Panichgul, well-played.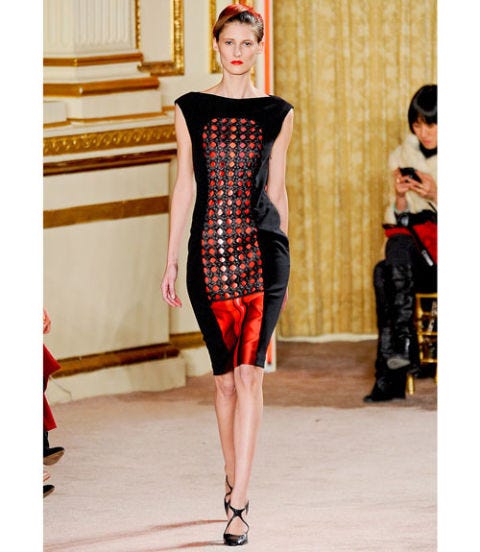 Thakoon
Basket weave is surprisingly chic when it's done in leather and overlayed on a shift dress. (Although we can hear Joan Rivers on Fashion Police now: "Do I shake her hand or sit on her?")
This content is created and maintained by a third party, and imported onto this page to help users provide their email addresses. You may be able to find more information about this and similar content at piano.io