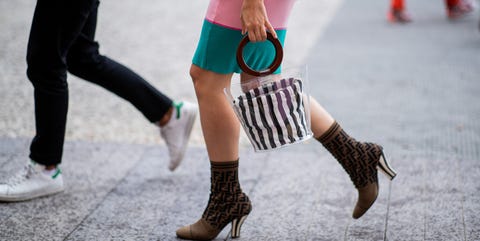 No matter how many bags I cram into my cupboard-like closet, I constantly bring home more. (I'm like your friend who's keen on taking in one stray kitten after another, except with bags.) Some people might claim this obsession is "unhealthy" (ahem, my SO), but I quickly dismiss his comments when that dream bag arrives at my door.
Speaking of those must-have accessories I'm eyeing, this season's abundantly stylish selections will end up on every fashion girl's wish list. You'll find yourself reveling with joy over that watermelon beaded tote or pastel-colored mini bag all the models are carrying. Before you decide on the one (or two) bags to buy, consider all your options, below. These are the best bags of 2018.
Faithfull the Brand, $119
Peruse most retailer websites and you'll find a straw bag or picnic-inspired wicker tote. This whimsical summer accessory can be worn with virtually any outfit, but if you want to go matchy-matchy, style this particular handbag with a polka dot sundress.
Jacquemus, $610
Both Emily Ratajkowski and Gigi Hadid love this Jacquemus "Le Chiquita" mini bag. The pint-size accessory only fits your phone, credit cards, and keys so you don't overpack for a night out. Keep your eyes on the item though—its small size makes it easy to lose once you've had a martini or two.
Susan Alexandra, $185
Remember the mini beaded bags you carried around as a child? This Susan Alexandra option is the adult version, but still with a playful element in the watermelon design. This fun weekend bag will let everyone know you don't take life too seriously.
Staud, $195
See-through accessories, though trendy, aren't practical. Staud solved this problem by including an opaque pastel-colored pouch inside its clear plastic bag. Now you can carry around items like tampons or floss in peace.
Cult Gaia, $160
This accessories label with a cult fashion following just released its latest design, called the "Dome" clutch. The cage-like piece features lightweight bamboo in a curved U shape and a collapsible handle. If you're looking for a bag to 'gram, this one is it.
Marc Jacobs, $350
This belt bag can be worn as-is or turned into a crossbody bag by changing the straps. Depending on your outfit, this versatile function can completely change up your look. You may never need another bag.
7
The Embellished Strap Bag
Rebecca Minkoff, $195
Ever since Fendi came out with interchangeable bag straps, other designers have followed suit. Rebecca Minkoff puts her own spin on the trend with this floral appliqué piece. You can go from daytime casual to nighttime fancy by removing the strap for a top handle–only look.
Simon Miller, $590
Last season, you saw this bag all over Fashion Week, but now there's a new colorway to obsess over. The white leather paired with a marble-like ring handle is super sleek and perfect for summer. Prepare to receive many compliments on it as soon as you walk into the office.
Clare V., $89
Forget rummaging through your large tote like a maniac just to dig for chapstick or loose change. This macramé clutch displays all your items for easy access (though you might want to contain your coins in a smaller pouch without holes).
Fendi, $2,590
Fendi is the new Gucci thanks to major stars like the Kardashians and Hadids, who all wore the label recently. If you want a logo-splashed piece, this handbag features the iconic print on the flap and gold hardware for that luxe look. Add to your birthday wish list asap.
11
The Updated Fanny Pack
Elizabeth and James, $195
If you like your fanny pack plain and simple, grab this Elizabeth and James navy option. Take a tip from the models and wear it slung over one shoulder across your chest. No one said this accessory has to go around your waist. This item looks best with a graphic tee and frayed jeans.
Aranaz, $215
Summer isn't the same without a pineapple fruit print. Incorporate the design into your wardrobe with this subtle yet funky embroidered pineapple clutch. It's a good accessory to bring to weddings or even to cocktail hour with the boss as you two bond over piña coladas.
WaiWai, $685
The bucket bag silhouette is completely reimagined with translucent emerald panels and a woven stitch design in this WaiWai piece. If you're looking for a fancy vacation bag to take to dinner, I recommend you scoop this one up. It'll be the center of conversation at the table.