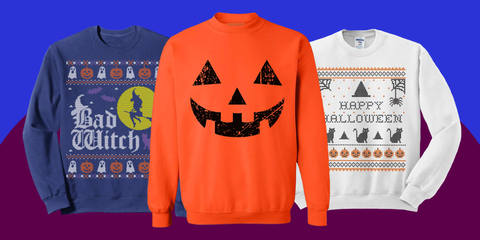 Design by Morgan McMullen
Listen, I'm all for the ugly Christmas sweaters, but ugly Halloween sweaters are...taking it to another level. Do I love them? No. Will I wear them? Absolutely. Exhibit A: When the Halloween party is a few weeks away and you don't want to look like Cady or Regina, life will be a lot easier (and warmer) when you can choose from one of these ugly-but-cute sweaters, below.

Etsy, $34
This pick's a safe bet for the ugly sweater first-timers—it's not overwhelmingly hideous, and just the right amount of ugly to convince 'em this isn't your first rodeo.

Walmart, $21
How to @ the patriarchy in a sweater 101.
Wildfox, $98
Behold: an accurate representation of my face every time I see Noah Centineo pop up on my Instagram feed. This pullover walks a very fine line between flirty and creepy, which is why it's absolutely perfect.
Amazon, $34
Look closely and you'll realize this sweater is an ode to your favorite Halloween movie, Hocus Pocus. Buy two more to appropriately match with your coven.
J.Crew, $60
I love a good theme year-round, which is why I'll be wearing this hoodie every time I don't get a text back.
Walmart, $19
Nobody puts pumpkin in the corner.
Etsy, $20
Them: Why do you look so unhappy all of the time? Me:
9
The Original Ugly Sweater
Amazon, $40
Introducing the OG ugly Halloween sweater. Be careful, or you might find yourself accidentally twinning with the girl across the room.
Twenty One Pilots, $60
This sweater checks off two boxes: excellent Twenty One Pilots stan merch (the band's name and logo is embroidered on it), and an accurate representation of how we all feel nearing the end of 2018.