11 Inexpensive New Year's Eve Dresses, So You Can Spend More Money on Champagne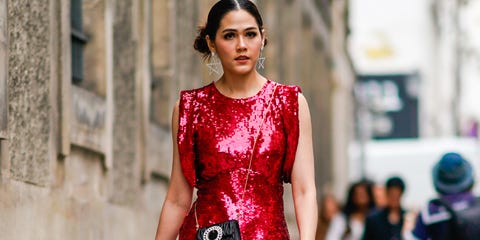 New Year's Eve is just one night, so why do most of us—myself included—go into a frenzy, spending WAY TOO MUCH money on a sequin, backless minidress we, realistically, will only wear once? (Because your friends will tag you in photos on Instagram and then you can never wear said look ever again.)
In an effort to be a more conscientious shopper and spender (my pre-New Year's resolution, if you will), I've given myself a budget for this year's party look. And, turns out, it's not that difficult to find affordable minidresses or gowns that check off all the NYE categories, from sweet and sexy to fun and funky. I found 11 options, below. Select your dream party dress, then join me at the bar with your remaining money. We can toast to the new year with fancy champagne.
1
This Gorgeous Satin Wrap Dress
Pretty Little Thing
$37.00
Some go the sexy route for NYE, others go on the sweet and romantic path. If you're the latter, add this blush minidress to your checkout cart tonight. Style with layered gold necklaces and take your pick of heels or booties. This dress looks fabulous with both.
Black may be your safety color, but for NYE push yourself a bit out of your comfort zone with this dark green lace dress. You can still wear it with black accessories, like a black ankle boots, and this look is casual yet dressy enough for New Year's—even if you're just going to a house party.

A typical New Year's Eve outfit has one requirement: It must be sparkly or shimmery. This red minidress, with a square-cut neckline and spaghetti straps, definitely fits that bill. The color, while not your traditional metallic hue, still properly captures that festive spirit and funky disco party vibes.
Morgan & Co.
Nordstrom
$55.13
For parties with a stricter dress code, you'll need a long gown. This one will keep your legs covered (a.k.a. warm) as you're standing in line at the venue. Once that coat is off, your dress's sexy illusion-bodice and shimmery sequins balance out the more modest portions of your look.
Halston Heritage
The Outnet
$90.00
Your ideal party gown would be a t-shirt dress, but since you can't exactly show up to a fancy venue in that, this asymmetric lamé dress is your next best option. The dress looks like it was dipped in liquid gold and hangs loosely on your body, so you won't feel constricted as you dance the night away.
A fresh take on the lace black dress we've seen so many times, this negligee-esque plus-size piece features an asymmetrical hemline and lace trim. It has just a hint of shimmer, but not enough to make you feel overly flashy. (This dress also, strangely, reminds me of a black-and-white (gold?) cookie, in a good way.)
7
A Classic Sequined Dress
Sequins by definition are in-your-face shiny. For a more tone-down version, I love this Mango option. The dress is backless, which I adore, and the black sequins add shimmer and shine without reflecting all colors of the rainbow. Wear with red heels for a pop of color.
Breezy chiffon fabric that catches the wind is great for summer, but winter calls for something heavier, like velvet. This high-low dress with a matching belt is all you need to make your grand entrance.

9
This Subtle Snakeskin Dress
Psst, this isn't just any red dress. It's a dress with snakeskin print. Bold. But also, it blends in. Here's your chance to test out the trend without fully committing to the black-and-white reptilian look.
Few dresses offer the same comfort as pajamas. But this slip dress does. That's why it's my choice for every party I attend. If you're looking for a stylish one, reach for this Topshop crisscross back design. It comes in seven different colors, so you don't wind up in the same look as everyone else at the party.
I'm getting Meghan Markle vibes just looking at this. The menswear-inspired blazer dress features double-breasted buttons and a sexy v-neck. The super-short length is balanced out by long sleeves. This is a dress you can pull off with tights and ankle booties, ensuring your comfy and cozy all night long. The Duchess of Sussex would approve.
This content is created and maintained by a third party, and imported onto this page to help users provide their email addresses. You may be able to find more information about this and similar content at piano.io