Creeper Sneakers Are Fall's Most Covetable Shoe
Goodbye mall rat, Hello fashun!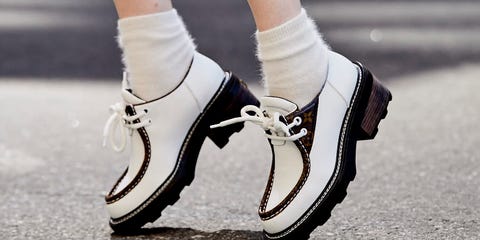 Jeepers Creepers! That's right, creepers are back. The thick-soled shoe (also known as lug-sole shoes or thick-soled brogues) has had quite the evolution, from World War II battlefields to '50s dandy subculture, the Vivienne Westwood–influenced '70s punk scene and the locals hanging out in front of Hot Topic. For 2019, the creeper sneaker got a revamp—goodbye Mall Rat, hello fashun. Leave it to Louis Vuitton to make Creepers covetable. Prada's in on the trend, as well, and last month all the It girls were stomping around Milan in their Prada creepers.
The style is cool and edgy, and brings a breath of fresh air to your fall uniform. Rather than reaching for that moto jacket to give your floral dress some edge, let the creeper do the job. Wear them in homage to the 90s: Start with a slip dress, add an on-trend cropped cardigan, gold hoops, and top (bottom?) it off with some creepers. I mean who doesn't want to look like they are a part of a cool girl coven? (Shout out AHS Coven, still the best season with the baddest b*tches...I mean witches). Give your ankle boots a break (they need it), and reach for this edgy, masculine style instead. Shop my top picks, below
1
Leather Platform Brogues
Prada
net-a-porter.com
$890.00
A Milan Fashion Week S/S 2020 street style favorite, the It girl creeper.
Dr. Martens x Lazy Oaf
lazyoaf.com
£89.00
Shout out to all my girly girls! These Doc Martens are the perfect mix between sweet and edgy.
This season, coach is offering a hybrid creeper sneaker: Classic creeper on the top, athletic platform on the bottom.
4
White Canvas Angel Sneakers
SSENSE
ssense.com
$470.00
The all-white sneaker has become a wardrobe essential. This season give yours an update with a chunky sole.
5
Black Leopard Platform Creeper Derbys
Stella McCartney
ssense.com
$1,025.00
Need a wild card to spice up a drab outfit? Look no further than these Stella McCartney cheetah creepers.
6
Black Suede Viva Mondo Creepers
T.U.K.
tukshoes.com
$99.95
As the saying goes, "If it ain't broke don't fix it." T.U.K. is and always has been, the go-to for classic creepers.
Puma
flightclub.com
$185.00
Leave it to RiRi to always be ahead of the curve. These FENTY X PUMA creepers have been a cool girl staple for a few seasons now.
Nº21
farfetch.com
$447.23
These N.21 double platform creepers will give you sky-high height, without the high-heel pain.
9
GG Velvet Lug Sole Loafer
Gucci
gucci.com
$2,016.00
The Gucci loafer got a revamp! The holiday season is around the corner, and these red velvet Gucci creepers will be the perfect addition to your holiday look...just sayin'.
10
Sidney Platform Creeper
Dr. Martens
drmartens.com
$108.00
Another pair of Doc Martens in the mix...I mean come on they are iconic.
•••
A version of this story appeared in the October 2019 issue of Marie Claire.
This content is created and maintained by a third party, and imported onto this page to help users provide their email addresses. You may be able to find more information about this and similar content at piano.io